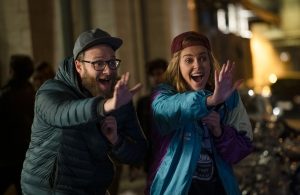 By HEATHER TURK
Front Row Features Film Critic
It's a story rom-com moviegoers are all too familiar with: the hot girl miraculously falls for the frumpy/nerdy/overweight (pick your unattractive adjective) guy. Not only have audiences seen this story a hundred times before, we've already seen it with Seth Rogen as the male romantic love interest. Nevertheless, while Lionsgate's opposites attract rom-com "Long Shot," directed by Jonathan Levine ("50/50"), never quite reaches the comedic heights of Rogen and Katherine Heigl's odd couple comedy classic "Knocked Up," it does manage to breathe some life into an old, tired yarn.
Rogen stars as Fred Flarsky, a left-wing reporter who stands up for what he believes in—even if it costs him his job. When the Brooklyn newspaper he works for is bought out by Parker Wembley (Andy Serkis, "Black Panther"), a conservative whose media conglomerate includes a television network that promotes the theory that gay marriage caused climate change, Fred walks out to drown his sorrows with his best friend (O'Shea Jackson Jr., "Straight Outta Compton") at a glamorous gala headlined by a Boyz II Men performance. It's there he runs into his childhood babysitter (and fellow Boyz II Men fan), Charlotte Field (Academy Award winner Charlize Theron, "Monster"), who just happens to be the Secretary of State and is looking for a new speechwriter to assist with her surprise 2020 presidential campaign.
After reading through some of his writing clips online, Charlotte decides to take a chance on Fred and hires him to add some humor to her speeches to make her seem more relatable in voters' eyes. Naturally, Fred had a childhood crush on Charlotte, and is still smitten by all she's achieved in life. As his speeches become more and more personal, tapping into the passion Charlotte's had since high school for politics and the environment, sparks begin to fly. This doesn't sit well with Charlotte's team, however, who would much rather see her with dashing Canadian Prime Minister James Steward (Golden Globe winner Alexander Skarsgård, "Big Little Lies") instead. As the date draws closer for Charlotte to officially announce her candidacy, she must not only choose between love and her career, but also who she wants to be and who she thinks she has to be to become the United States' first female president.
Predictability aside, "Long Shot" manages to entertain audiences throughout its two-hour duration thanks to a witty script by Dan Sterling ("The Interview") and Liz Hannah ("The Post") and the undeniable chemistry between Rogen and Theron. Although the film may not be as hilarious as the aforementioned "Knocked Up," it still has quite a few laugh-out-loud moments, including a memorable opening sequence that features Fred working undercover. There are some fun cameos as well, although none of the supporting players in the film are really given a lot of screen time to shine. This is truly Rogen and Theron's movie, and luckily, they never falter in their roles.
Still, fans expecting the usual nonstop hilarity from a Seth Rogen vehicle will likely leave a little disappointed that "Long Shot" doesn't quite live up to the hype. There's no doubt the movie is entertaining, but for every laugh-out-loud joke told, there's one that doesn't quite hit its mark. This is especially true for the scenes involving a trio of Wembley News anchors (Kurt Braunohler, Paul Scheer and Claudia O'Doherty) covering Charlotte's every move, as the misogynistic comments made by the two male anchors are extremely trite. Only once when the anchors comment on some big names that recently made the news in real life are any of these Wembley News segments actually funny. There's been a lot of press about when to go to the bathroom during "Avengers: Endgame." If your bladder can't last two hours, anytime the Wembley News team shows up on-screen would be a great time to run to the bathroom during "Long Shot."
Though it fails to live up to the hype of some of the glowing early reviews, "Long Shot" is still a funny, sweet rom-com audiences should enjoy. Viewers may ultimately know whether or not beauty ends up with the beast (sorry, Seth), but Rogen and Theron make the journey well worth watching. Their love story never once seems unbelievable, even though in Hollywood's eyes it's billed as a "Long Shot."
Grade: B