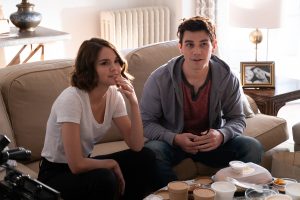 By ANGELA DAWSON
Front Row Features
HOLLYWOOD—KJ Apa is best known for playing all-American Archie Andrews, a high school student trying to navigate the rough waters of growing up while pursuing his passions of writing and performing music, on the hit CW TV series "Riverdale." Apa actually hails from New Zealand. His father is Samoan and his mother is a native Kiwi, but he suspects the adolescent issues his character tackles weekly on the series are fairly universal. Similarly, he plays a young man on the cusp of adulthood in the ensemble teen dramedy "The Last Summer," debuting on Netflix Friday, May 3.
Inspired by classic coming-of-age films like "The Graduate" and "Fast Times at Ridgemont High," the film is directed by William Bindley, who co-wrote it with his brother Scott Bindley.
"The Last Summer" follows the interwoven lives of six newly graduated Chicago area high schoolers as they prepare to embark on the next chapter. Apa plays college-bound Griffin, who befriends a sassy aspiring documentary filmmaker Phoebe (Aussie Maia Mitchell, "The Fosters," "Good Trouble"), who is compiling footage of fellow graduates for a film project she plans to submit to a film festival. As their romance blossoms, complications ensue when Griffin discovers a secret that could disrupt both his family and Phoebe's if exposed.
Meanwhile, longtime couple Erin (Halston Sage, "The Orville") and Alec (Jacob Latimore, "The Chi") have a conscious uncoupling, recognizing they are reaching a new phase of their lives. Erin almost immediately is bowled over (literally) by a young pro baseball player Ricky (Tyler Posey, "Teen Wolf," the upcoming "Lost Boys" TV series), who seems almost too good to be true. Alec begins having regrets of letting Erin slip away. Meanwhile, self-styled ladies' man Foster (newcomer Wolfgang Novogratz) is busted when his "hit list" of girls he'd like to hook up with goes public. And Erin's bestie Audrey (Sosie Bacon, daughter of Kevin Bacon and Kyra Sedgewick) reluctantly takes a job as a nanny to a child actor, and discovers she has prejudged her charge.
Apa, 21 with his dark hair dyed a reddish brown for his "Archie" role, spoke about playing another teen dealing with the pressures of growing up.
Q: Did the film have any resemblance to your own anxieties when graduating high school? You were probably well into your career at that point.
Apa: Yeah, definitely. I was working on a TV show while I was in high school so I had to make that choice of, "Am I going to stick it out or am I going to leave high school and pursue the whole acting thing?" So yeah, that was definitely an anxious moment to make that decision because it's either one or the other.
Q: Are you a fan of romantic movies?
Apa: Love them!
Q: What do you think is the core ingredient for a successful rom-com?
Apa: It has to be chemistry, right? When you are working on a rom-com, especially the romantic stuff, you have to be working with someone you can have that kind of chemistry with and but Maia and I already seen that. We are really lucky. Maia's really easy to work with and we immediately had a great chemistry together.
Q: Where do you think your characters would be like two or three years later?
Apa: That's a good question. If they weren't together at least they'd still be really good friends.
Q: So, your character gets rejected at first but you persist. Have you ever been rejected and what's the best way to deal with it?
Apa: Yeah. I get ejected all the time (laughter). No. I've been rejected multiple times, a lot of times, actually. I really put myself out there a lot. I don't feel scared if I see something that I'm attracted to and I would like, I would just go up and say, "Hi." I usually get rejected because I'm too young. That's the thing for me: "Sorry, you're too young for me."
Q: As an actor, you have to face rejection when you don't get a part. How do you cope with that?
Apa: Oh, I've had that experience many times. My process with going to an audition is I go and then I forget about it as soon as I leave. If you don't get cast for something you either don't look right for it or they don't want you for it for whatever reason.
Q: That's a great mentality for the younger generation, not just for acting but in life.
Apa: Yeah. Don't bother stressing about something you have no control over.
Q: How did this work out in terms of your schedule with "Riverdale?"
Apa: I was pretty heavily into shooting and so was Maia, but it just happened. It worked perfectly for both of us.
Q: You do have great chemistry. Was there any "get to know you" workshop before the shoot?
Apa: We had no choice but to hang out.
Q: You shot much of this in Cleveland, even though it's set in Chicago. What do you do in Cleveland?
Apa: We got free beers, free cookies, beef jerky at the hotel. (He laughs.) I loved the beef jerky.
Q: Do you have any memories of summers that stand out for you?
Apa: For me, it was always family. I usually spend a lot of my summers in Samoa. My dad's side is in Samoa. That's what I reminisce upon.
Q: So many young people have problems with anxiety, depression and mental health issues. Have you experienced that or know anyone who has? How do you help?
Apa: I personally haven't but I have a few friends who go through anxiety and depression and stuff. For me, as a friend, it's really important to listen especially if you can't relate. A lot of the time I can't relate to how someone is feeling because maybe I haven't felt the same way. Just being a friend and listening is maybe the best thing you can do. Don't get me wrong, I've had my moments for sure.
Q: Social media can make you feel so vulnerable. How do you deal with reactions (to your work) on social media?
Apa: I don't put a lot of effort into my social media, I just like to be myself. What I post is pretty much for my friends back in New Zealand. I want to make them laugh. Authenticity is great. All of my favorite accounts I follow are people being authentic and being themselves.
Q: My understanding of New Zealanders is that when you go home you can't be boastful or bigger than anyone else or they will put you down fast.
Apa: Yeah.
Q: So, how has it been since both of become a big TV star in America?
Apa: It's great so now. I can be cocky in America. (He laughs.) No one is going to judge me for it.
Q: But at home they keep you in your place or keep you grounded?
Apa: It doesn't matter if you're cocky or not. If you go back home you're going to get **** either way. Usually, it's just fun banter but a lot of the time I feel like some of the news outlets back home just have nothing better to talk about so they're going to pull something really stupid to talk about that makes you wonder, "Really? There's nothing more interesting going on?" The answer is "No, they're isn't."
Q: What kinds of music are you listening to these days?
Apa: I've been listening to Apes of Soundgarden, Chris Cornell, lots of Mother Love Bone, which is the Pearl Jam band but their singer past away then along came Eddie Vedder and that's how Pearl Jam was created. I find it really hard to listen to automated sounds now. I feel like I've been stuck listening to live music, live instruments so when I go back to Pop, and listen to all those automated sounds, it's just not as interesting to me.
Q: Speaking of music, what's happening with your band?
Apa: I'm in a band called Legend. We've been playing together for about three months. All the boys are from Vancouver and we're trying to finish an album this year. We play rock music, kind of plastic rock 'n roll. We all love it and we hope that people like it too but our goal is to get people listening to rock again because we all grew up on it and grew up on the same kind of music. It's been really fun to come together and create this kind of stuff.
Q: Was there anything about this movie that seemed more contemporary than an older movie about the same subject and was that important to you?
Apa: Yeah. Touching on things like the iPhone and stuff. There is a funny little moment with Griffin where he is texting Phoebe and she's not replying as fast as he would like. That's a real thing. I've been through that.
Q: The movie shows that growing up isn't always easy and you have to struggle with stuff like falling in love for the first time, having trouble in school or with your parents. Do you have any advice on how to deal with it?
Apa: I didn't really have a girlfriend then. I had my first girlfriend like a year ago so I was always really busy. That's why too. I've been in love one time with one person. Everyone is different. You need to understand that everyone is different in order to accept. That's a hard question to answer because we've all gone through different things. It's also important to have good role models. You've got to pick really strong people. In my opinion, on social media we have so many young people are looking at the wrong people as role models. It's important to recognize and discern who is being positive and respectful.
Q: Are you a good role model?
Apa: I think so.
Q: Who do you look up to?
Apa: My father is my role model. He's always been my role model. He has a really strong faith in God, which is something that I really respect. He works hard. His work ethic is really inspiring to me. I could go on forever. He's my guy.
Q: How are you going to spend the summer?
Apa: I'm working.
Q: What in the movie did you find most emotionally challenging? Was it the confrontation with your character's father?
Apa: Probably. There wasn't too much emotionally challenging material but that scene probably was. Also, the weather conditions weren't great there too. We had to ADR (recording sound in post-production) a lot of that scene. It was really windy.
Q: What was your most memorable scene to shoot?
Apa: My least favorite was probably the party scene. It was so hot in there; it took all day.
Q: Did you have separation anxiety after the shoot. You and your cast spent so much time together.
Apa: I cried so much. (He laughs.) That's the nature of it. We knew we'd see each other again too so not really.
Q: What's your favorite vacation destination?
Apa: Paris. Favorite city so far. I love Hong Kong too. Really cool. The majority of our Asian fans are in the Philippines so why haven't we been there? Netflix should fly us over there.
Q: Did your director William Bindley have any romantic movies he wanted you to watch beforehand?
Apa: He wanted us to watch "Love Actually," because it has a similar structure. But we'd already seen that.
Q: Did you have any summer jobs when you were younger?
Apa: No. I've only ever been acting. That's the only job I've ever had.