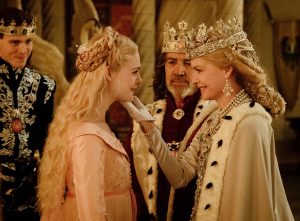 By ANGELA DAWSON
Front Row Features
HOLLYWOOD—Elle Fanning was only 14 when she starred in "Maleficent," Disney's live-action Sleeping Beauty update, where the focus was on the villainous sorceress who lured the young princess into a spell in which she could only be awakened by true love's kiss. That film turned the classic fairy tale on its head in providing a backstory about why Maleficent (played by Oscar winner Angelina Jolie) placed what was believed to be a cruel curse on the goodly Princess Aurora. The revisionist fantasy film earned a whopping $750 million worldwide at the box office.
Now 21, Fanning reprises her Sleeping Beauty/Aurora role in "Maleficent: Mistress of Evil," as a confident young woman who is the Queen of the Moors, thanks to her godmother Maleficent, who has bestowed her with that title and raised her as her own. Strong-willed Aurora is determined to marry her sweetheart Prince Phillip (Harris Dickinson), despite Maleficent's objections. To break the ice, Phillip's parents, King John (Robert Lindsay) and Queen Ingrith (Michelle Pfeiffer) invite Maleficent to a dinner at their castle. Despite her beautiful and charming exterior, Ingrith is rotten within and plots to destroy the Fey (fairies) and other magical creatures of the Moors that border her land. She also schemes to drive a wedge between Aurora and Maleficent, who has become a mother-figure to the girl.
After the dinner party goes terribly awry, Maleficent flees the castle and is nearly killed before she discovers a secret about her past. Meanwhile, Aurora is fooled by Ingrith's charms until she discovers her ulterior motives in supporting the marriage that would unite their two kingdoms. The film is directed by Norwegian filmmaker Joachim Rønning, whose previous credits include "Pirates of the Caribbean: Dead Men Tell No Tales" and 2012's high-seas adventure "Kon-Tiki."
During a press conference, Fanning spoke about the evolution of her Aurora character, working with co-star Angelina Jolie again, being true to one's self and more.
Q: How was it returning to the role of Aurora for this film?
Fanning: Little girls were coming up to me and saying, "Oh, you're Aurora. You're Sleeping Beauty." I'd never had that before, so to be able to tell them there's a second one coming out and you get to see her again in a new story and a new chapter of their lives is great. You get to see more of the mystical worlds and the creatures. That really drew me in and I was also excited to pick up Aurora as a young woman.
Q: Was it great to work with Angelina Jolie again?
Fanning: Yes. It was great to see her again and we had a lot of fun in London. We went paintballing and bowling together. There were a lot of different outings and we got to spend a lot of time together. We got very, very close on this film.
Q: How did you like wearing the wedding dress?
Fanning: The wedding dress was just impeccable. It was outstanding. I never wanted to take it off. I shot maybe three days in that dress. There were just tons of flowers on the train and sleeves, and ran up the dress. A lot of those were like laser-cut feathers and flowers on top of each other. It was tons of fabric. I couldn't walk or go anywhere without someone holding it up for me. In between takes, I had to go stand in a box. I would just be standing in my giant dress in the box alone, but I was happy because I had it on.
Q: Are there any specific memories of shooting the wedding scene you could share?
Fanning: I remember walking down the aisle that first time with Angelina walking me down in her black velvet, in her true Maleficent form. I'd never walked down an aisle before so it was a very special moment. We had music playing and the Dark Fey were there, and the townspeople and Moorfolk. It really felt like a true wedding, and I remember that moment was very special for Angelina and me.
Q: In the first movie, your character is blessed with happiness and, in this movie she runs into a lot of dark situations. Do you think that personality trait effects how you play the character and her experience?
Fanning: Yes. Obviously, in the original fairy tale she is granted these gifts when she's a baby and Aurora symbolizes the good and the kindness in the world, and the acceptance. That was really shown in the first film because she is younger and much more innocent but still introduced to some dark things, (Maleficent) killed my dad (to Jolie) so, thanks Mom. But it does carry over to the second film. Her embodying this overwhelming love of life and she lives between both worlds. She is a human but she also is queen of the Moors and has grown up among Moorfolk so she lives harmoniously with both sides. She doesn't understand why the world can't do that. In the second film, what's so great, is that she's definitely a young woman now and she's grown up. She is stronger. She has much more conviction in herself and she's learning how to gain her independence. I love the family theme in the movie because it's very realistic to real life; growing up, separating, leaving the nest and making your own choices in life.
(Maleficent) is disapproving of Prince Phillip but we know that love wins and Aurora stands up to Maleficent, which is such a very strong moment in the film. It might be shocking for fans to see that because Aurora is taking charge of her own life, but with kindness, which is the most powerful of all.
Q: Aurora is heroic but still very feminine in appearance. What did you make of that?
Fanning: We didn't want Aurora to be put in armor and have and sword and she's fighting and that makes her strong. That's not Aurora's true nature. I was always soft and wanted to be a mom and to get married and be very feminine, and there is nothing wrong with that. We get to show the strength in accepting your femininity and Aurora does it in a pink dress.
Q: Would you agree there is a beauty in truly understanding how others see you as well?
Fanning: Yes, and to be your true self. To say, "This is who we are. We are the pretty, pink, beautiful, soft princess and we are the slightly manic creature that maybe has a very bad temper," and many, many, other things. And yet I see her exactly as she is and I don't want her to be any different than she is. (Maleficent) sees me as I am and accepts me as I am. So, it is to say to everybody, "Be your true self. We don't live forever." And say to children, "No matter what people see or how they see you or how they say you should be, be your true nature whatever that may be and you will find a home for it. You will find acceptance."