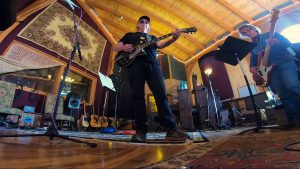 By ANGELA DAWSON
Front Row Features
HOLLYWOOD—Legendary rocker Neil Young serves as both director and the subject of "Mountaintop," a fascinating unfiltered documentary about the making of his latest album, "Colorado," due out Oct. 25. The documentary, which Young filmed under the nom-de-plume Bernard Shakey, will screen one day only in North American theaters on Oct. 22. A list of theaters can be found at: https://mountaintopthemovie.com/screening-schedule.
Young, whose music career spans more than five decades, is joined by his Crazy Horse band, making their first album together in seven years. Veteran rocker Nils Lofgren plays guitar and other instruments on the 10-track album. (Crazy Horse guitarist Frank "Pancho" Sampedro retired in 2014.) "Colorado" is Young's 39th studio album.
The recording sessions were shot with multiple cameras—handheld and mounted—at the Studio in the Clouds in Colorado, where the air is so thin that Young and his band mates have to inhale bottled oxygen between songs. (Talk about a Rocky Mountain high!) Also, the eco-friendly remote studio is apparently so chilly, most of the musicians are wrapped in coats and scarves during the recording sessions. Not Young though, who favors black t-shirts and jeans. One shirt reads "(blank) matters," with the first word covered up by what looks to be electrical tape. One can only imagine what message he really wanted to convey.
The warts-and-all documentary shows how Young and his band recorded the album's songs this past spring, with Billy Talbot on bass and Ralph Molina on drums. Some tunes are hard rock anthems. More than a couple echo Young's environmental and progressive political leanings including an outtake called "Truth Kills" with a not-so-veiled anti-Trump message, as well as tender ballads including "Green is Blue" and "She Showed Me Love." His girlfriend, actress Daryl Hannah, is seen only a couple of times in the film and heard speaking only once.
The action bounces back and forth between the rockers jamming in the studio's recording area, which is filled with guitars, a drum set, mics, keyboard instruments and various speakers with an awe-inspiring view of the Rockies from a two-story window, and the windowless cramped control room where co-producer John Hanlon performs his wizardry on the massive mixing console, while dealing with a nasty case of poison oak.
Communication issues between the perfectionist Young and the over-caffeinated Hanlon provide for entertaining drama as the creation of each song is depicted. As a filmmaker, Young chooses a wide range of angles and lenses for his cameras, including unusual floor-angle shots and fish-eye lenses. Some of the shots even appear to come from security cameras mounted on the walls. But, in the end, it all seems to fit together as it reveals the challenges, frustrations and magic moments that arise during the creative process. At one point, a very frustrated Hanlon threatens to quit and has a camera removed from the control room. Young directs expletives not only at Hanlon but occasionally at his band mates as he tries to perfect his songs.
It would have been nice if Young had chosen to identify each of the people in the film as well as the song titles by perhaps incorporating title cards. Instead, the viewer has to wait until the end credits to discover who's who and the names of the songs. It also would have been interesting and entertaining if the filmmaker/musician had shared some private moments with his band when they weren't recording. Why not show them dining together or goofing around in the snow? Also, Young intercuts scenes of him performing a few of his new songs live on stage but there is no indication where or when the live acoustic performance (or performances) took place.
All in all, though, "Mountaintop" is a worthwhile music documentary that Young fans are likely to relish and for music aficionados who appreciate the intense and sometimes grueling process of making a studio album by a legendary musician and a band that is still in top form.