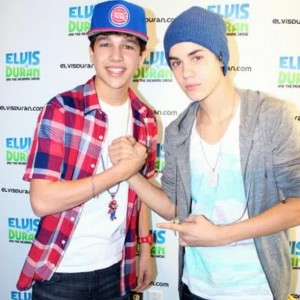 From Front Row Features Wire Report
New York City – YouTube sensation Austin Mahone stopped by The Elvis Duran Show Z100 this morning while in town for a concert he's playing at the Best Buy Theater Friday night, which he sold out in less than an hour.
While at The Elvis Duran Show for a LIVE performance and interview, the 16 year old ran into none other than his idol Justin Bieber.
Elvis Duran tweeted: "BREAKING NEWS! @JustinBieber + @AustinMahone met for the first time right here in the @ElvisDuran studio!