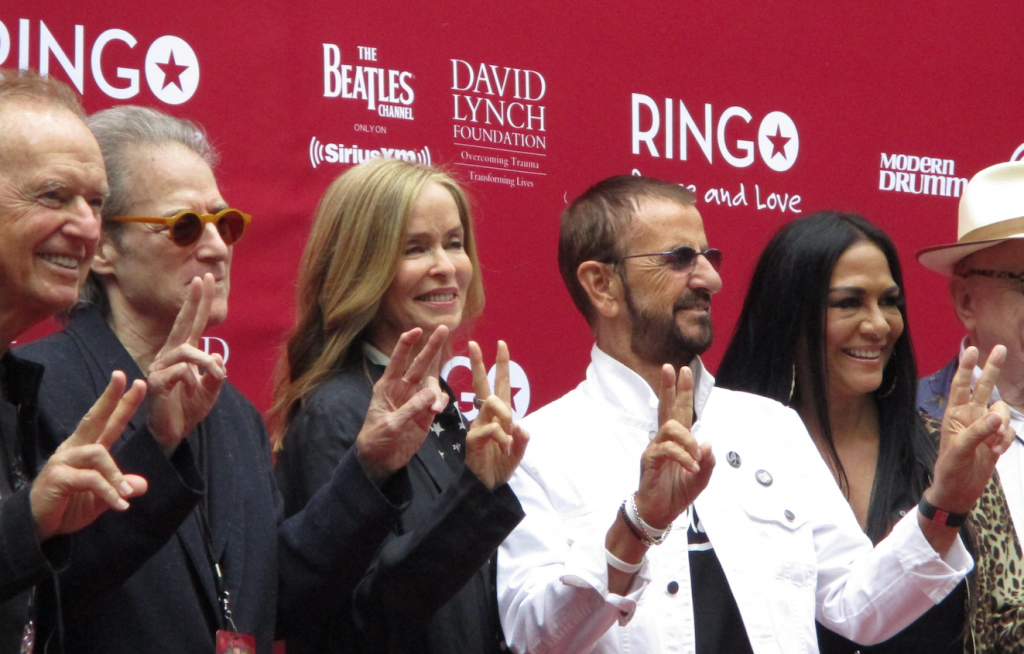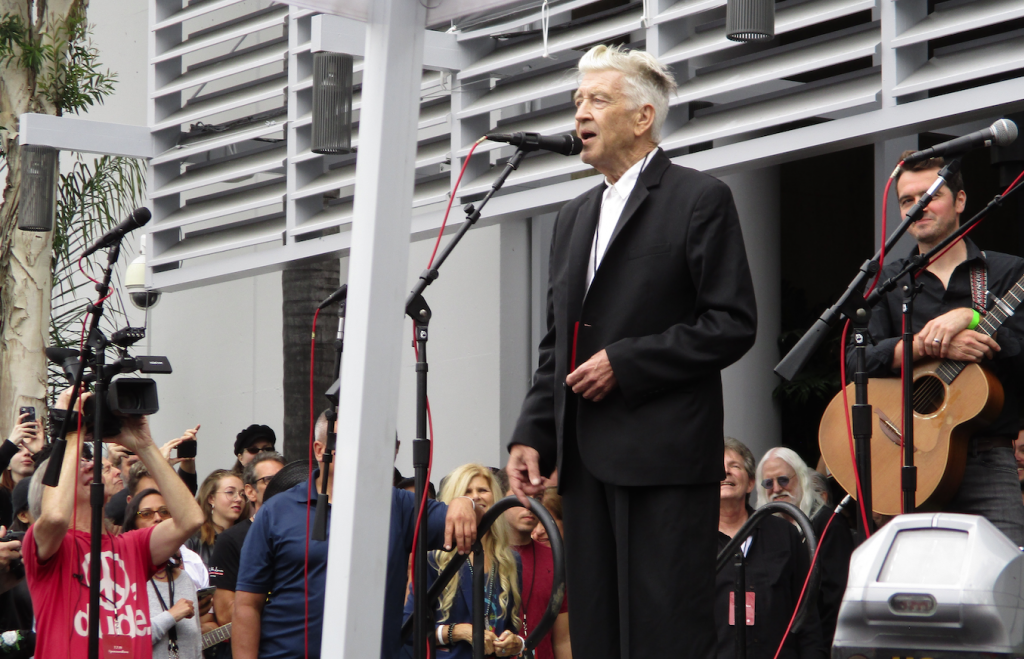 By ANGELA DAWSON
Front Row Features
HOLLYWOOD—In what has become an annual tradition, Ringo Starr celebrated his birthday Sunday with his friends and fans, complete with cake and a call for Peace & Love (#PeaceandLove). Other Peace & Love gatherings took place at various locations around the world at noon, local time, to share the upbeat message.
The former Beatles drummer and frontman for the All Starr Band was joined for this 11th annual gathering by his actress/wife Barbara Bach Starkey, director David Lynch as well as musicians who have performed with his band over the years, including alums Sheila E, Edgar Winter, Nils Lofgren, Jim Keltner and Gregg Bissonette. The festivities were held outside of the iconic Capitol Records in Hollywood and open to the public. Capitol Records was the Beatles American record label.
Other notables in attendance were Peter Jackson, Don Was, Ed Begley Jr, Richard Lewis, T-Bone Burnett, Benmont Tench, Michael Taylor of Hiss Golden Messenger and Life is Good founders Bert and John Jacobs.
Following a crowd-pleasing introduction by Lynch, who referred to Ringo as "this person in question (who) would know, by any chance, about a yellow submarine" and "gets by with a little help from his friends," Ringo took the stage and had the excited crowd count down to the appointed time when everyone shouted "Peace and Love," in hopes of creating a spirit of collective joy around the world. After introducing his special guests sharing the stage with him, Ringo suggested the large assemblage of talented musicians form a "Peace & Love" band.
Earlier, while on the red carpet, Starr revealed that he's hearing good things about the highly anticipated remastered version of the Beatles 1969 album "Abbey Road," although he wasn't clear about whether he's actually heard the remastered recordings yet. His whimsical "Octopus's Garden" is one of the songs on that album.
"I'm going to a get-together at EMI in England on the 26th of September," he said, quipping, "if you're not busy, get over there."
Though the famed drummer did not perform Sunday, a handful of acts did, playing several hits Ringo has recorded. Ben Kyle of Romantica was joined onstage by violinist Sara Watkin, who played and sang beautiful renditions of "Act Naturally" and "It Don't Come Easy." Local up-and-coming rock act The Jacks sang "You're Sixteen," and "Speed of Sound," with a modern, edgy twist. Additionally, school-age students from the John Lennon Educational Tour Bus performed Beatles songs of their grandparents' generation.
The crowd ranged in age from 8 to 80 many of whom donned Beatles and Ringo Starr T-shirts and held homemade signs expressing their support and love for the 79-year-old rocker, who was dressed casually in a sporty white jean jacket and black slacks, while his wife complemented the look with a black shirt and white pants.
The idea behind this annual Peace & Love celebration is to create a wave of Peace & Love across the planet, starting in New Zealand and ending in Hawaii. Ringo started the tradition in 2008 at the Hard Rock Cafe in Chicago and last year he celebrated the 10th anniversary at the Hard Rock Cafe in Nice, France. In the ensuing years, the event has grown enormously with #peaceandlove events all over the world. This year, more than 30 events took place in 22 countries. Peace & Love is sponsored by the David Lynch Foundation, Life is Good, SiriusXM, Modern Drummer and Starbucks.