By HEATHER TURK
Front Row Features Film Critic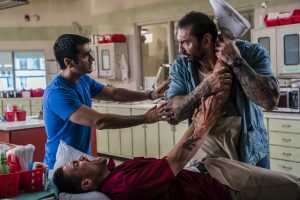 With "Guardians of the Galaxy," former WWE wrestler-turned-actor Dave Bautista found his breakout role as Drax, a character who provides a lot of comic relief in the Marvel Cinematic Universe due to the fact that he's unable to understand metaphors. In Twentieth Century Fox's new comedy "Stuber" (released by Walt Disney Studios Motion Pictures), Bautista proves that being cast as Drax wasn't just a fluke and that his comedic timing is truly something to take note of.
In "Stuber" Bautista plays Vic, a grizzled detective obsessed with catching the criminal (Iko Uwais, "Mile 22") responsible for killing his partner (fellow "Guardians of the Galaxy" star Karen Gillan) in the line of duty. He finally gets a tip that may lead him to the killer, the only problem is Vic has just had laser eye surgery and can't see a thing. Unwilling to let the man he's been on the hunt for slip through his fingers yet again, Vic calls for an Uber to follow up on the lead.
Stu (Academy Award nominee Kumail Nanjiani, "The Big Sick") answers Vic's Uber call, unaware of just what he's getting himself into. For this is no ordinary Uber ride, as Vic basically holds Stu hostage by threatening to give him a bad rating if he doesn't take Vic everywhere he needs to go to track down his man. Along the way, Stu finds himself surrounded by male strippers, drug dealers and even gunfire in his quest to not drop below a four-star rating.
While part of what makes "Stuber" such a fun ride to go on is Bautista and Nanjiani's natural chemistry together, Bautista's performance is really what makes the movie so memorable. Bautista is simply hilarious as Vic and delivers the funniest performance on the big screen this summer. Although many of the hysterical scenarios that unfold are because of the genius idea by writer Tripper Clancy ("Four Against the Bank") that Vic is temporarily blind from laser eye surgery, Bautista plays each scene to perfection as the frustrated, aging detective who just wants to do right by his late partner.
Nanjiani is also great as the unsuspecting civilian who finds himself in the midst of official police business. Viewers will be able to easily relate to his character's reactions throughout the film as Stu finds himself in crazier and crazier situations.
"Stuber" isn't all comedy and action, either. There's also a more emotional storyline about Vic's estranged relationship with his daughter, Nicole (Natalie Morales, "Parks and Recreation"), as well as an empowering storyline involving Stu, the girl he's long been in love with (Betty Gilpin, "Glow") and his annoying boss (Jimmy Tatro, "Modern Family") at the sporting goods store where he also works. Although each subplot is eventually resolved (albeit a bit too predictably), director Michael Dowse ("Man Seeking Woman") never detours to focus on any one of them for too long so audiences can get back to the hilarious, action-packed scenes with Stu and Vic as quickly as possible. While that's great for the pacing of the 93-minute film, it also sadly results in "Stuber's" supporting characters–which includes Academy Award winner Mira Sorvino ("Mighty Aphrodite") as Vic's captain—being easily forgotten because their storylines are so rushed.
Nevertheless, even though "Stuber" stalls from time to time, it's still a ride well worth taking. Bautista shines in the film and proves he's worthy of being the next WWE wrestler to have a successful career in Hollywood. He may always be associated with Drax, and deservedly so, but Bautista is really coming into his own on the big screen and executes both the comedy and action scenes in "Stuber" faultlessly. He even embraces the fact that he's now in his 50s with Vic and isn't afraid to show off the vulnerabilities that come with growing older—like failing eyesight. Having recently retired from in-ring competition, it will be interesting to see where the rising Hollywood star goes from here.
Grade: B+