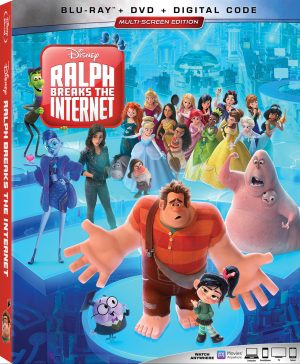 By ANGELA DAWSON
Front Row Features
Movies
Ralph Breaks the Internet
Walt Disney Animation Studios' "Ralph Breaks the Internet," the animated adventure featuring videogame bad guy Ralph (voiced by John C. Reilly) and fellow misfit Vanellope von Schweetz (voiced by Sarah Silverman), arrives on Blu-ray and DVD Tuesday Feb. 26.
The humorous, high-speed sequel to 2012's Oscar-nominated "Wreck-It Ralph," finds the besties risking it all by traveling to the expansive, fast-paced world of the internet in an action-packed attempt to save Vanellope's game Sugar Rush.
Directed by Rich Moore (Academy Award -winning "Zootopia," "Wreck-It Ralph") and Phil Johnston (co-writer of "Wreck-It Ralph," writer of "Zootopia"), and produced by Clark Spencer ("Zootopia," "Wreck-It Ralph," "Lilo & Stitch"), "Ralph Breaks the Internet" welcomes back favorite cast and characters, the film stars Shank, voiced by "Wonder Woman's" Gal Gadot, a tough-as-nails driver from a gritty online auto-racing game called Slaughter Race, a place Vanellope wholeheartedly embraces—so much so that Ralph worries he may lose the only friend he's ever had. Yesss, voiced by Taraji P. Henson, the head algorithm and the heart and soul of the trend-making site BuzzzTube, makes Ralph a viral sensation.
Jack McBrayer and Jane Lynch return as the voices of Fix-It Felix Jr. and Sergeant Calhoun, respectively, and Disney Animation's good luck charm, actor Alan Tudyk was called on to voice a search engine named KnowsMore—literally, a know-it-all—who runs a search bar and helps Ralph and Vanellope on their quest. Lots of exciting cameos are also featured in the film including a scene that reunites all of the original (living) Disney Princess voice cast.
"Ralph Breaks the Internet" arrives home with a wide-range of exclusive extras, taking fans behind the scenes at Walt Disney Animation Studios to explore how artists created the film's vibrant version of the internet—rom-comical cat videos to the intense online game Slaughter Race to shady characters on the Dark Net. Features also reveal some Easter eggs—inside jokes and references to other Disney films and characters hidden throughout the film—and filmmakers introduce some never before revealed deleted scenes.  "Ralph Breaks the Internet" also is available now on Digital 4K Ultra HD/HD/SD and Movies Anywhere.
"Ralph Breaks the Internet" opened in theaters at No. 1 last November (the second biggest Thanksgiving opening of all time), winning the top spot at the domestic box office for three consistent weeks and grossing more than $435.1 million to date.
The Little Mermaid (30th Anniversary Edition)
In honor of its 30th anniversary, two-time Academy Award-winner (Best Original Score and Best Original Song "Under the Sea") "The Little Mermaid," dives into the highly celebrated Walt Disney Signature Collection with all-new bonus features and a sing-along mode.
The magical, musical tale of mermaid princess Ariel—along with loveable sidekicks Sebastian and Flounder, and the love-to-hate sea witch Ursula—is shore to make a splash with all generations when it comes home on 4K Ultra HD and Blu-ray on Tuesday Feb. 26. It also is available now for the first time Digitally in HD, 4K Ultra HD and Movies Anywhere.
Based on Hans Christian Andersen's classic fairy tale about a beautiful mermaid princess who dreams of becoming human, "The Little Mermaid" was directed by John Musker and Ron Clements ("Aladdin"). It features the voice talents of Jodi Benson ("Toy Story 2," "Toy Story 3") as Ariel, Pat Carroll ("Laverne & Shirley") as Ursula, Samuel E. Wright (Broadway's "The Lion King") as Sebastian, Christopher Daniel Barnes ("The Brady Bunch Movie") as Eric, Kenneth Mars ("Young Frankenstein") as Triton, Buddy Hackett ("The Music Man") as Scuttle, Jason Marin ("Back to the Future") as Flounder and René Auberjonois ("The Patriot") as Chef Louis. The film was originally released in theaters in 1989 and is the 28th film from Walt Disney Animation Studios.
The Signature Edition of "The Little Mermaid" showcases its award-winning musical score and iconic songs such as "Under the Sea" and "Part of Your World" with a sing-along mode allowing you to accompany this beloved cast of characters on their journey. Never-before-seen bonus features bring legendary composer Alan Menken and some of Disney's most recognizable leading ladies together around a piano to reminisce, sing and celebrate "The Little Mermaid." The latest installment of "Stories from Walt's Office" compares Walt and Ariel's love of collecting treasures. Viewers will also receive an inside look at the "The Little Mermaid" cast in their original recording sessions, explore hidden treasures and fun facts from the film, and enjoy a special performance of "Part of Your World" by a cappella singing sensation DCapella. Plus, viewers will have access to hours of additional classic bonus features.
"The Little Mermaid" is the seventh title to join the Walt Disney Signature Collection, which includes groundbreaking films created or inspired by the imagination and legacy of Walt Disney, featuring timeless stories and characters that have touched generations. The film takes its place alongside "Snow White and the Seven Dwarfs," "Beauty and the Beast," "Pinocchio," "Bambi," "The Lion King" and "Lady and the Tramp."
The Possession of Hannah Grace
Death is only the beginning in the heart pounding horror thriller "The Possession of Hannah Grace," debuting on Blu-ray and DVD Tuesday Feb. 26 from Sony Pictures Home Entertainment. The horror thriller also is available now on Digital.
Shay Mitchell ("Pretty Little Liars") stars as a cop just out of rehab, who takes the graveyard shift in a city hospital morgue where she faces a series of bizarre, violent events caused by an evil entity in one of the corpses. "The Possession of Hannah Grace" also stars Grey Damon ("Station 19"), Kirby Johnson ("5150"), Louis Herthum ("Westworld") and Stana Katic ("Castle").
The Digital, Blu-ray and DVD releases come loaded with bonus content, including a deleted scene and two behind-the-scenes featurettes. Take a deep dive with the killer cast and get to know the film's characters a little better with Shay Mitchell, Grey Damon, Nick Thune ("Venom") and Kirby Johnson. In "An Autopsy of Hannah," go behind the scenes with head makeup artist Adrien Morot and uncover the transformation process, learning Adrien's vision for the character, tricks for nailing the look, and what it took to get into the creepy mindset of Hannah Grace. Finally, it must get lonely spending night after night alone in a morgue—see how Megan (Shay Mitchell) keeps herself entertained during the long shifts in "Megan's Diaries."
Between Worlds
Nicolas Cage stars in "Between Worlds," arriving on Blu-ray (plus DVD and Digital), DVD, and Digital Tuesday Feb. 26 from Lionsgate. This film is currently available On Demand. Starring alongside Oscar-winner Cage ("Leaving Las Vegas") are Franka Potente ("Run Lola Run"), Penelope Mitchell, Garrett Clayton, Lydia Hearst, and Hopper Penn. "Between Worlds" Blu-ray and DVD will be available for the suggested retail price of $22.99 and $19.98, respectively.
TV
Mystery Road
With 11 Australian Academy of Cinema and Television Arts nominations, the beautifully filmed and highly anticipated Australian drama series "Mystery Road" makes its DVD and Blu-ray debut from Acorn TV on Tuesday Feb. 26.
Multiple Emmy, BAFTA, and Golden Globe winner Judy Davis ("Feud: Bette and Joan," "Husbands and Wives") and Logie nominee and Australian Film Critics Association Best Actor winner Aaron Pedersen ("Jack Irish," "A Place to Call Home") star as detectives investigating the mysterious disappearance of two young men in a remote outback town. When two boys disappear from a remote cattle station, local police sergeant Emma James (Davis) calls in Indigenous detective Jay Swan (Pedersen) to help find out what happened. As Emma and Jay butt heads over their conflicting methods, the unexpected arrival of Jay's troubled daughter (Madeleine Madden, "Picnic at Hanging Rock") only inflames the tension. But when their investigation uncovers other crimes haunting the backwater town, the detectives must look to the past to get justice in the present.
Set amid stunning desert scenery of big skies and barren landscapes, this noir crime thriller also stars Deborah Mailman("Jack Irish"), Tasia Zalar ("Wentworth"), John Waters ("Rake") and Aaron McGrath ("Glitch").
The DVD and Blu-ray two-disc sets feature six episodes, plus bonus cast and crew interviews ($39.99, Amazon.com). "Mystery Road" made its U.S. premiere in August on Acorn TV, North America's most popular streaming service focused on British and international television from RLJ Entertainment and AMC Networks.
Front Row Features is giving away a copy of one of 2018's best animated films, "Ralph Breaks the Internet," on Blu-ray/DVD Combo Pack to one lucky reader. To enter the contest, simply email socalmovieeditor@aol.com by March 4 for your chance to win. Good luck!