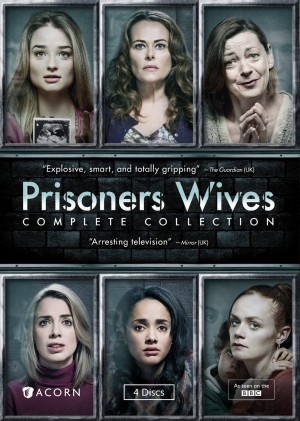 By ANGELA DAWSON
Front Row Features
"Prisoners' Wives: Complete Collection" makes its DVD Debut on Tuesday, April 12, from Acorn, an RLJ Entertainment brand. Written by Julie Geary ("Secret Diary of a Call Girl"), this gripping BBC drama explores what happens to family members after a loved one is arrested. Several interweaving storylines create a captivating saga of love, heartbreak, hope, despair, and unlikely friendship.
Series 1 stars Polly Walker ("Rome"), Emma Rigby ("Endless Love"), Pippa Haywood ("Mr. Selfridge") and Natalie Gavin ("The Syndicate"). Then, in Series 2, Sally Carman ("Shameless") and Karla Crome ("Under the Dome") join Walker and Haywood. Supporting cast includes Iain Glen ("Game of Thrones"), David Bradley ("Game of Thrones"), Adam Gillen ("Oliver Twist"), Jonas Armstrong ("Edge of Tomorrow"), Adrian Rawlins("Harry Potter" movies) and Nicola Walker ("MI-5"). The four-DVD set features 10 episodes for a suggested retail price (SRP) of $59.99, AcornOnline.com.
BBC One premiered Series 1 in 2012 and Series 2 the following year. Series 2 made its U.S. Premiere in 2015 on Emmy-nominated Acorn TV, the North American streaming service for world-class television from Britain and elsewhere.
In Series 1, Gemma's (Rigby) perfect life falls apart when her husband (Jonas Armstrong) is arrested for murder. She becomes part of a strange sorority including the glamorous Francesca (Walker), wife of career criminal Paul (Iain Glen); struggling young mother Lou (Gavin); and respectable widow Harriet (Haywood).
In Series 2, bride-to-be Aisling (Crome) hopes her father will get out of jail in time to walk her down the aisle, and mother-of-three Kim (Carman) works to prove her husband's innocence.
Sky vision presents "The Last Panthers," a new crime drama based on true events involving notorious Balkan jewel thieves, the Pink Panthers. It will make its U.S. premiere on SundanceTV Wednesday, April 13, and will be available for purchase digitally on Thursday, April 14 via multiple platforms including iTunes, Amazon Video, Vudu, Google Play, Xbox Video, and Sony Interactive Entertainment.
A daring diamond heist in the south of France bears the hallmarks of the supposedly retired "Pink Panthers," a gang famed for their bold daylight raids and movie-style getaways. It seems like the perfect crime—until a young girl is killed in their escape. This sets a British insurance-loss adjuster (Oscar nominee Samantha Morton), a former MI-6 officer (Oscar nominee John Hurt), a French-Algerian cop (Tahar Rahim) and a Serbian soldier-turned-thief (Goran Bogdan) on a dangerous collision course across Europe. What starts with diamonds leads to guns, drugs, high finance, and corruption at the heights of power. Shot in seven countries and five languages, this action-thriller was inspired by the real-life Pink Panthers, who terrorized Europe's jewelers for a decade.
Directed by Johan Renck ("The Walking Dead)", The Last Panthers is a six-part series that features the theme song "Blackstar," written and performed by David Bowie.