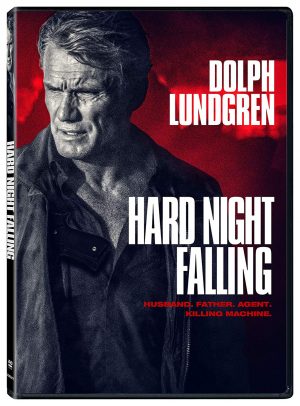 By ANGELA DAWSON                   
Front Row Features
Movies
Hard Night Falling
Movie icon Dolph Lundgren stars in the action thriller "Hard Night Falling," arriving on DVD, Digital and On Demand Tuesday Dec. 10, from Lionsgate.
Husband. Father. Agent. Killing Machine. Lundgren stars as a highly trained foreign operative fighting a criminal mastermind to save not only hostages, but his imperiled family as well.
After years fighting crime at Interpol, agent Michael Anderson (Lundgren) takes the night off to reconnect with his estranged wife and teenage daughter at an Italian villa. But their peaceful night is shattered as mastermind Goro and his mercenaries invade the property, hoping to find a lost cache of gold. With his family in danger, Anderson summons his team of crack operatives to help turn the tide and wipe Goro off the map. "Hard Night Falling" will be available on DVD for the suggested retail price (SRP) of $19.98.
Hustlers
Inspired by the provocative true story about a gang of former strip club employees who turn the tables on their Wall Street clients, "Hustlers" arrives on 4K Ultra HD, Blu-ray, DVD and On Demand Tuesday Dec. 10, from STXfilms and Universal Pictures Home Entertainment.
The drama follows a band of business-savvy strippers as they unite to seek revenge against their poor treatment. Inspired by journalist Jessica Pressler's 2015 "New York Magazine" article "The Hustlers at Scores," "Hustlers" is filled with entertaining and empowering moments that take audiences behind the scenes of this remarkable real life con.
The bold and gritty story is led by Constance Wu ("Crazy Rich Asians") and Jennifer Lopez ("The Boy Next Door") and features an all-star supporting cast including Julia Stiles (the "Jason Bourne" films), Keke Palmer ("Berlin Station"), Lili Reinhart ("Riverdale"), Grammy Award winner Cardi B, singer Lizzo, Mette Towley ("Cats"), Madeline Brewer ("The Handmaid's Tale"), Trace Lysette ("Transparent"), Mercedes Ruehl ("Power") and Wai Ching Ho ("Fresh Off the Boat"). The film is and written and directed by Lorene Scafaria ("Seeking a Friend for the End of the World," "Nick and Norah's Infinite Playlist").
"Hustlers" follows Destiny (Wu) a young stripper struggling to make ends meet. That is, until she meets Ramona (Lopez), the club's savvy top earner, who shows her the way toward making big bucks. But when the 2008 economic collapse hits their Wall Street clientele hard, Destiny and Ramona concoct a plan with their fellow strippers to turn the tables on these greedy power players. The bonus feature is a commentary by director Scafaria. The film also is available now on Digital.
Killerman
Liam Hemsworth (the "Hunger Games" films) stars in the gritty action thriller "Killerman," available now on Digital and DVD, from Paramount Home Entertainment.
Hemsworth stars as money launderer Moe Diamond in the dangerous criminal underworld of New York City. When a lucrative drug deal goes wrong, Diamond wakes up from a car crash with no memory, millions in cash, and a crew of dirty cops hunting him down. On the run, he must race against the clock to uncover the truth about his identity.
"Killerman" also stars Emory Cohen ("Brooklyn," "The OA"), Diane Guerrero ("Orange is the New Black"), Zlatko Buric ("Pusher") and Suraj Sharma ("Life of Pi"). The film is written and directed by Malik Bader ("Street Thief").
Fritz Lang's Indian Epic: The Tiger of Eschnapur and The Indian Tomb
After more than two decades of exile in Hollywood, master filmmaker Fritz Lang triumphantly returned to his native Germany to direct a lavish two-part serialized cliffhanger from a story he co-authored almost forty years earlier: 1959's "The Tiger of Eschnapur" and "The Indian Tomb," which together would become known as "Fritz Lang's Indian Epic."
A cinematic link between the classic silent serials and the modern action/adventures of "Indiana Jones" and "The Mummy," "Fritz Lang's Indian Epic" was the director's penultimate work. Operating outside the Hollywood system and given more freedom and resources than he had seen in years, Lang returned to remake the exotic adventure "The Indian Tomb," which he originally helped to pen in 1921 but didn't have the opportunity to direct himself. With breathtaking location shoots, a large international cast, elaborate sets and a jungle's worth of danger and treachery, Lang crafted a blend of evocative images and montage that, in the twilight of his career, once again proved him a virtuoso of film form.
In "The Tiger of Eschnapur," Western architect Harold Berger (Paul Hubschmid), called to India by Chandra, the Maharaja of Eschnapur, falls in love with the beautiful temple dancer Seetha (Debra Paget), although she is promised to the Maharaja. Their betrayal ignites the wrath of a vengeful Chandra, who is fighting his own battle for power with his scheming half-brother, Ramigani, leading to the lovers' daring escape into the desert.
"The Indian Tomb" picks up with the doomed lovers being rescued by sympathetic desert villagers, only to be later given up for ransom. Seetha is captured and sent back to Eschnapur, where she must perform a death-defying (and very erotic) temple dance to prove her innocence. Meanwhile, Ramigani incites a revolt against the Maharaja and uses both Berger and Seetha as pawns in his plot to seize the throne.
Initially released in North America as "Journey to the Lost City," a radically condensed 90-minute version, these exotic masterpieces are finally presented in all their original splendor, featuring more than three hours of beautiful cinematography and intense suspense in this new 4K restored edition.
Extras include an audio commentary by film historian David Kalat," The Indian Tomb" documentary, a film essay by Mark Rappaport and a 20-page booklet with an essay by film scholar Tom Gunning. The Blu-ray release is available for $49.95 (SRP) and the DVD is available for $39.95 (SRP).
Lucky Day
From writer/director Roger Avary, the Oscar-winning writer of "Pulp Fiction" and "Killing Zoe," comes "Lucky Day," arriving on Blu-ray (plus Digital), DVD, and Digital Tuesday Dec. 10, from Lionsgate. This film is currently available On Demand.
This crime saga tells the story of a paroled safe-cracker and his family confronting a psychotic hit-man out for revenge, and stars Crispin Glover ("American Gods"), Nina Dobrev ("Flatliners") and Luke Bracey ("Point Break").
Released from prison after an extended stay, safecracker Red (Bracey) rejoins his wife (Dobrev) and daughter and vows to go straight. But psychotic French hit-man Luc (Glover) has also come to town, seeking revenge against Red for the death of Luc's brother—leading to a very unlucky showdown.
The Blu-ray and DVD will include a filmmaker commentary and making-of featurette and will be available for the suggested retail price of $21.99 and $19.98, respectively.
Holly Near: Singing for Our Lives
Singer, songwriter, and social activist Holly Near has been performing for well over 50 years and in the process created what Gloria Steinem called, "the first soundtrack of the women's movement." "Holly Near: Singing for Our Lives" will be available Tuesday Dec. 17 on DVD, from Omnibus Entertainment
From small-town Northern California to sold-out shows on some of the most iconic stages to million-person peace marches, "Holly Near: Singing for Our Lives" documents the story of the activist and her art. Soaring anthems that call for women's rights, gay rights, anti-war protests and all human rights, Near's music speaks to the world's young political activists of today. It also serves as an important testament to a time of protest and coalition-building, and the weaving of a multicultural consciousness rooted in contemporary activism.
Featuring new interviews with Steinem, Jane Fonda, the late Ronnie Gilbert and the late Tom Hayden with appearances by Pete Seeger, and others, this new music documentary which previously aired on "American Masters," directed by four-time Emmy winner Jim Brown ("American Masters—The Highwaymen: Friends Til The End;" "American Masters—Pete Seeger: The Power of Song"), elevates Near to her iconic status as an artist and activist.
Bonus features include live performances of "One Good Song" and "Somebody's Jail", and eight additional minutes of footage not seen in the original broadcast, as well as additional interviews with Near and other artists she inspired. "Holly Near: Singing for Our Lives" is available for $24.95 (SRP).
Once Upon a Time … in Hollywood
Director/writer Quentin Tarantino's "Once Upon a Time…In Hollywood" arrives on home video Tuesday Dec. 10 with a variety of extras depending on format (4K Ultra HD, Blu-ray, DVD and digital), but all include more than 20 minutes of new footage from seven scenes that did not appear in the 161-minute movie.
The 4K Ultra HD, Blu-ray and digital versions also include five behind-the-scenes short features: "Quentin Tarantino's Love Letter to Hollywood," "Bob Richardson: For the Love of Film," "Shop Talk: The Cars of 1969," "Restoring Hollywood: The Production Design of 'Once Upon a Time…In Hollywood,'" and "The Fashion of 1969."
Exclusive to the 4K Ultra HD Collector's Edition (with a suggested retail price of $75.99) are a seven-inch vinyl record of two songs from the soundtrack, a record-player spindle adapter for the record, a poster for the Rick Dalton (Leonardo DiCaprio) character's movie "Operazione Dyn-o-mite!" and a miniature Mad magazine parody of Dalton's TV series "Bounty Law" called "Lousy Law."
"Once Upon a Time…In Hollywood" is Tarantino's ninth film, and his second most commercially successful at the box office (behind 2012's "Django Unchained").
Remixing 1969 fact with fiction, its screenplay crosses a fictional Western actor (DiCaprio) and his stuntman best friend (Brad Pitt) with movie star Sharon Tate (Margot Robbie) and murderous cult leader Charles Manson (Damon Herriman). The movie is rated R for scenes featuring Tarantino's singular brand of outrageously over-the-top violence.
Raise Hell: The Life and Times of Molly Ivins
"Raise Hell: The Life & Times of Molly Ivins" is an insightful documentary about media firebrand Molly Ivins, six feet of Texas trouble who took on the Good Old Boy corruption wherever she found it. Available now on Digital and DVD formats, the documentary reveals Ivins' razor-sharp wit that left both sides of the aisle laughing and craving ink in her columns. She knew the Bill of Rights was in peril and said, "Polarizing people is a good way to win an election and a good way to wreck a country." Molly's words have proved prescient.
From director Janice Engel ("Jackson Brown: Going Home," "Ted Hawkins' Amazing Grace") comes this inspirational look at the rise of one of America's most outspoken and fiery political commentators. The documentary spans her early days as a journalist in Texas to her celebrated byline in the "The New York Times." She was never one to keep her opinions to herself. Molly stood by her convictions to such an extent as to openly opposed President Clinton and his stance of welfare reform, despite being a populist and even used her whip-smart words to earn President George W. Bush the wildly-mocked nickname "shrub." The DVD comes with additional Molly Ivins clips.
"Raise Hell: The Life and Times of Molly Ivins" is available for $26.98 (SRP) and on Digital HD via Apple TV, Google Play, Prime Video and FandangoNOW.
TV Shows
Doc Martin: Series 9
Widely considered one of the most successful British series in the U.S. and beyond Acorn TV features the DVD and Blu-ray debut of "Doc Martin: Series 9," Tuesday Dec. 10.
The series celebrates its 15th anniversary with its newly aired series and bonus disc in a three-disc DVD/Blu-ray set.
Winner of the British Comedy Award for best comedy drama, this eight-part series previously premiered weekly exclusively on Acorn TV in September. AMC Networks' Acorn TV is North America's most popular and largest streaming service featuring high-quality television from Britain and beyond.
In "Doc Martin: Series 9" all is not well for brilliant but blunt Dr. Martin Ellingham (BAFTA winner Martin Clunes, "Manhunt"). To Martin's utter disgust, his medical practice remains under official scrutiny because of his pre-existing blood phobia, and he is forced to attend refresher courses starting with phlebotomy. His wife, Louisa (Caroline Catz, "DCI Banks") and aunt Ruth (Emmy winner Dame Eileen Atkins, "Cranford") urge him to take this risk to his career seriously, but events conspire against him.
Doc Martin also stars Ian McNeice ("The Man Who Invented Christmas") and Joe Absolom ("Hatfields & McCoys"). "Series 9" guest stars include Danny Huston ("Yellowstone," "American Horror Story"), Conleth Hill ("Game of Thrones"), Tom Conti ("Reuben, Reuben") and the return of Clunes' "Men Behaving Badly" co-star Caroline Quentin.