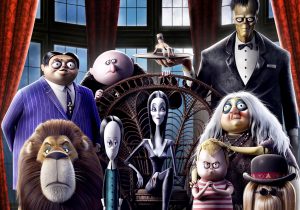 By ANGELA DAWSON
Front Row Features
Movies
The Addams Family
Everyone's favorite creepy and kooky family is back in the animated feature film, "The Addams Family," arriving on Blu-ray, DVD and On Demand Tuesday Jan. 21, from Metro Goldwyn Mayer Studios (MGM) and Universal Pictures Home Entertainment.
The very first full-length animated film about the eccentric and unconventional family, "The Addams Family" on Blu-ray, DVD and Digital showcase the wonderfully weird world of the Addams family with a variety of exclusive bonus features not seen in theaters including deleted and extended scenes, an interactive charades game with Thing, behind-the-scenes footage, music lyric videos and more.
Filled with wildly funny moments and a fresh take on the beloved characters created by Charles Addams, "The Addams Family" celebrates the uniqueness of every family and delivers spooky fun all year long.
From directors Conrad Vernon ("Shrek 2," "Madagascar 3") and Greg Tiernan ("Sausage Party," "Thomas & Friends"), the animated feature boasts a star-studded voice cast including Oscar Isaac ("Star Wars: The Last Jedi," "X-Men: Apocalypse"), Charlize Theron ("Long Shot," "Kubo and the Two Strings"), Chloë Grace Moretz ("Kick Ass," "The 5th Wave"), Finn Wolfhard ("It," "Stranger Things"), Nick Kroll ("The Secret Life of Pets 2," "Sing"), music icon Snoop Dogg, Bette Midler ("Hocus Pocus," "The First Wives Club") and Allison Janney ("Minions," "I, Tonya").
"The Addams Family" also is available now on Digital.
Black and Blue
"Black and Blue" arrives on Blu-ray and Digital Tuesday Jan. 21, from Sony Pictures Home Entertainment.
A fast-paced action-thriller, "Black and Blue" tells the story of a rookie cop (Academy Award nominee Naomie Harris) who inadvertently captures the murder of a young drug dealer on her body cam. After realizing that the murder was committed by corrupt cops, she teams up with the one person from her community who is willing to help her (Tyrese Gibson) as she tries to escape the criminals out for revenge and the police who are desperate to destroy the incriminating footage.
Extras include deleted scenes as well as interviews with director Deon Taylor, and actors Harris and Gibson, discussing their roles.
Complicity
The drama "Complicity" arrives on DVD and Digital Tuesday Jan. 21, from Film Movement.
Chen Liang (Lu Yulai), a young Chinese immigrant illegally living in Japan, buys a fake ID and cell phone on the black market. When he receives a call about a job, he blindly accepts the offer. Chen, now assuming the identity of Liu Wei, ends up working as an apprentice in a family-run soba restaurant. As he acclimates to his new life, he forms a strong bond with his sagely mentor (Tatsuya Fuji, "In the Realm of the Senses") and finds happiness in a budding romance with a local artist, but the constant threat of deportation looms large over him. Directed by Kei Chikaura, this moving and insightful feature debut offers a rare inside view of life as a marginalized immigrant in Japan.
The bonus feature is "About Bintou," a short documentary written and directed by Dezhou Li, that follows a young African woman's life as a student in Guangzhou, China.
The DVD, which includes a Digital copy, is available for $24.95 (SRP).
Countdown
What if your phone could tell you when you're going to die? Would you want to know? There's a new killer app in "Countdown," available Tuesday Jan. 21 on Blu-ray, DVD and On Demand, from STX films and Universal Pictures Home Entertainment.
This terrifying and inventive horror thriller stars Elizabeth Lail ("You") as a young nurse who downloads an app that claims to predicts exactly when a person is going to die. With only three days left to live and death closing in, she must find a way to save her life before time runs out.
The film also stars Jordan Calloway ("ER"), Taliitha Bateman ("Love, Simon"), Tichina Arnold ("Everybody Hates Chris") P.J. Byrne ("The Wolf of Wall Street") and Peter Facinelli ("The Twilight Saga" franchise). From John Rickard, the producer behind "A Nightmare on Elm Street," "Countdown" is the writing and feature directorial debut of Justin Dec ("Boats"). The film already is available on Digital.
The Courier
The nonstop action-thriller "The Courier" arrives on Blu-ray (plus Digital), DVD, and Digital Tuesday Jan. 21, from Lionsgate. This film is available now On Demand.

Starring Academy Award winner Gary Oldman ("Darkest Hour") and Olga Kurylenko, a motorcycle courier must fight off a sadistic crime boss' henchmen in order to protect the one witness that can bring him down.
The Blu-ray (plus Digital) includes a commentary with director/writer/executive producer Zackary Adler and producer/writer/composer James Edward Barker as well as a trailer gallery.
The film also stars Dermot Mulroney. "The Courier" Blu-ray and DVD will be available for the suggested retail price (SRP) of $21.99 and $19.98, respectively.
I See You
Academy Award winning actress Helen Hunt stars in the psychological thriller "I See You," arriving on DVD Tuesday Jan. 21, from Paramount Home Entertainment.
When a 12-year-old boy goes missing, lead investigator Greg Harper (Jon Tenney) struggles to balance the pressure of the investigation and troubles with his wife, Jackie (Hunt). Facing a recent affair, great strain is put on the family that slowly gnaws away at Jackie's grip on reality. But after a malicious presence manifests itself in their home and puts their son, Connor (Judah Lewis), in mortal danger, the cold, hard truth about evil in the Harper household is finally uncovered. The film is directed by Adam Randall from a screenplay by Devon Graye
"I See You" also can be seen in theaters, on Digital and On Demand.
Moving Parts
Arriving on DVD and Digital Tuesday Jan. 21 is "Moving Parts," a powerful drama about human trafficking.
Following the death of her father, Chinese national Zhenzhen (Tian) hires a smuggler to take her to Port of Spain, the capital of Trinidad and Tobago, where her brother, Wei, works in construction. After he gets her a menial job at a restaurant, when the smuggler demands more cash, and Zhenzhen is forced into a compromising position. Help comes unexpectedly from Evelyn (McClure), who runs an art gallery in the neighborhood—but the contrast between the dark rooms above the restaurant and the blindingly white gallery calls everyone's innocence into question.
Blending social consciousness and taut drama while avoiding sensationalism, "Moving Parts," is a captivating, ripped-from-the-headlines film that adeptly addresses the increasingly urgent problem of human trafficking.
Director Emilie Upczek makes her feature film debut with this festival favorite, an Official Selection at the more than a dozen international festivals including Denver, San Francisco IndieFest and Panama International Film Festival, and was shot by Emmy Award-winning DP Nancy Schreiber ("Mapplethorpe").
"Moving Parts" is available on DVD and Digital for $24.95 (SRP).
Zombieland: Double Tap
Remember to limber up and beware of bathrooms, as Woody Harrelson ("Venom"), Jesse Eisenberg ("The Social Network"), Abigail Breslin ("Scream Queens") and Emma Stone "(La La Land") return to the United States of Zombieland 10 years after their first undead adventure for Ruben Fleischer's long-awaited "Zombieland: Double Tap" arrives on 4K Ultra HD, Blu-ray and DVD Tuesday Jan. 21, from Sony Pictures Home Entertainment.
Experience an all-new adventure with some of your favorite zombie apocalypse survivors, as well as newcomers Rosario Dawson ("The Defenders"), Zoey Deutch ("The Politician"), Luke Wilson ("Old School"), Avan Jogia ("Shaft") and Thomas Middleditch ("Silicon Valley").
"Zombieland: Double Tap" finds Tallahassee (Harrelson), Columbus (Eisenberg), Little Rock (Breslin), and Wichita (Stone) working together as a well-oiled, zombie-killing machine with a new home in the now-vacant White House. These four slayers must face off against the many new kinds of zombies that have evolved since the first movie, as well as some new human survivors. But most of all, they have to face the growing pains of their own snarky, makeshift family.
In addition to the film's on-screen reunion, "Zombieland: Double Tap" brings back several fan-favorites behind the camera as well. Director Ruben Fleischer returns to the "Zombieland" universe after the blockbuster debut of "Venom" in 2018, directing a script penned by original horror/comedy's screenwriters Rhett Reese and Paul Wernick, in addition to Dave Callaham, solidifying the sequel as an event 10 years in the making.
"Zombieland: Double Tap" also is now available on Digital.
They're creepy, they're kooky and they've been beloved by generations. That's why Front Row Features is giving away a copy of the all-new animated family comedy "The Addams Family" on Blu-ray/DVD Combo Pack to one lucky reader to enjoy with their kids, grandkids or nieces and nephews. To enter the contest, simply email socalmovieeditor@aol.com by Jan. 27 to win. Good luck!