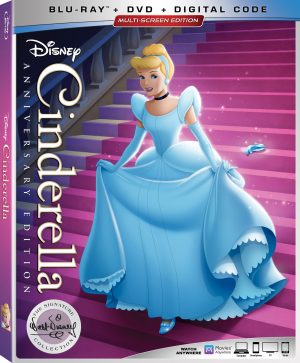 By ANGELA DAWSON
Front Row Features
Movies
Cinderella: Anniversary Edition
In honor of its upcoming 70th anniversary, Disney's timeless animated classic "Cinderella" waltzes into the highly celebrated Walt Disney Signature Collection and the hearts of a whole new generation when it arrives home on Blu-ray and DVD Tuesday June 25.
Recently added to the prestigious National Film Registry, the animated classic centers on kind and hardworking Cinderella, who is ordered around by her cruel stepmother, her awful stepsisters — even the big clock in the church tower tells her when to start another day of drudgery. But they can't stop her from dreaming, and Cinderella has faith that someday her wishes will come true.
When an invitation to the royal ball arrives, Cinderella is sure her time has come — until her stepsisters, with the encouragement of Lady Tremaine, tear her gown to shreds. Just when Cinderella believes all is lost, her Fairy Godmother appears, and with a wave of her wand and "Bibbidi-Bobbidi-Boo," transforms an ordinary pumpkin into a magnificent coach and Cinderella's rags into a gorgeous gown, then sends her off to the Royal Ball. But Cinderella's enchanted evening must end when the spell is broken at midnight. It will take the help of her daring animal mice friends and a perfect fit into a glass slipper to create the ultimate fairy tale ending.

The 70th Anniversary Edition of the classic animated film offers two all-new extras "Cinderella" trivia and fun facts, hosted by Ruth Righi and Ava Kolker from Disney Channel's "Sydney to the Max," and "In Walt's Words: Enhanced Edition," a special edition of "Cinderella" featuring production details, original storyboards, archival photos, thumbnail sketches and transcripts throughout the feature film.
Hours of classic bonus material celebrates the masterful animation, memorable music and long-lasting impact of "Cinderella," showcasing Walt Disney's core group of animators, the art of Disney Legend Mary Blair, the original demo recording of the film's title song and Cinderella's iconic glass slipper.
"Cinderella: Anniversary Edition" also is available now Digitally in HD and Movies Anywhere."Cinderella" is the ninth title to join the Walt Disney Signature Collection, which includes groundbreaking films created or inspired by the imagination and legacy of Walt Disney, featuring timeless stories and characters that have touched generations. The animated fairy tale takes its place alongside "Snow White and the Seven Dwarfs," "Beauty and the Beast," "Pinocchio," "Bambi," "The Lion King," "Lady and the Tramp," "Peter Pan" and "The Little Mermaid."
Dumbo
"Dumbo," the grand live-action adventure from Disney and visionary director Tim Burton, which expanded on the beloved animated classic and sent spirits soaring, prepares for a landing Tuesday June 25.
Disney invites fans to fall in love again with this heartfelt story, in which differences are celebrated, family is cherished and dreams take flight, when it swoops into homes on Digital in HD and 4K Ultra HD™ and Movies Anywhere, and physically on 4K Ultra HD, Blu-ray and DVD—with never-before-seen bonus features, deleted scenes, Easter eggs and bloopers.
Bonus features will transport viewers to the set of "Dumbo," where cast members Danny DeVito (circus owner Max Medici), Michael Keaton (opportunistic businessman V.A. Vandevere), Colin Farrell (war-veteran-turned-elephant-keeper Holt Farrier), Eva Green (stunning aerialist Colette Marchant), Nico Parker (Farrier's daughter, Milly) and Finley Hobbins (Farrier's son, Joe) share their personal stories of courage and character. Features explore how Disney's timeless animated story was brought to life with an incredibly expressive, lovable, fully computer-generated baby elephant; the longtime collaboration of Burton, production designer Rick Heinrichs and costume designer Colleen Atwood, which resulted in jaw-dropping sets and costumes; and the creation of the visually colossal Dreamland parade sequence. Also included are nine deleted scenes, hidden and not-so-hidden Easter eggs, bloopers and a special performance of "Baby Mine" by Arcade Fire.

In "Dumbo," struggling circus owner Max Medici enlists former star Holt Farrier and his children to care for a newborn elephant whose oversized ears make him a laughingstock. But when they discover that Dumbo can fly, the circus makes an incredible comeback, attracting persuasive but sinister entrepreneur V.A. Vandevere, who recruits the peculiar pachyderm for his newest, spectacular, larger-than-life entertainment venture, Dreamland.

The film will be released in several different formats, giving families the flexibility to watch it on a variety of devices. Viewers can watch the film in Digital 4K UHD, HD and SD, and bring home a physical copy of the film as the 4K Ultra HD Edition (4K UHD, Blu-ray and Digital Code), Multi-Screen Edition (Blu-ray, DVD and Digital Code) and a single DVD.
The Poison Rose
Oscar nominee John Travolta ("Pulp Fiction") and Oscar winner Morgan Freeman ("Million Dollar Baby") appear onscreen together for the first time in "The Poison Rose," available on Blu-ray (plus Digital), DVD, and Digital Tuesday June 25, from Lionsgate. This film is currently available On Demand.

Based on the novel of the same name by Richard Salvatore and directed by George Gallo (writer of "Midnight Run" and "Bad Boys") comes a Texas tale of murder and corruption. It also stars Famke Janssen, Kat Graham, Peter Stormare, Ella Bleu Travolta, with Robert Patrick and Brendan Fraser.
Travolta plays Carson Philips, a hard-drinking L.A. private eye who takes a case in his old hometown of Galveston, Texas. While searching for a missing woman, Philips must confront a crime boss (Freeman), a shady doctor (Fraser), a sexy club singer (Graham), his former lover (Famke Janssen)—and his own dark, disturbing past.
"The Poison Rose" Blu-ray and DVD will be available for the suggested retail price (SRP) of $21.99 and $19.98, respectively.
Heroes Shed No Tears
For the very first time, John Woo's cult classic "Heroes Shed No Tears" arrives on Blu-ray in North America Tuesday June 25, from Film Movement Classics.
In this precursor to his breakout film "A Better Tomorrow," Woo demonstrates his trademark style of hyperkinetic action and violence. The action movie that he identifies as his "first real film" broke a string of low-budget slapstick farces, and built the foundation for his over-the-top genre films that would follow.
Hong Kong action veteran Eddie Ko ("The Mission," "Lethal Weapon 4") stars as soldier-of-fortune Chan Chung, the leader of an elite Chinese commando force enlisted by the Thai government to capture General Samton, a powerful drug lord from the Golden Triangle. After a successful raid on the general's headquarters, the mercenaries cross into Vietnam and encounter a barbaric colonel (Lam Ching Ying), who is determined to stop them at any cost. Now pursued by both Samton's henchmen and the colonel's troops, the heroes flee for the border of Thailand, outmanned and outgunned by their enemies.
"Heroes Shed No Tears" has a new 2K digital restoration for an optimal viewing experience.
TV Shows
Manhunt
Earning the highest ratings for a new ITV drama in more than six years, the smash hit British true crime drama miniseries "Manhunt" makes its DVD and Blu-ray debut Tuesday June 25, from Acorn TV.
Based on the memoirs of former London Metropolitan police detective DCI Colin Sutton, the three-part drama from Buffalo Pictures stars one of the most popular British actors on television in the United States, BAFTA- and SAG-award winning actor Martin Clunes ("Doc Martin," "Vanity Fair"). Clunes stars as DCI Sutton who determinedly and tenaciously pursued serial killer Levi Bellfield.
The DVD and Blu-ray disc one features three episodes, plus a bonus behind-the-scenes interview with Martin Clunes and producer Philippa Braithwaite ($34.99, Amazon.com).
"Manhunt" made its exclusive U.S. premiere in March on Acorn TV, North America's most popular and largest streaming service focused on British and international television.
BAFTA Award-winning actor Martin Clunes stars in this chilling mystery based on true events that rocked Britain. When the battered body of a French student is found on Twickenham Green in London, hardworking and humble DCI Colin Sutton (Clunes) is appointed the lead detective on his first big case. After connecting the young woman's murder to a previous attack, Sutton embarks on a quest to catch a serial killer. With the press in a frenzy and the public demanding answers, his team grows discouraged as they find no motive, witnesses, or forensic evidence. But Sutton's commitment never wavers, often at the expense of his relationship with his wife (Claudie Blakley, "Grantchester," "Pride & Prejudice"). Realistically portraying the ins and outs of police investigations, Manhunt tells the story of one detective's uncompromising search for justice. It will be available for $34.99 (SRP).
Marcella: Season 2
The return of the haunting British detective drama "Marcella: Season 2" makes its DVD debut Tuesday June 25, from Acorn.
International Emmy award-winning actress Anna Friel ("Pushing Daisies") reprises her role as DS Marcella Backland, a London detective who experiences violent blackouts. The series aired on Netflix in the U.S. It has been renewed for a new season. The two-disc DVD set features eight episodes ($49.99, Amazon.com).
In Season 2, when a body is found inside a wall, Marcella is horrified to discover that she knew the victim: a young boy who went missing years ago while walking home with her son. As more corpses turn up, Marcella wades through a complex web to catch a serial killer, but her deteriorating mental state threatens to derail the investigation.
From award-winning writer Hans Rosenfeldt ("The Bridge"), Marcella also stars Jason Hughes ("Midsomer Murders"), Victoria Smurfit ("Trial & Retribution"), Ray Panthaki ("Colette"), Jamie Bamber ("Battlestar Galactica") and Peter Sullivan ("The Borgias"). "Marcella: Season 2" will be available for $49.99 (SRP).
Poldark: The Complete Collection
The sweeping original Masterpiece Theatre sensation "Poldark: The Complete Collection" will be available on DVD Tuesday June 25.
The Emmy and BAFTA-nominated miniseries, based on the beloved novels by Winston Graham, tells the story of a dashing 18th century English army officer (Robin Ellis, "The Good Soldier," the new "Poldark" series), who finds the trials and travails at home every bit as perilous as what he faced in war. Hailed as a British "Gone with the Wind," the classic miniseries debuted on PBS in May 1977, was featured on "The Best of Masterpiece Theatre" special and voted one of the 10 most popular shows in the series' history in a 2007 PBS poll. The eight-disc DVD set features all 29 episodes, plus bonus featurettes ($79.99, Amazon.com).
Series 1 of this spellbinding saga introduces the gallant Captain Ross Poldark, who returns to Cornwall, England from the American Revolution to a family who thought he had perished in the war. He finds that his father has died in his absence, the woman he loves is engaged to his cousin, and a viperous businessman is plotting to ruin his family. In Series 2, Ross through further tumultuous times, from saving his marriage to reclaiming his fortune as he attempts to defeat his predatory rival once and for all. This classic drama teems with adventure and romance, set against the spectacular backdrop of the ruggedly beautiful coast.
Also starring Angharad Rees ("Close to Home"), Ralph Bates ("Dear John"), Jill Townsen ("Cimarron Strip"), Jane Wymark ("Midsomer Murders"), Kevin McNally ("Turn: Washington's Spies," "Pirates of the Caribbean") and Judy Geeson ("Mad About You," "To Sir, with Love"). "Poldark: The Complete Series" will be available for $79.99 (SRP).
Calling all Disney fans! Front Row Features is giving away a copy of the newest release in the Walt Disney Signature Collection, "Cinderella," as well as a copy of the live-action "Dumbo" on Blu-ray/DVD Combo Pack to three lucky readers. To enter the contest, simply email socalmovieeditor@aol.com by July 1 for your chance to win both titles. Good luck!