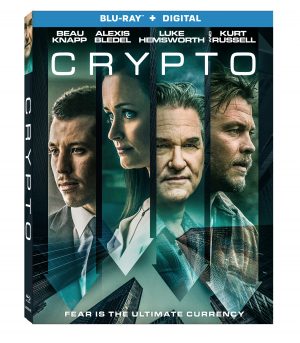 By ANGELA DAWSON
Front Row Features
Movies
Crypto
Beau Knapp, Alexis Bledel, Luke Hemsworth and Kurt Russell star in the cyber thriller "Crypto," available on Blu-ray (plus Digital), DVD, and Digital Tuesday June 18, from Lionsgate.
When Wall Street banker Martin (Beau Knapp, "Death Wish") is sent to a bank branch in upstate New York, he uncovers suspicious cash flow through a local gallery selling million-dollar paintings. As Martin traces links to a violent global mob, he realizes he's put his nearby family in grave danger. This searing action tale also stars Vincent Kartheiser ("Mad Men").
Extras include a commentary with director John Stalberg Jr., and co-writers David Grigerio and Carlyle Eubank, "Creating Crypto" featurette, plus a trailer gallery.
The "Crypto" Blu-ray and DVD will be available for the suggested retail price (SRP) of $21.99 and $19.98, respectively. It also is available now On Demand.
Us
The horror film "Us" arrives on 4K Ultra HD, Blu-ray, DVD and On Demand Tuesday June 18, from Universal Home Entertainment.
Academy Award winner Jordan Peele follows the success of his 2017 blockbuster hit "Get Out" with this spooky thriller. Academy Award winner Lupita Nyong'o ("Black Panther," "12 Years a Slave"), Winston Duke ("Black Panther"), Emmy winner Elisabeth Moss ("The Handmaid's Tale," "Mad Men") and Tim Heidecker ("The Comedy," "Tim & Eric's Bedtime Stories") star in this terrifying horror film involving Doppelgangers, Hands Across America, "The Nutcracker," rabbits and 11:11.
Set along the Northern California coastline, Adelaide Wilson (Nyong'o) reluctantly returns to her beachside childhood home with her family and finds that she is haunted by unresolved trauma from her past along with a string of eerie coincidences. As darkness falls after a tense day at the beach, the Wilsons discover four figures standing in their driveway. They soon realize this is only the beginning of their troubles as they find that the four figures are terrifying and uncanny opponents— doppelgangers of themselves.
Fans can now untether the truth with more than 50 minutes of bonus features delving into the mind of Peele, his filmmaking process and the symbolism behind "Us." The key themes and imagery from "Us" are explored and explained. The film also is now available on Digital platforms.
Wonder Park
"Wonder Park" arrives on Blu-ray Combo Pack and DVD Tuesday June 18, from Paramount Home Entertainment.
The action-packed animated comedy tells the story of a young girl named June with a big imagination who makes an incredible discovery—the amusement park of her dreams has come to life. Filled with the world's wildest rides operated by fun-loving animals, the excitement never ends. But when trouble hits, June and her misfit team of furry friends begin an unforgettable journey to save the park.
The Digital and Blu-ray Combo Pack offer a wealth of entertainment and activities to get kids' imaginations soaring with singing, drawing, and more. The fun-filled bonus content gives viewers the chance to sing along with June and her friends, learn how to draw Boomer and the Wonder Chimps, watch Gus the Beaver yodel his heart out, make crazy noises like voiceover artists and take a tour of Wonderland. The animated adventure also is available now on Digital platforms.
The Brink
"The Brink," an intimate documentary on former White House chief strategist Steve Bannon directed and filmed by Alison Klayman ("Ai Weiwei: Never Sorry," "Take Your Pills"), is available Tuesday June 18, from Magnolia Home Entertainment.
Klayman follows Bannon as he takes his effort to spread his conservative ideology from the U.S. to the rest of the world. With unprecedented access, her fly-on-the-wall historical document employs a verite approach that aims to expose Bannon's tactics, including his relationship with the media. The film premiered at the Sundance Film Festival.
"The Brink" is available on DVD for $26.98 (SRP) as well as Digital platforms as well.
TV Shows
Patrick Melrose
With five Emmy nominations and BAFTA Awards for Best Miniseries and Best Leading Actor, the star-studded British miniseries "Patrick Melrose" makes its DVD and Blu-ray debut Tuesday June 18, from Acorn.
Based on the acclaimed novels by Edward St. Aubyn, the five-part series tracks Patrick Melrose (Benedict Cumberbatch, "Avengers" movies, "Sherlock") from a privileged but deeply traumatic childhood in the South of France, through severe substance abuse in his 20s in New York and, ultimately, toward recovery back home in Britain.
This blackly humorous drama follows Patrick from his childhood trauma at the hands of an abusive father (Hugo Weaving, "The Lord of the Rings" and "Matrix" films) and neglectful mother (Jennifer Jason Leigh, "The Hateful Eight"), to the peak of his heroin addiction, and his attempts to stay sober and support his family. The series also stars Blythe Danner ("Meet the Parents"), Allison Williams ("Get Out"), Jessica Raine ("Call the Midwife," "Partners in Crime") and Indira Varma ("Game of Thrones"). The miniseries aired on Showtime in the U.S.
The DVD and Blu-ray two-disc sets each feature five episodes, plus bonus a five-minute behind-the-scenes featurette about the making of the miniseries and a 36-page booklet with cast and crew interviews. The two-disc DVD/Blu-ray sets each contain five episodes, and are available for $39.99 (SRP).