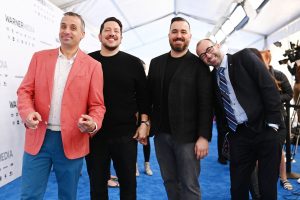 By ANGELA DAWSON
Front Row Features
If you've been binge-watching TV shows that have been on your someday-I'll-watch-this list but never got around to because of distractions like work and raising a family, you've likely happened upon truTV's "(Impractical) Jokers," a "Candid Camera"-style reality-comedy show in which four lifelong friends challenge each other to engage in embarrassing pranks with real people who are unaware they are part of the joke on hidden camera.
After eight seasons, the show and its four stars recently hit the big screen in February, albeit briefly, owing to that nasty pandemic, which forced the shuttering of most movie theaters around the world. Undaunted, "(Impractical) Jokers: The Movie" arrived earlier than originally scheduled on Digital platforms on April Fool's Day, from Warner Bros. Home Entertainment. The comedy comes just in time for millions of quarantined viewers to be amused for nearly 90 minutes of hijinks and hilarity from James "Murr" Murray, Brian "Q" Quinn, Joseph "Joe" Gatto and Sal Vulcano.
The film, an extension of the wildly successful truTV "(Impractical) Jokers" series, was directed by Chris Henchy ("Daddy's Home," "Eastbound & Down"), which he co-wrote with the four Jokers. Produced by Funny or Die, "(Impractical) Jokers: The Movie" delivers brand new challenges for the four friends, and a backstory on how they got their start. The film opens with the guys in 1994 as teenagers, getting together in their hometown of Staten Island plotting to sneak into a sold-out concert for pop singer Paula Abdul. "Young" Murr, Q, Joe and Sal are played by the actors/comedians themselves, which only adds to the humor because there's no disguising—even with wigs, period clothes and makeup—that these guys are well into their 40s.
Disguised with matching yellow windbreakers, the fellows pose as security guards and manage to convince the bouncer at the concert venue to allow them entry. It doesn't take long before the foursome find their way into the green room backstage and Murr actually manages to snag Abdul's phone number, at least part of it. However, when the concert itself begins, the pranksters, standing just offstage, can't help themselves and begin to disrupt Abdul and her backup dancers' performance. Infuriated, Abdul and her security team wrestle the Jokers offstage. The petite performer even manages to knock out Sal, warning the guys, "One day, I am going to find you and I will destroy you."
Cut to 25 years later, and the Jokers happen upon Abdul and her entourage at a Red Lobster. (Just go with it). After making eye contact with them, she comes over to their table and surprisingly—maybe it's their shock of grey hair or receding hairlines—doesn't recognize them. After some small talk, she invites them to a party she's throwing in Miami. She hands them backstage passes, but as she leaves, the Jokers realize there are only three. What to do? Simple. Engage each other in a series of embarrassing challenges recorded with hidden cameras as they embark on a road trip from Staten Island to Miami.
While the full-length movie is likely to delight longtime fans of the TV series, newcomers might have a hard time following the film's sophomoric humor and inside jokes. There are references scattered throughout to classic challenges from the TV show, such as the time musician Yanni was part of a episode. Also, while the guys' willingness to embarrass themselves while pranking unsuspecting strangers for bragging rights—and a coveted backstage pass—is remarkably zany, the comedy's narrative storyline feels forced, predictable and unsatisfying. Viewers likely will enjoy the challenges more than the ho-hum road trip journey that seems hammered into this 89-minute feature.
One of the film's best moments is when each of the guys has to pretend his old car is broken down on the side of the road while traveling through Georgia, and prank unsuspecting Good Samaritans into stopping to help. Joe, who may be the funniest of the foursome, manages to convince his "helper" to keep following him around the car, for no apparent reason. Murr's target flees when he spies the Joker's purposely visible purple thong he's wearing under his pants. More humorous moments occur during a stopover where the Jokers play applicants to unsuspecting department managers of the Atlanta Hawks in a conference room. Other challenges, while funny, aren't quite up to snuff as some of the classic "(Impractical) Jokers" challenges that have aired on truTV over the past nine years. A challenge involving a fake inappropriate eulogy they each share with unsuspecting tourists at the Lincoln Memorial and another at a strip club fall flat. Thankfully, there are plenty of new challenges scattered throughout the film so viewers aren't likely to get bored, though occasionally a little disappointed.
The film boasts not only the star power of pop star/ "American Idol" judge Abdul, but also other stars including Jaden Smith, Joey Fatone and even Funny or Die regular Will Ferrell, who inexplicably pops up in the background of a restaurant scene. Viewers also are introduced to some of the Jokers' actual family members—and even Murr's cat—at various points throughout the film.
Do they make it to Miami, and who winds up the "Loser" who doesn't get to go to Abdul's fancy soiree? You'll have to tune in and find out.
Though not great, "(Impractical) Jokers: The Movie" provides some much-needed funny escapism during these uncertain and scary times.
"(Impractical) Jokers" first premiered on truTV in 2011 and quickly became a hit, especially among young adults. The series has aired eight seasons with over 200 episodes to date and remains a top three original cable comedy series with ratings that continue to grow.
Grade: B-