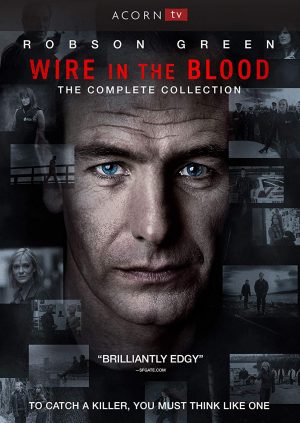 By ANGELA DAWSON
Front Row Features
Finding Joy
The Acorn TV Original Irish comedy "Finding Joy" makes its DVD debut Tuesday April 30. Created, written and starring beloved Irish actress and IFTA Award winner Amy Huberman ("Striking Out," "The Clinic"), the six-part Irish comedy follows a single woman, Joy (Huberman), after a painful breakup, who looks for happiness in all the wrong places. The DVD Single features six 30-minute episodes and a bonus behind-the-scenes featurette ($34.99, Amazon.com).
Finding Joy premiered in the U.S. last December on Acorn TV. Acorn TV is North America's most popular and largest streaming service focused on British and international television.
Huberman created, wrote, and stars in this quirky, life-affirming Irish comedy. Routine-loving Joy is having a tough time after a messy breakup with her live-in boyfriend, Aidan (Lochlann O'Mearáin, "Love & Friendship"). Then a promotion forces her to step out of her comfort zone as she replaces her network's star vlogger, the Happy Hunter.
The job sends Joy to unusual places where people find bliss: wrestling matches, wellness retreats, hot yoga, and more, all while filming her discomfort. But despite the new gig and help from her free-spirited roommate (comedian Aisling Bea, "The Fall"), Joy can't seem to get over Aidan, or even stop running into him and his beautiful new girlfriend (Karen Hassan, "Vikings"). Joy must learn to accept the changes in her life and find happiness of her own.
Wire in the Blood: The Complete Collection
Acorn TV also features the DVD debut of the Edgar Award-winning, British mystery series "Wire in the Blood: The Complete Collection" Tuesday April 30.
Robson Green ("Granchester," "Touching Evil") stars as Dr. Tony Hill, a clinical psychologist called in by the police to help investigate serial killers. The 13-disc DVD set features all six seasons (23 feature-length episodes) and a bonus episode in collectible packaging ($89.99, Amazon.com).
The hit ITV and BBC America series aired from 2002-2008. "Wire in the Blood" also is available on Acorn TV.
Possessing an uncanny insight into criminal behavior, Dr. Tony Hill is called upon to assist the police in building profiles of serial killers in Northern England. His unorthodox methods and off-putting personality alienate people at first, but he soon proves to be a considerable asset to the force. Along with his colleagues, DI Carol Jordan (Hermione Norris, "MI-5," "Cold Feet") and, later, DI Alex Fielding (Simone Lahbib, "Loch Ness"), Tony investigates the atrocious crimes committed by psychopaths, serial killers, and other deviants.
Based on novels by acclaimed author Val McDermid, these chilling, twist-filled mysteries also star Emma Handy ("Doc Martin"), Mark Letheren ("Delicious"), and Mark Penfold ("The Bill", with guest stars including Siobhan Finneran ("Downton Abbey," "Loch Ness"), Kenny Doughty ("Vera," "Love Lies & Records"), Pip Torrens ("The Crown"), Ellie Haddington ("Foyle's War"), Felix Scott ("Doc Martin") and John Hopkins ("Midsomer Murders," "Poldark").