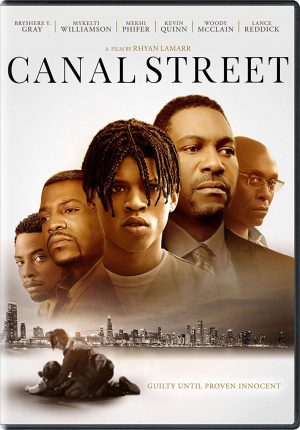 By ANGELA DAWSON
Front Row Features
Movies
Canal Street
Cinedigm and Smith Global Media announced that the Chicago crime drama "Canal Street" will arrive on DVD Tuesday Sept 3. The film follows a young African-American man arrested for the murder of a white classmate, while his father embraces his undying faith to fight in court for his son's vindication.

Bryshere Y. Gray ("Sprinter") and Mykelti Williamson ("Fences") star in this modern-day thriller, written, produced, and directed by Rhyan LaMarr. The cast also includes Mekhi Phifer ("8 Mile"), Kevin Quinn ("Bunk'd"), Woody McClain ("The New Edition Story") and Lance Reddick ("John Wick: Chapter 3 Parabellum").

Kholi Styles (Gray) is trying to get by in an unwelcoming new world. After he becomes the suspect of a mysterious death of a classmate, it's up to his father, Jackie Styles (Williamson), an up-and-coming lawyer from the slums of Chicago, to defend his son in court and battle an outraged public before time runs out. Jackie fights to keep his faith and prove his son is not the monster the world has made him out to be.
Extras include a behind-the-scenes featurette, "The Women of Canal Street," "The Men of Canal Street" and behind-the-music of "Canal Street." The crime drama also is available now on digital platforms.
Ma
What starts out as a teenager's dream turns into a terrifying nightmare in "Ma," the suspenseful thriller from Blumhouse, the producers of "Get Out" and "Happy Death Day," arriving on Blu-ray, DVD and On Demand Tuesday Sept. 3, from Universal Pictures Home Entertainment. Fans can now discover more than 20 minutes of bonus features not seen in theaters including a never-before-seen alternate ending, alternate and deleted scenes, and featurettes that take fans deeper into the unusual and unsettling world of "Ma."
Oscar winner Octavia Spencer ("The Help") delivers an unnervingly daring performance as Sue Ann, a lonely woman who keeps to herself in a quiet Ohio town. When local teenager Maggie (Diana Silvers, "Glass") asks Sue Ann to buy booze for her group of friends, she decides to make some new friends of her own and offers her basement for the kids to party. They just have to follow a few simple house rules: Someone has to stay sober, don't curse, never go upstairs and always call her "Ma." As Ma's hospitality curdles into obsession, her home goes from the best place in town to the most terrifying place on earth.
Directed by Tate Taylor ("The Help") and executive produced by Spencer herself, "Ma" features a supporting cast that includes Juliette Lewis ("August: Osage County"), Luke Evans ("Beauty and the Beast"), Missi Pyle ("Gone Girl"), McKaley Miller ("Hart of Dixie"), Corey Fogelmanis ("Girl Meets World"), Gianni Paolo ("Power" TV series) and Dante Brown ("Lethal Weapon" TV series).
Men in Black: International
Chris Hemsworth ("Avengers: Endgame") and Tessa Thompson ("Thor: Ragnarok") join forces to take on an apocalyptic alien threat in director F. Gary Gray's ("The Fate of the Furious") exciting globetrotting adventure "Men in Black: International," debuting on 4K Ultra HD Combo Pack, Blu-ray Combo Pack and DVD Tuesday Sept. 3, from Sony Pictures Home Entertainment. It also is now available on digital formats.
Joining Hemsworth and Thompson is an all-star supporting cast that includes Kumail Nanjiani ("The Big Sick"), Rebecca Ferguson ("Mission: Impossible—Fallout"), Rafe Spall ("Jurassic World: Fallen Kingdom"), international dance duo Les Twins (Laurent Bourgeois and Larry Bourgeois) with Emma Thompson ("Late Night") and Liam Neeson ("Taken").
The Men in Black have always protected the Earth from the scum of the universe. In this new adventure, they tackle their biggest, most global threat to date: a mole in the Men in Black organization.
The 4K Ultra HD Combo Pack and Blu-ray of "Men in Black: International" feature exclusive deleted scenes—plus erase away those embarrassing moments with an all-new Neuralyzer infomercial and let Frank the Pug trace your out-of-this-world roots with Alien-centry.com. All formats come packed with bonus feature content, including a gag reel, several behind-the-scenes featurettes and more.
TV Shows
Martin Clunes' Islands of America
Martin Clunes ("Doc Martin," "Manhunt") returns with another fun travelogue "Martin Clunes' Islands of America," which makes its DVD debut Tuesday Sept. 3, from Acorn TV. In this gorgeously shot new docuseries, Martin Clunes embarks on an epic journey around the coast of America to discover what life is like on the surrounding islands. Following the successful series on the "Islands of Britain" and "Islands of Australia," Martin has developed a fascination for the unique quality and appeal of island life, often in the most remote places on the planet. The DVD features four episodes ($34.99, Amazon.com). "Martin Clunes' Islands of America" made its U.S. premiere in June on Acorn TV, which is North America's most popular and largest streaming service focused on British and international television.
Beginning in Hawaii, Martin witnesses the destruction caused by volcanoes firsthand, before bear watching in Alaska, encountering seals and sea lions in California's secluded Channel Islands, and visiting some of Washington State's most remote islands. On the East Coast, Martin salsa dances in Puerto Rico, learns about the mysterious lost colony of Roanoke, and watches wild ponies swim at Chincoteague, finally ending his journey in New England's playgrounds of presidents.
Along the way, he sees dazzling and diverse landscapes, gets up close and personal with wildlife ranging from endangered foxes to great white sharks, and chats with insightful historians and memorable locals. Join Martin on this island-hopping quest to witness the wonders of America, from sea to shining sea.
Scooby-Doo, Where Are You!: The Complete Series Limited Edition 50th Anniversary Mystery Mansion
Warner Bros. Home Entertainment salutes that lovable Great Dane, Scooby-Doo and the Mystery Inc. gang with the release of "Scooby-Doo, Where Are You!: The Complete Series Limited Edition 50th Anniversary Mystery Mansion." Available in stores Tuesday Sept. 3, this release is packaged in an eye-catching, limited edition collectible mystery mansion giftset that includes all 41 episodes of the original series, "Scooby-Doo! Where Are You!," released on Blu-ray for the first time, as well as a digital copy of the series. The box set has some fun extras including all-new HD content and Scooby-Doo collectibles including an exclusive Scooby-Doo Funko keychain, and a mini Scooby-Doo encyclopedia.
For 50 years, the Mystery Inc. gang has entertained "Scooby-Doo" fans with zany hijinks, action-packed adventures and engaging mysteries that have captivated viewers of all ages. What started as a Saturday morning cartoon, exploded into an enormously successful franchise encompassing multiple spin-off series, original animated and live action films, consumer products and much more. Now fans have the opportunity to enjoy the original series which launched "Scooby-Doo" into worldwide stardom.
"Scooby-Doo" follows the adventures of four teens, Fred, Daphne, Velma, Shaggy and his lovable, but cowardly Great Dane, Scooby-Doo, as they travel far and wide in their stylish van, the Mystery Machine, to solve mysteries involving ghosts, monsters and other supernatural forces. Their entertaining adventures are always filled with hilarious hijinks and sometimes even catchy musical moments. Through teamwork and clever investigation, the teen sleuths solve case after case, while unmasking the villains who are usually behind each of the mysteries they encounter.
"Scooby-Doo, Where Are You!: The Complete Series Limited Edition 50th Anniversary Mystery Mansion" will be available for a suggested retail price of $89.99.
With fall just around the corner, Front Row Features is starting to get into the Halloween spirit. That's why we're giving away a copy of the terrifying thriller "Ma" on Blu-ray/DVD Combo Pack to one lucky reader so they can have a real scream this Halloween season. To enter the contest, simply email socalmovieeditor@aol.com by Sept. 9 for your chance to win. Good luck!