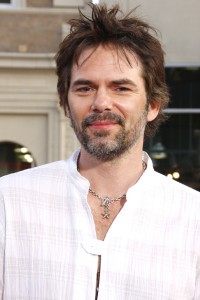 By JUDY SLOANE
Front Row Features
HOLLYWOOD—Billy Burke has been acting since 1990, and has appeared in a plethora of TV shows such as "Rizzoli & Isles," "The Closer" and "24," and movies like "Ladder 49," "Fracture" and as Charlie Swan, Bella's father in the phenomenally successful franchise "The Twilight Saga."
In NBC's new action drama, J.J. Abrams' "Revolution," which premieres Monday, September 17 at 10 p.m./9 c, Burke portrays Miles Matheson, a former Marine who's been living a reclusive life since all the power mysteriously went out 15 years before. When his nephew, Danny (Graham Rogers) is kidnapped by one of the country's militia leaders, Captain Tom Neville (Giancarlo Esposito), Miles' niece Charlie (Tracy Spiridakos) sets out with a rogue band of survivors to find him, convinced he knows the answers to why the power failed and if, or how, it will ever return.
Burke spoke about his new post-apocalyptic TV series and saying farewell to "Twilight" at the Television Critics Association Summer Tour.
Front Row Features: What was the lure for you of playing an action hero in this?
Burke: This is one of those roles when I saw it on the page, I immediately went back to my childhood. As I was growing up watching movies and television, that's what I wanted to do. I've been hanging around a long time, doing a lot of stuff, but nothing like this. I've been very grateful for it. But presented with this, it was the biggest gift I'd been given in a very long time. I couldn't be happier about it.
Front Row Features: Is this like "Lost" where you don't know everything about your character in the beginning?
Burke: I don't know what happened on "Lost," but we are learning things through scripts as we get them, which for me is fantastic. I'm kind of a fly-by-the-seat-of-my-pants actor, and I love to be thrown surprises.
Front Row Features: What if you make up a back story and then find out it's wrong?
Burke: I don't get into that kind of dangerous territory of making up a back story. I know that my back story has already been made up for me.
Front Row Features: Does it change how you play the role?
Burke: No, because I'm coming from a place that I won't discuss that I decided to come from.
Front Row Features: Are you in the gym more now that you're playing this role?
Burke: I'm telling you, this was the only thing that was ever going to get me into a gym, and it did. After we shot the pilot and found out we got picked up, I immediately started training with Jeff Wolfe, who did the "Pirates of the Caribbean" movies. He's an amazing stunt coordinator and choreographer. He's also my trainer.
Front Row Features: Have you ever considered what it would be like living without electricity?
Burke: We think about it and talk about it on set a lot, because it's a necessity. We need to talk about these things in order to create as much reality as we can within this fictional world.
Front Row Features: Are you a survivalist?
Burke: No. If something like this happened, there are parts of us as humans that just go, "Hey, I hope the meteor lands right on my house, so we don't have to deal with that struggle." But most of us as humans are survivalists by instinct, so there's that part of it as well.
Front Row Features: What aspects of technology could you not live without?
Burke: I consider myself old school. I could probably get along without a cell phone, but I feel like that's evolving at such a rapid pace now that even phone calls are old school. What's next? It's just going to keep getting shorter, faster and quicker. So I'm going with the answer of the razor that keeps my face [clean]. That's what I couldn't live without.
Front Row Features: In a way, are you happy the "Twilight" franchise is coming to an end this year?
Burke: I'm neither happy nor sad about it. It was what it was, and it was great while we were doing it. It really opened a lot of doors for me, and I had a great time playing that guy. There were moments that were bittersweet while we were shooting the last one, but all things come to an end sometime.
Front Row Features: Did you ever get involved with the hysteria, or did the fans stay away from "the parents?"
Burke: The way they go about promoting the movies, it's a vampire-werewolf thing. That was great for me, because I came from a place where I made no secret about never having read the books. I stayed oblivious, much like the character did. I was oblivious to a lot of the stuff that was going on. But when we'd go to the premieres and other press functions, people were nothing but lovely and interested in the show. I just went along for that part of the ride.