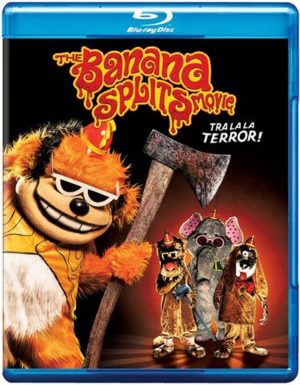 By ANGELA DAWSON
Front Row Features
Movies
The Banana Splits Movie
The cult-favorite animal rock-band from Hanna-Barbera's 1968 "The Banana Splits Adventure Hour" variety program is back with a blood-spattered vengeance. Warner Bros. Home Entertainment is releasing "The Banana Splits Movie," an original feature-length film on Blu-ray Combo Pack and DVD Tuesday Aug. 27. The movie offers a whole new take on the classic comedy characters. It follows the story of a boy named Harley who, along with his family, go to a taping of "The Banana Splits" TV show. It's supposed to be a fun-filled birthday event but things take an unexpected turn—and the body count starts to rise, giving a whole new meaning to "One Banana. Two Banana. Three Banana. Four." Harley, his mom and their new pals have to try and safely escape.
The horror flick stars Dani Kind ("Wyonna Earp") as Beth, Finlay Wojtak-Hissong ("The Kindness of Strangers") as Harley, Romeo Carere as Austin, Steve Lund ("Street Legal") as Mitch and Sara Canning ("The Vampire Diaries") as Rebecca. The beloved animal band—Bingo, Fleegle, Snorky and Drooper—are voiced by Eric Bauza ("Woody Woodpecker").
The film is written by Jed Elinoff and Scott Thomas ("Raven's Home") and directed by Danishka Esterhazy ("Level 16") with music by Fall Out Boy's Patrick Stump. "The Banana Splits Movie" will make its broadcast debut on SYFY later this year. The horror movie also is now available on digital platforms.
Killers Anonymous
Academy Award winner Gary Oldman ("Darkest Hour") and Golden Globe nominee Jessica Alba ("Dark Angel") star as serial assassins in "Killers Anonymous," arriving on DVD and Blu-ray (with a digital copy) Tuesday Aug. 27, from Lionsgate.
In the vein of "The Hateful Eight," and "The Usual Suspects," "Killers Anonymous" is a thriller that centers on a support group for killers who try to unravel a mystery: Which one of them is responsible for the assassination attempt on a U.S. senator that has the police in the city on high alert. The film also stars Suki Waterhouse ("Insurgent"), Rhyon Nicole Brown ("Empire") and Tommy Flanagan ("Gladiator"). "Killers Anonymous" is directed by Martin Owen from a screenplay he wrote with Elizabeth Morris and Seth Johnson.
Special features on the Blu-ray include deleted scenes, an alternate ending, director's commentary and more. The Blu-ray is available for a suggested retail price (SRP) of $21.99 and $19.98 (SRP) for the DVD.
Godzilla: King of the Monsters
Experience the epic monstrous action as legendary Titans collide when "Godzilla: King of the Monsters" arrives Tuesday Aug. 27 on 4K UHD Combo Pack, Blu-ray Combo Pack, DVD Special Edition and Digital. Directed by Michael Dougherty ("Krampus"), the film stars Kyle Chandler ("Catch 22"), Oscar nominee Vera Farmiga ("Up in the Air") and Millie Bobby Brown ("Stranger Things") in her feature film debut.
From Legendary Pictures and Warner Bros. Pictures, in association with Toho Co. Ltd., and Huahua Media, the film's acclaimed ensemble cast also includes Bradley Whitford ("Get Out"), Oscar nominee Sally Hawkins ("The Shape of Water"), Charles Dance ( "Game of Thrones"), Thomas Middleditch ("The Wolf of Wall Street"), Aisha Hinds ("Star Trek Into Darkness"), O'Shea Jackson Jr. ("Straight Outta Compton"), Oscar nominee David Strathairn ("Godzilla"), Oscar nominee Ken Watanabe ("Godzilla") and Ziyi Zhang ("Memoirs of a Geisha").
This action-packed sequel follows the heroic efforts of the crypto-zoological agency Monarch as its members face off against a battery of god-sized monsters, including the mighty Godzilla, who collides with Mothra, Rodan and his ultimate nemesis, the three-headed Ghidorah. When these ancient super-species—thought to be mere myths—rise again, they all vie for supremacy, leaving humanity's very existence hanging in the balance.
Dougherty directed from a script he wrote with Zach Shields, story by Max Borenstein, Dougherty and Shields, based on the characters "Godzilla," "King Ghidorah," "Mothra" and "Rodan" owned and created by Toho Co., Ltd. Packed with bonus features including a commentary by director Dougherty, as well as featurettes on how the monsters were created, deleted scenes and more.
Miss Arizona
Rose Raynes (Johanna Braddy) was crowned Miss Arizona. Fifteen years later, she is a bored housewife trapped in a less-than-ideal marriage, she accepts an invitation to teach a life skills class at a women's shelter. The DVD arrives on Tuesday Aug. 27, from Cinedigm.
Digging out the relics of her pageant queen past, Rose attempts to share her platform speech with a room of four disinterested women dodging abusive exes. But when trouble shows up at the shelter, what the women really need is for Rose's shiny SUV to keep them out of harm's way, so they embark on a wild, all-night adventure through the streets of LA. From a quick trip to the "drug store" to an impromptu drag show, the women soon discover that inner strength, and a little help from your friends, can be the key to discovering who you are meant to be.
Inspired by 2016's Women's March, writer/director Autumn McAlpin ("Waffle Street") and award-winning producer DeAnna Cooper worked together to assemble a cast and crew comprised of more than 70 percent women and people of color as well as putting together an all-female soundtrack with hits by musicians including Pink, Lorde, Shania Twain, Donna Summer, MILCK, Kacey Musgraves and others.
The film stars Johanna Braddy ("Quantico"), Robyn Lively ("The Karate Kid, Part III"), Dana Wheeler-Nicholson ("Nashville") and Steve Guttenberg ("Short Circuit").
Rocketman
"Rocketman" blasts off Tuesday Aug. 27 on 4K Ultra HD, Blu-ray, and DVD, from Paramount Home Entertainment.
Discover how a shy, small-town British schoolboy becomes one of the most iconic figures in rock 'n' roll. Featuring an all-star cast, this spectacular and electrifying ride is filled with show-stopping musical performances. "Rocketman" boasts incredible performances of Elton John's beloved songs by Taron Egerton ("Kingsman: The Secret Service"). The music-filled film also stars Jamie Bell ("Billy Elliot") as Elton's longtime lyricist and writing partner Bernie Taupin, Richard Madden ("Bodyguard") as Elton's first manager, John Reid and Bryce Dallas Howard ("Jurassic World") as Elton's mother Sheila Farebrother.
The Digital, 4K Ultra HD, and Blu-ray releases are packed more than 75 minutes of bonus content, including four extended musical sequences introduced by director Dexter Fletcher that showcase even more of the spectacular singing and dancing by Egerton and the cast.
The releases also include breakthrough moments not seen in theaters with 10 deleted and extended scenes with an introduction by Fletcher; sing-along tracks of 13 select songs; behind-the-scenes footage and interviews with Elton John, the cast, and filmmakers; intimate footage from recording studio sessions; plus, a "Rocketman" jukebox that allows viewers to skip straight to the music. Also, for a limited time while supplies last, the Combo Packs will include a collectible booklet with a special message from Elton John.
In addition, the Digital release (now available) includes access to three more featurettes and two more deleted/extended scenes. Apple TV (iTunes) will additionally offer exclusive access to rehearsal footage from "The ***** Is Back" and a look at the legendary showman's lasting impact.
The 4K Ultra HD disc and 4K Ultra HD Digital releases feature Dolby Vision, which brings entertainment to life through ultra-vivid picture quality. The film also boasts a Dolby Atmos soundtrack remixed specifically for the home to place and move audio anywhere in the room, including overhead. In addition, both the 4K Ultra HD and Blu-ray Combo Packs include access to a digital copy of the film.
TV Shows
The Flash: The Complete Fifth Season
Just in time for the sixth season premiere of The CW's highest-rated TV series, "The Flash: The Complete Fifth Season" arrives on Blu-ray and DVD Tuesday Aug. 27, from Warner Bros. Home Entertainment.
Fans will be able to speed-watch all 22 episodes from the fifth season, plus the show's 2018 Comic-Con panel, three featurettes, deleted scenes, a gag reel and more. All three DC Crossover: "Elseworlds" episodes will be available only for those who purchase the Blu-ray set.
"The Flash: The Complete Fifth Season" is priced at $39.99 (SRP) for the DVD ($51.99 in Canada) and $44.98 (SRP) for the Blu-ray ($52.99 in Canada), which includes a digital copy (available in the U.S.). "The Flash: The Complete Fifth Season" is also available to own on digital via purchase from digital retailers.
Shortly after defeating The Thinker, Barry Allen/The Flash and his wife, Iris, were stunned by the arrival of their already grown, speedster daughter from the future, Nora (Jessica Parker Kennedy). However, acclimating to their lives as parents won't be the only challenge they face, as Season Five pits Team Flash against Central City's latest scourge—the DC supervillain Cicada (Chris Klein).
In addition to the 22 Season 5 episodes, fans can enjoy more than two-and-a-half hours of special features plus two bonus crossover episodes from "Arrow" and "Supergirl" on the Blu-ray release.
"The Flash: The Complete Fifth Season" on Blu-ray will include 1080p Full HD Video with DTS-HD Master Audio for English 5.1. In addition to featuring all 22 episodes from the fifth season in high-definition, as well as a digital copy of the season (available in the U.S.), the four-disc Blu-ray will also include all three crossover episodes.
In addition to Parker Kennedy and Klein, "The Flash" stars Grant Gustin ("Arrow"), Candice Patton ("The Game"), Danielle Panabaker ("Sky High"), Carlos Valdes ("Once"), Hartley Sawyer ("Glory Daze"), Danielle Nicolet ("Central Intelligence"), with Tom Cavanagh ("The Following") and Jesse L. Martin ("Law & Order").
Based on the characters from DC, "The Flash" is produced by Bonanza Productions Inc., in association with Berlanti Productions and Warner Bros. Television.
The four-disc DVD set is available for $39.99 (SRP) and the four disc Blu-ray set is available for $44.98 (SRP).
Straight Forward
Debuting on Tuesday Aug. 27, Acorn DVD features the thrilling new crime drama and Acorn TV Original Series "Straight Forward." It is the first Danish/New Zealand co-production.
With stunning scenery and high-stakes action, this gritty international thriller offers an adrenaline-filled ride across the globe and a tale of revenge, danger and redemption. "Straight Forward" makes the most of the contrasts and opportunities that are offered by both location: Queenstown, New Zealand's stunning capital and Copenhagen, Denmark's Nordic cosmopolitan pulse.
The series is bilingual in English and Danish. The two-disc DVD set features all eight episodes ($49.99, Amazon.com). Acorn TV is North America's most popular and largest streaming service focused on British and international television.
When her father is murdered in cold blood, Danish con-woman Sylvia Petersen (Cecilie Stenspil, "The Protectors") has her life turned upside down. Reeling from his death, she plots revenge on crime kingpin Ravn (Mark Mitchinson, "Dear Murderer," "Rake"). But when the job goes haywire, Sylvia is forced to flee, leaving her mother and daughter behind. A master of disguise and deception, Sylvia holes up in picturesque New Zealand, where she befriends a local cafe owner and his handsome son (Matthew Walker, "Filthy Rich"). But with Ravn and his henchmen targeting her loved ones back in Copenhagen, Sylvia's hideout is as much a prison as a refuge. Can she save her family from the other side of the world? The series is bilingual in English and Danish.