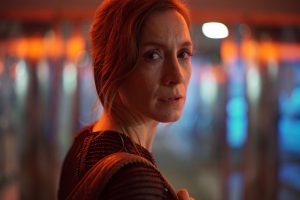 By ANGELA DAWSON
Front Row Features
Movies
Aniara
The sci-fi adventure film "Aniara," arrives on Blu-ray, DVD and Digital HD Tuesday Aug. 20, from Magnolia Home Entertainment.
Aniara is a spaceship used for transporting Earth's fleeing population is headed to a new home-planet—Mars. But just as the ship leaves the destroyed home planet, it collides with space junk and is thrown off course, and the passengers slowly begin to realize that they'll never be able to return. Mimaroben (Emelie Jonsson, "Gentlemen & Gangsters"), leads a room where a sentient computer allows humans to experience near-spiritual memories of Earth. As the ship drifts further into the endless void, more and more passengers are in need of Mimaroben's services. Pressure builds on her as she is the only one who can keep the growing insanity and lethal depression at bay.
In Aniara's inexorable journey towards destruction there is a warning that cannot be emphasized enough: There's only one Earth.
Extras on the Blu-ray and DVD include behind-the-scenes featurettes about the film's visual effects, production and sound design as well as conceptual design and art gallery, plus the theatrical trailer. The Blu-ray is available for a suggested retail price (SRP) of $29.98 and the DVD is available for $26.98 (SRP).
The Assault
The action-thriller "The Assault," arrives on DVD, Digital, and On Demand Tuesday Aug. 20, from Lionsgate. Golden Globe nominee Tom Sizemore ("Witness Protection"), Kevin Nash and Jordan Ladd star in this story of vengeance about two rebellious women who pull off a series of brazen armed robberies—until one of them seduces the detective investigating the case (Sizemore) and their fight for revenge turns into a fight for their lives. "The Assault" DVD will be available for $19.98 (SRP).

The Beatles: Made on Merseyside
The Beatles defined music and popular culture like no other band—but how exactly did they make the journey from Merseyside teenagers to international pop stars in the '60s? "The Beatles: Made on Merseyside," arrives on DVD Tuesday Aug. 20 to explain that and more.
Viewers will discover the story of Fab Four's ascent from Liverpool and Hamburg to the pinnacle of rock success, featuring unique and revealing interviews from those involved in the early years of The Beatles.
Recounting how American rock 'n' roll and rhythm and blues dragged post-war Liverpool into one of the most vibrant music cities ever with the Mersey Sound, this acclaimed doc delves into the young history of the Fab Four, their early band iterations and why it took so long for them to break through the noise. From school bands, to colleges, Hamburg to The Cavern Club, The Beatles moved from skiffle to rock 'n' roll before creating their own unique sound that took the world by storm.
With newly filmed contributions from the "fifth Beatle" Pete Best, Quarrymen Colin Hanton and Len Garry, Brian Epstein's business associate Joe Flannery, The Beatles dedicated secretary Freda Kelly, original Mersey Beat magazine owner Bill Harry, and flat mates of John Lennon and Stuart Sutcliffe, this acclaimed doc charts the original music and the energy and excitement that led to the explosion of Beatlemania and one of the most influential and beloved bands in history.
The DVD is available for a suggested retail price (SRP) of $24.95, and also is available on Digital platforms.
A Dog's Journey
Picking up where "A Dog's Purpose" left off, "A Dog's Journey," available on Blu-ray, DVD and On Demand Tuesday Aug. 20, continues the tale of lovable farm dog Bailey, as he finds a new destiny and forms an unbreakable bond, and learns that some friendships transcend lifetimes.
Bailey (voiced again by Josh Gad; "Beauty and the Beast," "Frozen") is living the good life on the Michigan farm of his former "boy" now grown to manhood, Ethan (Dennis Quaid; "A Dog's Purpose," "I Can Only Imagine") and Ethan's wife Hannah (Marg Helgenberger; "C.S.I.," "Under the Dome"). He even has a new playmate: Ethan and Hannah's baby granddaughter, CJ (Kathryn Prescott; "24: Legacy").
Everything is great on the farm until CJ's mom, Gloria (Betty Gilpin, "Isn't It Romantic," "GLOW"), decides to take CJ away and chase her own fulfillment in the big city. Ethan asks Bailey to watch over CJ wherever she goes and thus begins Bailey's adventure through multiple lives filled with love, friendship and devotion as he, CJ, and CJ's best friend Trent (Henry Lau; Internationally famous pop star) experience joy and heartbreak, music and laughter, and few really good belly rubs.

Directed by Emmy winner Gail Mancuso ("Modern Family"), "A Dog's Journey" is produced by Gavin Polone (A Dog's Purpose), and written by W. Bruce Cameron & Cathryn Michon and Maya Forbes & Wally Wolodarsky, based on the best-selling novel by Cameron.
The Blu-ray and DVD features more than 30 minutes of bonus content including deleted and extended scenes, a hilarious gag reel and featurettes with the cast and a behind the scenes look at the memorable animal performances. The film also is available now on Digital platforms.
The Hustle
Two women put the "art" in con-artist in the comedy "The Hustle," arriving on Blu-ray, DVD and On Demand Aug. 20, from Metro Goldwyn Mayer Pictures (MGM) and Universal Pictures Home Entertainment.
The film, a remake of the comedy "Dirty Rotten Scoundrels," stars Academy Award winner Anne Hathaway ("Ocean's 8," "The Devil Wears Prada") and Rebel Wilson ("Isn't It Romantic," "Pitch Perfect") who show off their electric chemistry playing scam artists from different worlds who join forces to take down the dirty rotten men who have wronged them.

Josephine Chesterfield (Hathaway) is a glamorous, seductive Brit who defrauds gullible wealthy men. Penny (Wilson) amasses wads of cash by ripping off her marks in neighborhood bars. Despite their different methods, both are masters of the art of the fleece so they con the men that have wronged them. Wilson's talent for physicality and Hathaway's withering wit are a combustible combination as the pair of scammers pull out of the stops to swindle a naïve tech billionaire, played by Alex Sharp ("How to Talk to Girls at Parties").
From director Chris Addison ("Veep") and producers Roger Birnbaum ("The Magnificent Seven") and Rebel Wilson, "The Hustle" on Blu-ray and DVD showcases bonus features taking viewers further into the world of scamming with special featurettes including behind-the-scenes footage, commentary from the cast and filmmakers, and more. It also is available now on Digital platforms.
The Sun Is Also a Star
"The Sun Is Also a Star" arrives on DVD and Digital Tuesday Aug. 20. A modern-day story about finding love against all odds, the dram explores whether our lives are determined by fate or the random events of the universe. The film stars Yara Shahidi ("Grown-ish," "Black-ish") as Natasha and Charles Melton ("Riverdale," "American Horror Story") as Daniel, along with John Leguizamo ("John Wick: Chapter 2," "Bloodline").
From MGM and Warner Bros. Pictures and directed by Ry Russo-Young ("Before I Fall," "Nobody Walks"), "The Sun Is Also a Star" is based on Nicola Yoon's bestseller of the same name, which was No. 1 on the New York Times bestseller list.
Young directed "The Sun Is Also a Star" from a screenplay by Tracy Oliver. The film was produced by Leslie Morgenstein and Elysa Koplovitz Dutton, and Pamela Hirsch served as executive producer.
"The Sun Is Also a Star" will also be available on Movies Anywhere. Fans can also own "The Sun Is Also a Star" via purchase from digital retailers.
TV Shows
Arrow: The Complete Seventh Season
Warner Bros. Home Entertainment releases "Arrow: The Complete Seventh Season" on Blu-ray and DVD Aug. 20. Both sets contain all 22 action-packed episodes from the seventh season, plus the show's 2018 Comic-Con Panel, a crossover featurette, deleted scenes, a gag reel and more. All three "DC Crossover: Elseworlds" episodes will be available only for fans who purchase the Blu-ray set.
Following Oliver Queen's shocking decision to turn himself over the FBI and reveal his identity as the Green Arrow to the public, Oliver has spent the past five months in prison while his team was left behind to protect Star City. In the wake of Ricardo Diaz's escape, Oliver has yet again turned into someone else inside Slabside Maximum Security Prison. Determined to keep a low profile to shorten his sentence for the sake of his family, Oliver's limits will be tested when he and Team Arrow are pitted against the most ruthless villains they have yet to face.
"Arrow: The Complete Seventh Season," containing all 22 episodes of the season, is available for $39.99 (SRP) for the DVD ($51.99 in Canada) and $44.98 (SRP) for the Blu-ray ($52.99 in Canada), which includes a digital copy (U.S. only). The set is also is available to own on digital via purchase from digital retailers.
"Arrow" stars Stephen Amell ("Private Practice"), Katie Cassidy ("A Nightmare on Elm Street"), David Ramsey ("Dexter"), Emily Bett Rickards ("Brooklyn"), Echo Kellum ("Sean Saves the World"), Rick Gonzalez ("Reaper") and others. Based on the characters from DC, "Arrow" is produced by Bonanza Productions Inc.,in association with Berlanti Productions and Warner Bros. Television.
Homeland: Season 7
In "Homeland: Season 7," President Keane finds herself under threat from forces outside the government and within, as Carrie (Claire Danes) embarks on a mission to unravel the truth and bring down a harrowing conspiracy. Carrie and Saul (Mandy Patinkin) must determine who they can trust. The seventh season is available now on DVD.
Mayans M.C.
"Mayans M.C." is the next chapter in Kurt Sutter's award-winning Sons of Anarchy saga. In a post-Jax Teller world, Ezekiel "EZ" Reyes (JD Pardo) is fresh out of prison and a prospect in the Mayans M.C. charter on the Cali/Mexi border. Now, EZ must carve out his new identity in a town where he was once the golden boy with the American Dream in his grasp. Bonus featurettes include "Hit the Ground Roaring," "Customizing the Mayans' Signature Bikes," "The Creation of the Mayans M.C." and some promotional featurettes.
Front Row Features is giving away not one, but two highly anticipated Blu-ray releases hitting store shelves this week. Not only will we be sending one lucky reader a copy of the hilarious gender-swapped reimagining of "Dirty Rotten Scoundrels," "The Hustle," but also three lucky readers will receive a copy of the heartwarming sequel to "A Dog's Purpose," "A Dog's Journey." To enter the contests, simply email socalmovieeditor@aol.com by Aug. 26 with the title of which Blu-ray you want to win in the subject line. Good luck!