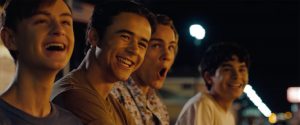 By ANGELA DAWSON
Front Row Features
HOLLYWOOD—Jaeden Martell is a young star on the rise. The 16-year-old reprised his role as Bill Denbrough in the hit horror sequel "It: Chapter 2," which has managed to scare up more than $417 million worldwide at the box office since its Sept. 6 debut, despite lukewarm reviews. He now stars in the coming-of-age caper "Low Tide," about a ring of teenage petty thieves who stumble upon a motherlode of booty—a collection of rare gold coins—during one of their vacation home break-ins, that sets off a chain of events that not only fractures their friendship but puts their very lives in peril. Reminiscent of classic 1980s youth dramas including "The Outsiders," and "Rumble Fish," "Low Tide" showcases the dramatic chops of Martell and other up-and-comers.
The drama is written and directed by first time feature filmmaker Kevin McMullin who was inspired by the early Spielberg coming-of-age dramas and who, like his characters, grew up on the Jersey Shore, feeling looked down upon by "townies" that would vacation in his sleepy 'burg. The . film is available now on DirecTV and will arrive in theaters Friday, Oct. 4.
Soft-spoken yet direct, Martell, who made his film debut at age 10 in "St. Vincent," relished the opportunity to play Peter, the deceptively wise kid brother to high schooler Alan (Keean Johnson) who spends his summer nights breaking into vacation homes to steal money and valuables with his friends Red (Alex Neustaedter), a mercurial ringleader and Smitty (Daniel Zolghadri), his wise-guy accomplice. When Smitty injures his foot during one of their outings, the older boys recruit the more-than-willing Peter to join them on their next break-in—the island home of a recently deceased hermit. When the brothers discover the coins hidden beneath a floorboard, they decide to keep the loot for themselves, with Peter stepping up to hide it in a secure location on the island. Unfortunately for boys, the recent string of home burglaries has gotten the attention of a persistent local police sergeant (Shea Whigham, "Boardwalk Empire," "American Hustle"), who begins to piece together who's behind the thefts. Meanwhile, the boys' own greed, mistrust and jealousy for each other threaten to break up their ring.
Q: You had a big opening for "It 2." Is that exciting for you?
Martell: It is exciting. I don't care about how much money it makes but the reviews excite me. You see that people are watching your movie and liking it—that's the best part.
Q: You shot this movie two years ago when you were only 14. You've grown up quite a bit since then—14 to 16, that's a big jump.
Martell: Yeah, it is.
Q: What was it like making this film? What was the attraction for you?
Martell: The initial attraction was, honestly, how fun the script sounded. And then talking to Kevin (McMullin, director), I got even more excited hearing how closely related he was to the script because he grew up in New Jersey and he had a lot of insight on that. It's a tiny budget film in which we had a small crew. We were all staying in the same hotel and working outside long hours and sweating. Everyone was in very close quarters and it felt very raw and natural. It was just such a fun and light environment to be in.
Q: Since you were staying in the same hotel, did you and your co-stars get a chance to hang out or, by the end of the day, were you like, "Okay, I'm just gonna sleep for six hours?"
Martell: I feel like when you're put into a situation like that where you're staying in a Holiday Inn Express right by the highway with nothing to do really, you have to hang out with each other. We'd spend a lot of time and we'd walk across the highway to go to the movie theater. We did end up spending a lot of time with each other and bonding outside of filming.
Q: Did you watch classic coming-of-age dramas like "The Outsiders" from the '80's? Did Kevin have you do any homework by watching any of that and other films, or had you already seen them?
Martell: Yeah. He did reference those in the beginning but I had already seen most of them. When it comes to stuff like that, I never want to relate a script to a movie because then it feels like that movie. I want to (ask) how can I relate it to my own life or to real life so it feels more natural and real.
Q: Your character, Peter, is always the smartest guy in the room, even though he's also the youngest in the ring. He seems young and naive to his brother and his brother's friends, but underneath that sweet exterior, his brain's going full blast. The wheels are turning. Could you relate to him being cleverer than the other boys?
Martell: I don't know. Do I? I hope to relate to him. It's kind of like he's a very healthy character to play because, in acting, you always take parts of your character with you in real life. You apply their instincts to your situations. So, he was interesting to play because you do learn a lot playing someone so responsible. It made me want to work harder and support myself because that is what he does. He is very different from me and the characters that I've played before because I'm more reserved and shy and he is ready to do things on his own and ready to whip his brother's butt.
Q: He conceives a clever, well thought-out plan to hide the booty that audiences may not see coming.
Martell: Yeah.
Q: This movie isn't pegged to a certain era. I don't think anybody has a cell phone but there's no specific year or time given presented. Was that intentional?
Martell: Yes. It was very intentional, I think. Kevin didn't want to say, "Hey, this is a film that takes place in the '80's or '90's." He just wanted to make a movie where we don't have to rely on cell phones and to kind of have that freedom that you had back in the day and don't really have any restrictions. It was intentional. We talked about it a little bit.
Q: What would you do if you came across a big bag of gold or gold coins?
Martell: I was just thinking about this—I have no idea. I feel like I would hold onto it for a while. I'd probably be too paranoid to cash it or get the money. Also, the value of gold is probably going to go up so (it will be) a better investment but then maybe I'd just give it to charity or something, get rid of it because it seems cursed.
Q: In the film, nobody seems to be aware of the existence of those coins. The guy who had them died. Maybe he doesn't have family.
Martell: Yeah, I think it was something that was a secret for him too. You could make a separate movie on his experience with finding this gold. I feel like, for him, it was a dark secret and then we discovered it.
Q: You've got "Knives Out" coming out in November, which looks like an all-star Agatha Christie-type mystery. What was it like doing a small film like "Low Tide," compared to a bigger-budget film like that where you have an A-list cast?
Martell: It is kind of crazy but the fun thing is that they feel the same. On this movie, working with other teenagers and with this tiny crew, I had the same conversations as I had with all these A-list actors (on "Knives Out"). We're sitting in a green room talking about movies and playing games and stuff. It's just as intimate. They're both equally as intimate and meaningful.
Q: Do you hope that "Low Tide" might become the "The Goonies" or "The Outsiders" of this era?
Martell: Yeah. Hopefully. Why not? I would love that. I would love to see people go out and see this movie. It's not about the numbers but I'd like to see people's reactions to it and see if they can relate to it and see if it's meaningful to them, which is the most important.
Q: You've been an actor for nearly half your life. You came out to L.A. from Philadelphia when you were eight years old, right?
Martell: Yeah, and I did my first movie when I was 10.
Q: What keeps you grounded? Are you able to experience regular things 16-year-olds do, like getting your driver license and going to high school?
Martell: That is the tough part about acting and traveling all over the place is that you don't get to experience those things but I don't care because I get to do what I love, so I'm extremely lucky and I know a lot of people would kill to do this. I go to online school and stuff like that but I do have friends that I go out with and I'm working on getting my driver license so I try to do real teenage things as much as I can when I have time off, because those things are important.
I feel like those things will be very important in my future even as an actor, not just as a human being but as an actor I need to relate to experiences I've had in the past, and if the only things I've ever done are movies then I can only relate to movies, so trying to find a balance is very important.
Q: When you do finally get your car, what would you want: something fast or something practical?
Martell: I'm getting something practical like a Honda Civic—keeping it simple. Nothing flashy. And something you can keep for a while. Something reliable.
Q: What else are you up to?
Martell: I just finished a limited series for Apple's new streaming service called "Defending Jacob" with Chris Evans ("Avengers" movies) and Michelle Dockery ("Downton Abbey"). I'm very excited about that. That should be coming out sometime next year. It's an eight-episode series. And it was just announced that I'm doing a film with Susan Sarandon soon called "Tunnels."
Q: I've heard that you do some writing and plan to do some directing as you get older.
Martell: I like writing. It's hard, though. It's one of the hardest things. And, yes, I would like to direct at some point.
Q: You've had some great mentors. Who has given you good advice professionally or personally?
Martell: My first movie ("St. Vincent") was with Bill Murray, and there's no better mentor than Bill. He just told me to have fun—just let loose and savor the moments that you have as a teenager and not just as a kid or teenager, but as a human being. With acting and life, just have fun.