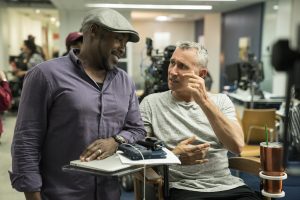 By ANGELA DAWSON
Front Row Features
HOLLYWOOD—A quarter-century ago, college student Will Packer decided to help his buddy, Rob Hardy, an aspiring director, make his first film. An electrical engineering major at Florida A&M, Packer knew nothing about filmmaking but soon found himself casting, raising capital and eventually finding avenues to distribute the completed film, a coming-of-age drama called "Chocolate City."
During an interview here from which he just flew in from the ATL, the still youthful-looking Packer explains that, at the time he was making his first film, ignorance was bliss.
"We didn't know what we didn't know," he recalls. "We were just some college kids.
If I knew then what I should have known, I probably wouldn't have done it, and I wouldn't be sitting here with you now."
Packer, 44, who was born and raised in the Tampa Bay area but now calls Atlanta home, describes his introduction to film producing as "this pure, unbridled energy to try to get something done, to try to create something."
The ultra-low-budget debut film, in which he also starred, enjoyed moderate success, and prompted the duo to set up a production office in Atlanta to make more films. Since then, Packer (his business partnership with Hardy ended in 2014) has produced or executive produced a broad range of movies—mostly urban comedies—that have grossed collectively more than $1 billion in worldwide box office receipts.
"Night School," the 2018 Kevin Hart—Tiffany Haddish comedy has raked in more than $102 million internationally since it debuted in theaters in September. That film was Packer's 10th film to open at number one, following other successes including the "Ride Along" franchise, the "Think Like a Man" films, "Breaking In" and "Stomp the Yard." He also executive produced the critically acclaimed box office hit "Straight Outta Compton," which chronicled the rise of the rap group N.W.A.
Packer has created a media empire that includes a digital and branded content company called Will Packer Media, in partnership with Discovery Communications and Universal Pictures, alongside his movie development deal with Universal Studios.
Through his Will Packer Productions, his latest film project is the Paramount Pictures comedy "What Men Want," a reimagining of the hit 2000 Nancy Meyers comedy "What Women Want," that starred Mel Gibson as a cocky, alpha male ad agency executive who undergoes a transformation when he is accidentally electrocuted and subsequently develops the ability to read the minds of the opposite sex. In this modern adaptation, directed by Adam Shankman and written by Tina Gordon, Peter Huyck and Alex Gregory, the roles are reversed. Taraji P. Henson ("The Curious Case of Benjamin Button," "Empire") plays a high-powered sports agent named Ali (as in Muhammad) Davis, who's hit the glass ceiling at the male-dominated company where she works.
After drinking a potion during a tarot session with a psychic named Sister (Erykah Badu) at a bachelorette party, Ali discovers she can read men's thoughts, including those of her boss, her co-workers, a promising college athlete she's been trying to snag as a client, as well as a new man in her life. Over the course of the film, Ali learns not only what men are thinking but more about herself and her treatment of others. The comedy also stars Aldis Hodge, Josh Brener, Tracy Morgan, Richard Roundtree, Wendi McLendon-Covey, Tamala Jones and Kellan Lutz.
When Packer was presented the opportunity to produce the film, Packer says he saw the potential in retelling the story with a modern sensibility. He also explains that he is pleased to have the opportunity to cast Henson, better known for her dramatic work, in a comedic role.
Q: It's been nearly 20 years since Mel Gibson starred in "What Women Want." Why did it take so long to do the reverse? Did the time have to be right with the #metoo movement and women's rights being topical?
Packer: When you think about reimagining something, it needs to have a reason for being. It needs to be a project that will live on its own, and not just do it because you can or because somebody has the rights to a story or an IP. So, I think this one does live on its own. The Nancy Meyers' version had something to say for that time and that period and this one has something very different to say.
Q: What hooked you in as a producer?
Packer: It felt very timely. Fortunately, I'm at a point in my career now where I can be selective about the projects I'm associating with. This felt like it could be a timely project for today's society, for the prism of the world from which we're all seeing it. As we evolve and get more cultured and more nuanced and aware, we do better as a people and as a society. So, making this film through the prism in which we see the world in 2019 and beyond, it felt timely and felt right.
Q: It was great to see Taraji doing comedy.
Packer: She's a true comedic force. That's the thing she's very underrated in—her comedic talents. The best comedic actresses are fearless and willing to take risks. That's what makes her great in doing drama. When I called her about this project, she said, "I want to have fun." She didn't even know what it was, at first. She said, "I want to do something where I have fun. I've been crying a lot and doing drama for years. I've been ugly crying. I've been snot-crying. I've been dramatic crying. Give me something fun." I said, "I've got exactly what you need, T." And that is exactly what this was. It was a breath of fresh air for her, as a character, and her brand. But also, it is something for audiences who are looking for a reason to laugh now.
Q: With 10 consecutive No. 1 films, do you feel like you're competing against yourself with each project?
Packer: I am very driven and I am competing with myself. I am my own harshest critic but I'm also my number one fan too. You never know what's going to happen. There's so many things that go into a film being successful, be it at the box office, be it critical acclaim, be it with audience reception, some things are within my control and many many things are outside of my control. I've been very fortunate that the stars have aligned for my projects more than they haven't. I love that feeling and I want to continue it but that is not the only measure of success.
For me, when you talk about the positive reception by the audience, that's why you do it. That's what you want. Hopefully, a lot of people will come out to see this movie and we'll have some commercial success. Even if a small, but diehard, group comes out and says, "It resonated with me" or "I got something from it," or "I spent a couple of hours not thinking about other things that are going on in the world and enjoyed myself," then we win.
Q: It was fun seeing Tracy Morgan back in a major role. Have you known him a long time?
Packer: Just socially. This was my first time working with him. It certainly won't be the last. He's another comedic force of nature.
Q: You also have some fun cameos in this like Shaquille O'Neal and Mark Cuban and few pro athletes. Did you just make some calls and say, "Come on out for a day?"
Packer: A little bit, yeah. Once word got out that we were making this in the arena of sport agency, we got more calls than we could place cameos. (Director) Adam Shankman and I joke about this because he's not the biggest sports fan. He would be like, "I don't know who these people are. They're all tall and look athletic." And I'd tell him, "That's so-and-so from the blah-blah-blah. You should know who that is." He would say, "I don't know where to put all these people." I've got a bunch of buddies who have people who play, so I'd get a bunch of calls. So, we made sure we had a great group of cameos. We made sure we had some Atlanta Falcons and Hawks folks in it, and some folks from around the league in other areas. Ultimately, I didn't have enough room and Shankman started pushing back, saying, "I don't know what to do with all these tall guys. What am I going to do with them in our movie?" But, it was fun. It was great to have that authentic thread running through the movie so for those that do know (who the sports world celebrities are), they'll see we actually the got the owner of Dallas Mavericks, the player from the Timberwolves and the Falcons, and those types of things.
Q: One of the film's big scene-stealers is Erykah Badu. Could you talk about her tarot-card reader/mystic character? Could there be a spinoff of her character?
Packer: We're having all those conversations. The thing I like about her is that she's so natural. I've been very fortunate to have worked with some folks who have launched out of my projects—Kevin Hart, Tiffany Haddish, Idris Elba—they all have something very natural about them. These days, especially, audiences can tell; they know when it's organic, when it's real. She just has a natural comedic timing, a very natural relationship with the camera and with the audience and she just let it flow. (Her performance) is quirky, it's off-kilter, it's funny—it's all those things in this great mixed bag, which is refreshing because it's not like any other character you're going to point to. There could have been other versions of that "Sister" character, depending on who you got to play it. But the Erykah version is uniquely Erykah Badu. Shankman allowed her to have fun and bring herself to that character.
Q: You've got multiple projects in the works. There was the recent announcement of the "Ambitions" TV series. What can you say about that?
Packer: It's a fun, soapy drama, set in Atlanta that stars Robin Givens. She's back—she never went anywhere—but she's back in a very major way in a role that only she can play. You're going to love to hate her. It takes some of the great soap opera tropes and puts a great spin on it. We're making that for OWN, Oprah's network. And that's something that I actually went and talked with Oprah about an idea I had to do this show. She was like, "I don't know. This could go a couple of different directions. I just want to make sure it's not too campy but not too classy. It's got to be fun." And I told her, "I've got it. We're on the same page." That's going to premiere this year. I'm really excited about that.
Q: And you have a Twitter show. What the gist of that?
Packer: Yeah. It's called "Power Star Live." Every week we're going to do a live show, which is absolutely terrifying if you're on the producing side of it. But, you've got to do the thing that scares you. I love the idea of a live show that brings together all the diverse topics of conversation that happen around the social media sphere, centered on Twitter, live on Twitter, and see the conversations that are driving things before they get to mainstream pop culture. Before they're on your mainstream outlet, they're being talked about and being incubated and sometimes groups are being rallied and whipped into a fervor on Twitter. We're basically going to curate those types of topics that happen every week.
Q: You've been making films for a long time, and you're expanding into other forms of media through your Will Packer Media platform. What can you tell me about that?
Packer: Yeah. The media company is where "Ambitions," "Power Star Live," and also my branded content is under the Will Packer Media brand. It allows me to create content and not be limited to the medium in which I'm exposing and distributing that content. So, if I've got a great idea or a great talent, a great piece of IP, I now have multiple brands where I can fit that content, and I'm not just trying to jam that into a theatrical movie. We do documentaries. We've got a doc series coming out on ID this year based on the Atlanta child murders. Those were scary times. "It's 10 o'clock. Do you know where your kids are?"
We also did a non-scripted show for the first time this year called "Ready to Love," which was very successful for us. So, I just want to create content across multiple mediums, and this allows me to do that.
Q: You graduated with an electrical engineering degree. What were your original aspirations?
Packer: I wanted to be an entrepreneur. I wanted to be in business for myself. I just had no idea which business. I knew I wanted to be someone who had his own business that was doing something, selling something, creating something but I had no idea what that "something" was. It wasn't until I went to college that I started learning about film.
Q: It's been 25 years since you made "Chocolate City," your first feature film. What do you remember most about that experience?
Packer: I didn't realize it had been 25 years. We had no idea how to do it. We had no relationships. We had no money. But, that didn't stop us. There's something very powerful about that. Sometimes, in this business, even with the level of success that I had, I try to go back that kid (I was) that was making "Chocolate City" at Florida A&M University because that kid was undeterred and would let nothing stop him. He was driven and passionate so whenever I lose sight or get down about this industry, I think about that kid and try to go back to that place.