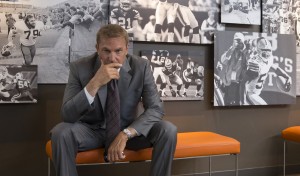 By JUDY SLOANE
Special to Front Row Features
HOLLYWOOD—Many popular movies have quotes that audiences enthusiastically embrace, "I'll be back," from "The Terminator," "I'm the king of the world," from "Titanic" and "May the force be with you," from "Star Wars."
When the sports fantasy "Field of Dreams" premiered on April 21, 1989, the audience welcomed two new iconic phrases, "If you build it, he will come," and "Is this heaven? No, it's Iowa." The now-classic film celebrates its 33rd anniversary this year.
The movie, based on the 1982 novel by W.P. Kinsella, "Shoeless Joe," spotlights Ray Kinsella (Kevin Costner), who lives on a farm in Iowa. One day, as he walks through the crops, he hears a voice whispering to him, "If you build it, he will come," and encounters the ghost of disgraced Chicago White Sox player "Shoeless Joe" Jackson (played by the late Ray Liotta). The voice urges him to build a baseball diamond in the middle of the cornfield, which Ray does with miraculous consequences. The movie was written and directed by Phil Alden Robinson.
In 2004, the motion picture celebrated its 15th anniversary by holding a DVD event on a baseball field, surrounded by cornstalks, in West Hollywood, Calif. Many of the cast and crew were assembled and spoke fondly about the film, including Costner.
Q: Were you worried about doing two baseball movies so closely together?
Kevin Costner: I'll tell you exactly what the power was of "Field of Dreams." I had just done "Bull Durham." The notion was the idea of baseball was maybe box office poison.  I had no idea how the movie was going to perform. And the next great script I read in my life was "Field of Dreams." I had no hesitation about wanting to be in it, except that I was already contracted to do something else. Fate intervened and we were able to flip flop those movies, and I will forever be grateful for that chance.
Q: After revisiting this movie 15 years later what stands out about making the film?
Costner: It's always surprising when you're talking about a movie 15 years later. But that's actually how you should make them. You should make a movie not for its opening box office weekend. You should make a movie with the idea that people are going to watch it 20 years from now.
Let's imagine that this movie didn't come out on a good weekend. Maybe it came out on a weekend a big sequel was also coming out, and it got buried. Would that diminish this movie? It wouldn't. We all share these common feelings of what this movie touches upon, about things that have gone unsaid in your life to people you know are important to you.
Q: What's the strangest thing that happened while filming the movie?
Costner: There's a scene where we say goodbye to Joe Jackson and he disappears out in the corn as he walks away, there's a fog that hangs over the corn. Phil saw this fog coming in, it came in from left field and it hung around the middle of the field. Phil quickly shot the scene and then the cloud began to drift away never to come back again. It was rather strange, very mystical—the kind of thing you always hope happens that you can't count on in a movie.
Q: Can you talk a little about "Shoeless Joe" Jackson, who was banned from baseball in 1920 for attempting to rig, with others, the 1919 World Series?
Costner:  I think it's amazing the people we've manage to forgive in this country, and those that we don't seem to be able to forgive.  He seemed like a very simple man. I think you look back in time and we would all do well with a certain amount of forgiveness. The one thing that sports cannot tolerate, though, is gambling. It absolutely destroys the integrity of the game.
But I think wise people sitting in a room with a certain amount of humility, a certain amount of compassion, a lot of us would like to see "Shoeless Joe" Jackson in the Hall of Fame.
Q: What are your memories of working with Burt Lancaster in the movie?
Costner: I'm glad we're talking about Burt Lancaster, because he's the kind of actor that this industry was built on. I think that was a very smart move on Phil's part to cast a leading man in a supporting role. When you do that you're taking a piece of manpower that knows how to command the screen. It's often said that if you get a great script and you cast it correctly that 90 percent of your job is done.
That part was written beautifully. When Burt Lancaster took that part, it was really great to see. It was at the end of his career. I have a fondness for him because he's obviously a physical actor and that's been a lot of my stock-in-trade.
In "Waterworld," there's a moment where I hang off the side of the ship and it's an athletic move, something a gymnast would do, and I did that for Burt. We'd lost him and it was in homage to him.
He was a pro and he struggled in (our) movie and everybody waited for him, and the reason why we waited (is because) how great he was, because it only had to happen once and he had the magic.
Q: James Earl Jones' character has a wonderful speech about baseball. Were you touched by that?
Costner: A lot of times a person can play a game and can be a Hall of Fame athlete, but they can't ever really explain what it is they love about the game. (They) don't have the ability to actually articulate the way Phil was able to do for that speech with Jones, who completely in some magical way encapsulated the way that only a writer can do. So, in a way, it took a non-athlete to capture what it is that we love about the game.
Q: Where is your cornfield? Where's the special place that you love to fade into that wonderful bliss?
Costner: I think, for me, (it's) in Colorado. I get on my tractor and I just start picking up rocks and moving them. I think when you can find that activity where your brain only has to work one percent in order to get the job done, that's where I get a lot of my great thinking done. Sitting in a boat, fishing, it's a pretty good time.
Q: When you're doing a film that turns out to be a classic like this, do you get a feeling on the set that you're doing something special?
Costner: I had a notion about this movie. I was very grateful to be cast in it. I remember distinctly reading it on my couch and thinking I really want to do this movie. I remember thinking, what a beautiful (film). I felt like I had a giant secret. I knew a year from then everyone else would know the secret.
As for it being classic, I feel if you don't feel like the movie you're working on has a chance at greatness, you shouldn't do it.
Portions of this interview were first published in Film Review Magazine.