By ANGELA DAWSON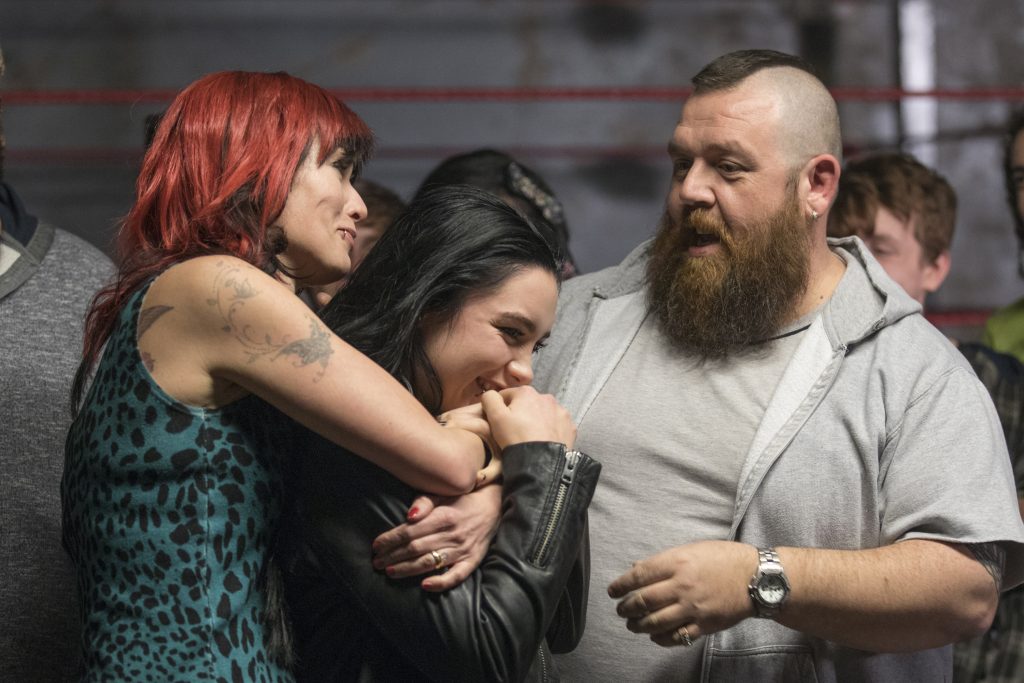 Front Row Features
HOLLYWOOD—Best known for his onscreen pairings in comedies and zombie movie send ups with his real life best mate Simon Pegg, Nick Frost has a self-deprecating sense of humor that can catch you off-guard, if you're not on your toes. For example, when describing how he landed the role of "Rowdy" Ricky Knight, an ex-con turned patriarch of a pro wrestling family, in the heartwarming comedy "Fighting with my Family," the British comic actor says the real wrestler on whom the character is based wanted thespian Ray Winstone to depict him, and had no idea who Frost was.
Fans of "Shaun of the Dead," the British TV series "Spaced" and more recently AMC's martial arts action series "Into the Badlands" are well-aware of Frost and his extensive body of work, especially for starring in Edgar Wright's so-called Cornetto trilogy with Pegg.
In "Fighting with My Family," Frost co-stars alongside "Game of Thrones" Lena Headey, who plays his bohemian wife, Julia, also a wrestler, Jack Lowden ("Mary Queen of Scots") and rising star Florence Pugh (who stars in the upcoming Greta Gerwig adaptation of "Little Women"). From the outset of the film, in which Frost's "Rowdy" Ricky encourages his young son to go for a chokehold while wrestling with his little sister in their living room, audiences understand this isn't your conventional "Ozzie & Harriet" nuclear family. Yet, despite the body slams and the pinnings, there's a great deal of love and loyalty as the family takes its collective wrestling passion to local tournaments in their working-class town.
Out of the blue, the teenage siblings are invited to try out for the WWE, to their delight, but then only Brittany (Pugh) passes the audition, and is invited to train in Orlando, Florida. Zak (Lowden), who has trained just as hard as his sister, is disappointed and slightly jealous of her. Brittany tries to convince the trainer (Vince Vaughn) to allow her brother to train as well, to no avail. Brittany (who changes her stage name to Paige to avoid confusion with a similarly named athlete) reluctantly goes off to train, but the competition to stay in the program is fierce and she wrestles with doubts about her ability to compete with the top wrestlers. With the love and support of her family back home in Britain, Paige perseveres and manages to secure a coveted spot on WWE.
A documentary about the actual family of wrestlers (their surname is actually Bevis but they use the Knight stage name) caught former wrestler Dwayne Johnson's attention and he produced the feature film inspired by that family's true story. A fan of professional wrestling, Nick Frost had seen the documentary as well, so when he was asked if he was interested in playing the Mohawked, full-bearded, larger-than-life Ricky, he enthusiastically signed on. The film is written and directed by Stephen Merchant (UK's "The Office"), who also has a small role in the film. Johnson also has a cameo in the film.
Frost spoke by phone from New York where he was promoting the film, which opens there and in LA Friday Feb. 15, and then expands nationwide the following week.
Q: How familiar were you with this family of wrestlers before you signed on?
Frost: I saw the documentary independently about this family of wrestlers from Norwich, where the dad had done (jail) time and … you know the story. I really liked it; I thought the documentary was great. I got a letter through my door with the script and a letter from Stephen (Merchant, the director) with a copy of the documentary, and a note that said, "Have you seen this? Do you like these characters? How would you like to play Ricky?" It was a real treat for me.
Q: Did you meet with Ricky, or did you base your character off what you saw in the documentary or strictly the script?
Frost: It's a bit of both. Stephen wrote a great script, and I didn't want to do an impression of Ricky. I didn't want to be tied to that because there's not much movement outside of that, creatively. Also, I didn't want to do such a bad impression that it would make being on the red carpet with him awkward while he pulled my shoulders out of their sockets.
I believed I knew who Ricky was as a person, what his motivation was, what his intentions were as a father and as a provider. It was a lot easier for me, being a dad and knowing how important my children are to me, to show that part of Ricky. Sometimes, in cinema, people are cast as bad people and they don't change in a film but I love the fact that Ricky was so multidimensional that yes, he had a dodgy past and had made mistakes, but he made good, and it was all about supporting and providing for his family. I liked that he had been through all that before we get to meet him (onscreen).
Q: What was his reaction to the film and your depiction of him?
Frost: I haven't yet spoken to him. I'm going to see him next week at the gala screening in London. I know for a fact, because Paige has told me, that he was desperate for (British actor) Ray Winstone to play him in the film and was actually angered and disappointed that it was me. He didn't really know who I was. Paige assured him that I was good and funny, and he's seen the film now, and I think he's really pleased. So, I think I've gotten away with it.
Q: Did you and Lena Headey, who plays your wife in this, and the two actors who play your children, get to bond on set?
Frost: We were four actors who were respectful and supportive of one another creatively and artistically. Jack really impressed me and Florence is a wonderful up-and-coming actress. She would show up every day on time and she did her work. She knew all of the crew and she was fun and generous as a performer, and it was great to see. Sometimes it's easier to let more of yourself out there if you trust the people you're with.
Q: Dwayne Johnson is a producer on this and has a cameo in it as well. What was it like meeting him? Are you a fan?
Frost: I never met Dwayne until last week at Sundance. I was so nervous because I've known of "The Rock" ever since I was in my mid-to-late 20s. I've been a fan, and I loved watching him wrestle when his battles with "Triple H," "Stone Cold" Steve Austin and "The Undertaker." I loved wrestling back then and I love it now. So, I was a bit nervous about meeting him; I didn't know how it would go. I practiced two or three versions in my mind before our meeting. When I finally met him I was like, "Hi, Rock! Nice to meet you!" Then, we watched the film together and, afterwards, he said "Thanks." It was cool.
Q: Did you wrestle when you were younger?
Frost: I played rugby from the age of seven until I was 21. I did martial arts for a while. And I did some amateur backyard wrestling, where I enjoyed a bit of a drunken wrestle with friends, but I'd never gotten into a ring. That was a bit amazing and daunting. As a man, I've always loved the rough and tumble of contact sports and things, and this was no different. I really wanted to impress and respect the wrestlers who had given their time to train us. For about two weeks, we were fighting just about every day. I took a lot of hits and went home dazed and sore but it was a good kind of pain that a man can handle. It was worth it because when we shot the fights, everyone was king of bang on, everyone committed, no one got hurt. It was a nice feeling when the (actual) wrestlers came up and packed us on the back and see that you haven't been disrespectful to the thing you love. You've given it everything you had.
Q: How did you like your look with the Mohawk and the full beard? Did you keep it?
Frost: If you look at a picture right of Ricky Knight, I look exactly like that—my head is like a number 0 and I have a big red beard. That is my default setting at the moment. I like it. When I was a younger man, I always thought that will be my look—no hair and a big beard, like Jeff Bridges 10 years ago in "Iron Man." I saw that and thought, "That's the look I want!"
Q: The dinner scene where your family meets the uptight parents of your son's girlfriend is incredibly funny.
Frost: There's like a 22-minute version of that scene. Technically, shooting a scene where there are eight people around a dinner table is kind of difficult because everyone needs to get their angle. So, we knew it was going to take a while. We were sitting around and chatting and doing the scene as written, which was already very funny, and then people started to drop little things in—improvisations—and it was almost too much. We had to come back the next day and do it again.
I only met Lena on the set of this film but I now feel like I've known her for years. We were kind of a bit cheeky with one another. She gets me and laughs a lot. It's great to make her laugh and she laughs a lot. So, knowing that I'd always go after her and try to make her laugh.
Q: You two made a great couple.
Frost: Thank you. I won't tell my girlfriend.
Q: Before you go, I want to ask you about "Into the Badlands," because AMC has announced that the next season (3) will be the last. Did you know that when you were shooting it?
Frost: We only found out a few weeks ago that they weren't going to renew. There was a big gap between the first day and the last day and we're not shooting Season 4 right now, you kind of know that they might've lost a little bit of hope with it. I loved that show. Out of everything I've done in my career, that's one of the things I'm proudest of. The cast was diverse, the writers were diverse, the storylines were diverse, the kung fu was fantastic and pure and as it should be, and I've been a producer on things, so I know it was a very expensive series to make. And if there are not enough people watching the show, they're not going to put an "x" amount million per episode and keep shooting it, and I understand that. But, talking from my heart, I've met some lifelong friends with the cast and the crew and that's my takeaway, the thing I'm leaving "Badlands" with.