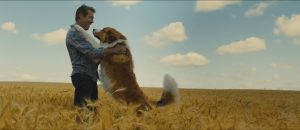 By ANGELA DAWSON
Front Row Features
HOLLYWOOD—When the modestly budgeted tearjerker "A Dog's Purpose," became the unexpected big dog at the box office in 2017, Dennis Quaid, the film's star, wasn't surprised at all. The film, which cost an estimated $22 million to make, wound up earning more than $205 million at the box office worldwide.
From the moment his agent initially pitched him on the big screen adaptation of the W. Bruce Cameron novel about a dog that is reborn again and again to accompany and provide emotional support to his human charge, the ageless Houston-born actor knew he had to be part of it.
"He got three sentences into it and I had to make him stop because I was starting to well up and I wasn't going to cry with my agent on the phone," recalls the actor, sitting comfortably in a Beverly Hills suite with his constant companion, Peaches, an adolescent and adorable miniature English bulldog, resting at his side.
He continues, "I said, 'Send me the script. I'm probably going to do it.'"
Quaid ("The Rookie," "The Day After Tomorrow") signed up to play Ethan who, throughout the course of his life's ups and downs, has had a string of dogs that turn out be the same steadfast companion from his youth, coming back as different breeds and genders. The dog, Bailey (and various other names throughout), was voiced by funnyman Josh Gad ("Frozen," "Beauty and the Beast"). The film was directed by the master of heartstrings-tugging dramas, Lasse Hallstrom ("The Cider House Rules," "Hachi: A Dog's Tale"), from a screenplay by Cameron, and few other writers.
It's no surprise that Quaid, one of Hollywood's most enduring leading man of the past three decades, returned for the inevitable sequel, "A Dog's Journey," (also based on a Cameron book) arriving in theaters Friday May 17. This time around, Ethan and his beloved wife, Hannah (Marg Helgenberger, replacing Peggy Lipton from the original) have taken in their widowed daughter-in-law, Gloria ("GLOW's" Betty Gilpin), and their toddler granddaughter, CJ, at their Michigan family farm, whose menagerie of animals includes Ethan's beloved Bailey. The Great Pyrenees rescues CJ after the toddler wanders away from her distracted mother. Instead of being grateful, Gloria accuses the dog of harming the child, and with her growing resentment of her in-laws' influence over her daughter, abruptly leaves with CJ. Years pass, Bailey grows old and dies but comes back again and again, trying to fulfill a promise he made to Ethan to always protect his granddaughter. At one point, Bailey is reincarnated as Molly, a Beaglier, who finds her way into CJ's life when CJ's best friend, Trent, adopts Rocky, Molly's brother. After years of disharmony with her narcissistic and neglectful mother, CJ leaves home and ventures to New York City to pursue her passion as a singer/songwriter.
As a young woman (played by Kathryn Prescott, "The Son"), CJ lacks self-confidence but gains support from a now grown up Trent (played by K-Pop singer Henry Lau), who has been her rock throughout her life. Meanwhile, Bailey has been reincarnated once again, this time as Max, a rescue Yorkshire terrier, who finds his way into CJ's life and into her heart. Eventually, CJ realizes that Trent—her friend for so many years whom she nearly loses to cancer—may also be her true love. She and Trent decide to surprise CJ's grandparents with a visit with Max in tow, and the circle is complete.
Though Quaid's Ethan character isn't as prominent in the sequel as he was in the original, he remains an enduring presence throughout the film. Quaid says "A Dog's Journey" carries universal themes about love, family and the powerful connection humans have with their pets, that audiences of all ages can relate.
"The thing about this movie that makes it work so well is everybody who sees it brings their own relationship with a past or present dog to the movie," he says. "That's why it's so engaging and emotional."
Quaid, 65, is nothing if not versatile. He not only plays grandfatherly Ethan in "A Dog's Journey," he also can be seen in theaters right now as a menacing ex-homeowner in the thriller "The Intruder." The thrice married actor—he has an adult son, Jack, with actress Meg Ryan, and twin 11-year-olds with real estate agent Kimberly Buffington—currently is dating supermodel Santa Auzina, 32. He is ubiquitous on TV as the pitchman in the comical Esurance ads, telling motorists how they can save money by driving safer.
During a press day for "A Dog's Journey," the charismatic actor, whose credits including "Breaking Away," "The Right Stuff," "Great Balls of Fire!" and "The Rookie," spoke about a wide range of topics, as Peaches snoozed away at his side.
Q: You've got a different director for the sequel. How was it working with Gail Mancuso on this?
Quaid: She is incredible. She brings a completely different vibe. Lasse was very improvisational in his sort of European way of directing. It goes back to the '70s. She brought a really softer element, emotionally, whereas the first one was really about an individual's relationship with the dog. Then you had me with the dog. You had the lonely lady looking for love, and the policeman with his K-9. This one is really about how a dog is the divining rod of a family's emotional well-being.
Q: Do you ever look closely at Peaches and say to her, "Who were you?"
Quaid: (laughs) She's looking at me in the face, and thinking that about me. Dogs live so much in the moment. That's what reincarnation is, in a sense. "In a moment" contains forever. Certainly, with dogs, we're kindred souls. It's a very ancient relationship. They're in our DNA now, as far as our unconscious memory.
Q: Do you feel like you're here for a particular reason, or is it just kind of random that you just happen to be Dennis Quaid, a 21st century actor?
Quaid: There's a feeling of randomness to it in the sense that I feel very lucky. I feel like I have a lucky life. But I also feel like there is a purpose to things. What it is, I don't know. That's the mystery of God, isn't it? Why are we are here to begin with.
Q: After going through that terrible situation at the hospital when your children were born and they were given the wrong dosage of medication, you fought to have the labels changed so that mistake would never happen. So, do you feel like you've fulfilled some purpose by possibly saving other babies from an overdose of heparin?
Quaid: Well, the kids did. That was really the kids that did that. They were the ones that went through it. The hospital really stepped up and made some changes in patient safety. They spent a lot of money on it. They changed the labeling and the bottles, because there was a mistake in the bottles. One was light blue
and the other was dark blue. But, yeah, we dodged a bullet, and that also gives you a greater appreciation of life after that. We had to really spend the next four years really looking at the kids because you don't really know as they develop. Thankfully, they're in the 90-something percentile of just about everything.
Q: Your twins are still youngsters, not teenagers yet. Do you find them manageable still?
Quaid: Having two is like having four sometimes. Sometimes they can be like an old married couple. I've taken to the tactic of making sure to get one alone so you can actually talk to them instead of playing referee. Because that's when you get to know kids, like to have them in the car, by themselves, ready to talk.
Q: Your character, Ethan, ages a couple decades in this. What was the makeup process like?
Quaid: That was the most difficult part, because it was four hours. You sit in the chair for four hours and knowing tomorrow you're going to have to do four hours. And then it took about an hour to take it off, because that stuff is on there, man. It's a part of you. They've made great strides in makeup these days. But it's pretty spooky when you she yourself as a very old man. I've done it once before in "Frequency."
Q: You have 99 films and TV shows listed on your IMDb page? One more and you'll be in The 100 Club.
Quaid: (laughs) I thought I was in The 100 Club a long time ago. I think they missed one or two (credits), but that's all right.
Q: Speaking of aging makeup, it's been announced that you're going to play Ronald Reagan in an upcoming biopic. What's happening with that?
Quaid: We don't have the start date.
Q: Are you looking forward to playing The Gipper?
Quaid: Yeah. He was my favorite president of the 20th century. He came along at a time that was very similar to today. I'm not saying that it's the same president. I'm just saying that he came in at a time that half of the country was very much against him. He didn't have that great a record as governor in California. It was right after the Vietnam War and Watergate and all of that. He was a Democrat who became a Republican right around the Goldwater era. They thought he was going to get us into a nuclear war. The economy, at the beginning of his first term, did not go well. The assassination attempt on him changed things, big time. He became more human to people and they started to see him in a different light. He became sort of everybody's dad, I think, like a family member then. The image of him softened. That was sort of the beginnings of why he became so popular.
So, you see some parallels to today, though. Maybe it's because of time softens what you remember from the past, but to me it seems a little more divided now—maybe not so much the American public but the American public that's paying attention seems more divided. The seeds of what we're experiencing today were planted back then.
Q: What's the holdup?
Quaid: I'm really not quite sure. I'm sure it has to do with financing. The film has the backing of all the insiders, those who were close to Reagan, and it's a well-told story. It includes his childhood. I'm supposed to play him from the time he's governor of California through the presidency.
Q: In the meantime, you've got other stuff. You've got war drama about the World War II battle of Midway coming up, right?
Quaid: Yeah. It's coming out around Thanksgiving or something. It was great working again with Roland Emmerich, with whom I worked on "The Day After Tomorrow."
Q: He likes making these large-scale action movies.
Quaid: Oh yeah. These big movies that are such a pain in the *** to shoot, he makes so easy. When we did "The Day After Tomorrow," it was like, "You're going to be in this frozen wasteland for months and months and months at a time." And we shot everything indoors. There was one shot outside. We're in Montreal and it's 40-below outside, and snow is everywhere. But we're shooting inside (on a sound stage) and it's 72 degrees. He's in a T-shirt. The hardest part was being too hot because I'm wearing a parka. (He laughs.) They made the snow out of wadded up newspaper and soap flakes.
It's the same thing on "Midway." It's an incredible story and it really resonates because of 9/11. It was the first battle after we were attacked on Pearl Harbor. So, I think the movie's going to really resonate with audiences.
Q: What's your favorite film to watch?
Quaid: "Lawrence of Arabia." That's from the time I was a kid. There's not one piece of dialog or frame in that frame that should not be there. It all relates back to the skeleton of the story, thematically. It's a perfect movie. (Director) David Lean was my favorite director; I almost got to work with him. I was going to play Nostromo in his last movie. We even went over to the south of France and had a five-hour meeting with him in front of a fireplace with his two Great Danes, and I got to ask him every question that I ever wanted to ask him. He gave me the part at the end of those five hours. Unfortunately, he had cancer and was unable to do the film. So that's one regret.
Q: And, of course, you're still touring with your band (Dennis Quaid & the Sharks).
Quaid: We're still out there. We're doing about 50 dates this year. It keeps growing. And our record, "Out of the Box, just came out on vinyl.
Q: It's nice seeing vinyl making a comeback, isn't it?
Quaid: Yeah, It's like 15 percent of the (music) market. Our kids are into it. Jack, my son, grew up with a real love of music from back then. Plus, your picture's bigger. (He laughs.) The artwork is important.