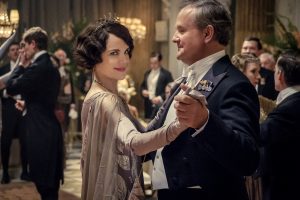 By ANGELA DAWSON
Front Row Features
HOLLYWOOD—Life sort of imitated art on the set of "Downton Abbey" as the cast became giddy during a visit by none other than the Duchess of Cambridge. That's Kate Middleton, Prince William's wife, for those unfamiliar with royal titles.
The Duchess was only scheduled to stay an hour but was so enamored with the costumes and chit-chatting with the cast and crew, that she wound up visiting Ealing Studios for about three hours.
"Her detectives were checking their watches," recalls Allen Leech, who plays Tom Branson, the Irish Republican radical chauffeur who became part of the upper-crust Crawley household when he married the youngest daughter, Sybil, only to lose her shortly after the birth of their child in Series 3.
In the film, which picks up the action a little over a year after the conclusion of the widely popular series that ended in 2015 after six seasons in the U.S. on PBS, the family and staff at Downton are anxiously awaiting a royal visit, this one from the king and queen. Chaos ensues as the monarchs' own staff comes in and tries to take over serving duties from the very dedicated Downton staff. Meanwhile, upstairs, the Crawley family is contending with issues like whether they will be forced out of their beloved country estate by a distant cousin who holds title to it and may bequeath it to someone else. The film is directed by Michael Engler, who directed four episodes of the TV series, from a screenplay by "Downton Abbey's" creator and writer Julian Fellowes.
The film, which opened in the U.K. on Sept. 13, and a week later in the U.S., has reignited the "Downton Abbey" frenzy that began when the early-20th century-set family and workplace melodrama conceived by Julian Fellowes ("Gosford Park") premiered and became an instant pop culture hit with audiences of all ages.
Most of the main cast has returned including Hugh Bonneville, Elizabeth McGovern, Michelle Dockery, Allen Leech, Joanne Froggett, Brendan Coyle, Jim Carter, Laura Carmichael, Rob James-Collier, Phyllis Logan, Leslie Nicol, Sophie McShera, Dame Penelope Winton, Matthew Goode and, of course, Dame Maggie Smith as the cantankerous Violet Crawley. Imelda Staunton, who is the real-life wife of Jim Carter, joins the cast as Lady Bagshaw and Tuppence Middleton as Lucy Smith, Simon Jones as King George V and Geraldine James as Queen Mary.
On opening day in the U.S., three of the cast members—Bonneville, who plays Robert Crawley, the seventh earl of Grantham, Elizabeth McGovern, who plays Lady Cora Crawley, the Countess of Grantham and Allen Leech, who plays their son-in-law Tom Branson—were on hand to discuss the new film, which could be the final chapter in the beloved story.
Q: What's the magic of "Downton Abbey" and why does it resonate with so many fans around the world?
Bonneville: It is to escape from the hassles of our current world. It's pretty nice and it's a nice place to go. And you sort of know you're going to be looked after, because I think the characters in "Downton Abbey" look out for each other in some way, shape, or form. And I don't think we need to apologize for that. It's just pure escapism. So, it's a nice place to be for a couple of hours.
Q: Elizabeth, you've starred in a number of period pieces from "Ragtime" to "The Chaperone," earlier this year, along with your role as Lady Cora on "Downton Abbey." Do you gravitate towards these types of roles?
McGovern: I seem to end up in period pieces quite a bit. But the fact is, I really don't care about that. I'm really drawn to great stories and great characters. The fact that they happen to be in that period is irrelevant to me. I really hope that they spring out to a modern audience as if they are not in the period and that what's kind of remarkable is that people in that period are just like we are today. Things really don't change all that much. That's kind of the extraordinary thing. I just happened to finish reading "Don Quixote," and I couldn't believe that the things that are written in that book are still so relevant today, because the fact is, people don't change all that much.
Q: How was it coming back to these characters after saying goodbye to them four years ago?
Leech: We all had a certain level of trepidation going in. The funny thing is, the minute you start reading the script and then when you start getting into your costume, you realize actually that it's almost muscle memory. That it's just sitting below the surface, because you play these characters for so long. Even when you weren't playing them, you were probably talking about them. It was a really happy discovery for me that it didn't take a huge amount to get back to being Tom Branson at all.
McGovern: It doesn't happen very often that you get a chance to revisit a character that has just settled in your bones for years without you even thinking about it.
Bonneville: The moment that sticks in my mind is when we joined together for the read through. Now, obviously, we had six of these events in the past. But there had been a gap of three years. It was a small miracle that Gareth Neame, our executive producer, had managed to get all of us around the table again. Plus, our new characters as well. But, obviously, the main challenge was to get the core of the cast back together. But I do remember looking around the table at this big square, this big old square table that was erected around the studio. And, basically, having sort of a wry grin on my face. It's a great testament to the audience really as much as anything. Because it was the audience who drove the enthusiasm and the constant questioning. Is there going to be a movie. And I think if they hadn't been asking that, then we wouldn't have done it.
Q: What other "Downton Abbey" character have you secretly wanted to play?
Leech: I would love just to be Thomas Barrow for a day. Early Thomas Barrow. Like, evil conniving Thomas Barrow. (He laughs.)
McGovern: I'm with Allen. I like early Thomas Barrow. That was a very complex character who acted in ways that weren't always the best way to act, but you could see that it was coming from a place of pain and frustration, and I always thought that was really interesting.
Bonneville: (quips) I would like to play Lady Mary because then you can shag a Turkish diplomat, have incredible sex, and then you don't have to see them for breakfast.
Q: What has playing a character from the 1920s taught you?
McGovern: It's made me appreciate the freedoms and the power we enjoy as women, which I might have taken for granted otherwise. I am so happy at the end of the day to come back to 2019 and know that I can vote, I can control my own money, I can control my own destiny. We've come a long way, baby!
Bonneville: I hope I've taken into my own life is a greater sense of tolerance. All of the characters on this show are really based in a world in which tolerance and compassion are found quite frequently. We're so quick to judge these days and so quick in the pace of life to make rash decisions. (In the 1920s), just the general pace is inevitably so much slower in the world where the telephone is about the fastest means of communication, or the way of getting in touch with people. The common courtesies that everybody in the estate is used to expressing. I think they aren't bad things to hold onto now.
Q: Since you premiered in London last week and you're here this week, what are the differences that you've noticed between fans in the U.K. and fans in the U.S. of "Downton Abbey?"
Leech: Rob James-Collier (who reprises his role as the newly promoted butler Thomas Barrow in the film) summed it up brilliantly when he said in the U.S., fans will cross the road and risk being knocked down to tell you they love your show, and in the U.K., people will cross the road and risk being run down just to tell you they don't watch it. So, the enthusiasm and the excitement that we experience from American audiences is so refreshing.
Q: What will you take away from your "Downton Abbey" experience?
Leech: I had a very poignant moment with Hugh (Bonneville), actually. We snuck in at the New York premiere and stood at the back of the theater for the last 20 minutes of the movie. For me, I'll take this incredible journey that we had over 10 years, and the amazing family I have.
Bonneville: Something that I actually learned some of that through the character of Robert and the relationship with Cora (played by McGovern). That they do have their ups and downs, but they're there for the long haul.
Q: Who is your favorite "Downton Abbey" character?
Bonneville: I always tend to gravitate to Mr. Molesley. That's as much a testament to Kevin (Doyle) as an actor as to the character. Because the character was I think originally commissioned if you like for two or three episodes in season one. Kevin brought something so remarkable to the character, sort of an almost Chaplin-esque hangdog quality, which can be utterly heartbreaking and very funny at the same time. As you've seen in the movie, it's brought to the perfect peak in the movie. I always love watching him work because you know you're going to get a little bit of jewelry.
Leech: I'll go with an unsung hero oftentimes in "Downton," who is Isobel Crawley, because Maggie Smith is as good as Maggie Smith is, but she can only be as good as who she is fighting against. Dame Penelope Wilton is a very worthy adversary for her. She does a wonderful job. I really think people enjoy Maggie because they enjoy Penelope as well.
Q: The movie centers on the Downton crowd preparing for a royal visit. Have you met any royals in real life?
Bonneville: We had a dry run of the film plot, because the duchess of Cambridge came to visit the set. She was having such a good time looking around the wardrobe bus and learning how everything worked. We also had a couple of visits from the Countess of Wessex. Sophie Wessex came a couple of times incognito. Unfortunately, my good lady screen wife didn't really take all this onboard, and thought she had met the blonde-haired lady in the supermarket recently.
McGovern: (looking embarrassed) No. I thought she was an extra wardrobe person that had come on. I didn't recognize her.
Q: How was it shooting the extravagant dinner scene where Molesley embarrasses himself by addressing the royals directly, which is a big no-no?
Bonneville: Normally, those dining room scenes we can't wait to get out of because they take a long time (to shoot) for obvious reasons. But that's the one time we actually wanted to stay in the room because take after take (Kevin Doyle) was just sublime.
Leech: It was a lovely moment where Maggie (Smith) saw him do it for the first time. There was a bit of applause, and she just turned and said, "Well, that's delicious!"
Q: Allen, what was your favorite scene?
Leech: The ballroom (scene) was fun because, obviously, I sat on the sidelines and watched these guys do their job. Every so often (between takes), Imelda Staunton (who plays Lady Bagshaw) and I would go in and give our judging scores, like "Dancing with the Stars." Everyone would line up and we would walk up and down and then say, "You guys were the best this time. Well done." Everyone got to win at different stages.
Bonneville: Over the years, Elizabeth and I have had quite a few dances on the TV show. Diana Scrivener, our choreographer, has always been very patient, because we often may start at the bottom of the class, but she would give us incentives. We'd get little badges along the way, until we finally ended up with gold. We were very excited. We got a gold star.
Q: What's the future hold for "Downton Abbey?"
Bonneville: It's certainly the end for us in terms of the TV show. But let's not forget that the central character is the house. It's still standing and will be standing in another 100 years. Knowing a little bit of the history of Lord and Lady Carnavron's family (that owns Highclere Castle, the site of the fictional Downton Abbey) who live there, his grandfather was quite a character. If those walls could talk. In the 1960s, it was one heck of a party house. Some fascinating shenanigans have gone on there over the years. So, of course, they absolutely could do spinoffs in that way.