By ANGELA DAWSON
Front Row Features
The romantic drama "My Golden Days" arrives on DVD and Digital HD Tuesday July 12 from Magnolia Home Entertainment. From Director Arnaud Desplechin ("A Christmas Tale"), Mathieu Amalric ("The Grand Budapest Hotel") reprises the role of Paul Dedalus from Desplechin's "My Sex Life…Or How I Got into an Argument," to which he experiences a series of flashbacks, most notably on his first heart-wrenching love affair.
"My Golden Days" tells the story of Paul Dedalus (Almaric), an anthropologist preparing to leave Tajikistan. Reflecting on his life, he has a series of flashbacks starting from his childhood in Roubaix—his mother's attacks of madness, his father's alienating depression. He remembers a student trip to the USSR, where a clandestine mission led him to offer up his own identity for a young Russian, whom he considered a phantom twin for the remainder of his life. He remembers University life, and returning to his hometown to party with his sister and her best friend, his shifting circle of friends and their casual betrayals. And most of all he remembers Esther (Cesar-nominated newcomer Lou Roy-Lecollinet), the beautiful, rude, haughty soul and love of his life.
Special features include a discussion with Desplechin, a behind-the-scenes look at the casting session for Paul and Esther, a sit down with the cast and more. The Blu-ray and DVD will be available for the suggested retail price of $29.98 and $26.98, respectively.
In "Green Room," due out Tuesday July 12 on Blu-ray and DVD, a down-on-its-luck punk band gets booked to perform at an out-of-the way Oregon roadhouse that turns out to be a bastion for a group of hardcore neo-Nazis. The musicians get into a heap of trouble they didn't bargain for when they witness a brutal murder in the club's dingy green room (a hangout for bands before and after they perform). When they attempt to leave, the ruthless club owner's skinhead henchmen detain them. Frustration soon turns to fear, and the young musicians realize they will have to fight their way out if they are going to survive.
Twisted and violent, "Green Room" is filmmaker Jeremy Saulnier's third feature. The cast is led by noted thespian Patrick Stewart, who delivers a performance quite the opposite of the heroic characters he is best known for, namely Captain Jean-Luc Picard from "Star Trek: The Next Generation" and Professor Xavier from the "X-Men" franchise. Bearded and coolly methodical, his Darcy Banker onscreen persona controls a phalanx of vicious white supremacist goons, who are ordered to eliminate all the witnesses to the crime.
The intense drama also stars the late Anton Yelchin (Chekov in the new "Star Trek" franchise), Alia Shawkat (TV's "Arrested Development," "The To-Do List"), Joe Cole ("The Secret in Their Eyes") and Callum Turner ("Frankenstein") play the band that happen to be in the wrong place at the wrong time. Imogen Poots ("28 Days Later") plays a member of another band who also becomes one of the targeted witnesses.
The home entertainment release of "Green Room" contains audio commentary with Saulnier and a behind-the-scenes featurette. The film is available for a suggested retail price of $24.99 and $19.98, respectively.
Written and directed by Academy Award nominee Richard Linklater ("Boyhood," "Dazed and Confused"),  "Everybody Wants Some!!" arrives on Blu-ray, DVD and On Demand Tuesday July 12. The comedy also is available on Digital HD.
Hailed by critics when it was released in theaters earlier this year, "Everybody Wants Some!!" is a sort-of sequel to Linklater's beloved "Dazed and Confused," and follows freshman pitcher Jake as he arrives at college in the summer of 1980 and meets his new rowdy teammates.  Together, they must navigate their way between girls, parties and baseball, all in the last weekend before school begins.  The comedy features an ensemble cast of up-and-coming actors including Blake Jenner, Tyler Hoechlin, Wyatt Russell, Glen Powell, J. Quinton Johnson, Ryan Guzman and Zoey Deutch.
The Blu-ray Combo Pack with Digital HD features 45 minutes of behind-the-scenes footage including 25 minutes of outtakes. Plus, experience the comical audition process each actor had to complete in order to land his role. Then, watch the cast describe their experiences with Linklater's impressive memory.  Finally, see how the cast transformed into their '80's counterparts, and check out the training everyone had to go through in order to prepare for the major dance sequences.
Saban's Powers Rangers are back in action with "Power Rangers Dino Charge: Breakout," arriving on DVD (plus Digital), Digital HD, and On Demand Tuesday July 12 from Lionsgate. The Red, Black, Blue, Green, and Pink Rangers must once again rely on each other and their new dino-charged powers as they battle to defend the Earth from the villainous Sledge. The Power Rangers will have to outsmart a puzzling villain, save a prince, and try to defeat Sledge's monsters. When the evil Fury unleashes the powerful Ptera Zord, only the Power Rangers can regain control with the help of their newest ally, the Gold Ranger.
This all-new Power Rangers series ranked No. 1 in its time period across all TV with kids 2-11. With an ever-growing fan base, "Power Rangers Dino Charge: Breakout" is one of the more action-packed Power Rangers adventure yet. The DVD is available for a suggested retail price of $14.98.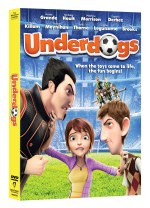 Front Row Features is giving away a copy of the inspiring animated comedy "Underdogs" on DVD to three lucky families. To enter, simply email socalmovieeditor@aol.com by July 26 for your chance to win. Good luck!