By ANGELA DAWSON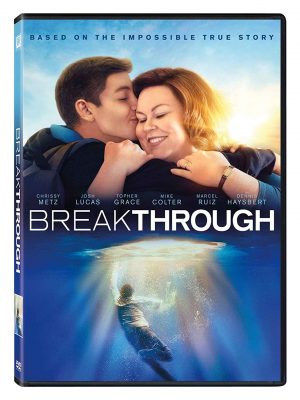 Front Row Features
Breakthrough
Twentieth Century Fox Home Entertainment presents "Breakthrough," arriving on 4K Ultra HD, Blu-ray and DVD Tuesday July 16. The faith-based film also is available now on Digital formats.

When Joyce Smith's (Chrissy Metz, "This is Us") adopted son John (Marcel Ruiz, "One Day at a Time") falls through an icy Missouri lake, all hope seems lost as John lies lifeless. In the face of every bleak medical case history and dire scientific prediction, Joyce's unwavering belief inspires her community to pray for John's recovery. Based on the incredible true story, "Breakthrough" is a reminder that faith and love can create a mountain of hope, and sometimes a miracle.

Along with producer DeVon Franklin ("Miracles from Heaven"), the film was adapted for the screen by Grant Nieporte ("Seven Pounds") from the real Joyce Smith's book "The Impossible."
"Breakthrough" also stars Josh Lucas ("Yellowstone," "Sweet Home Alabama") Topher Grace ("Spider-Man 3," "That '70s Show"), Mike Colter ("Luke Cage"), Sam Trammell ("This is Us," "True Blood") and Dennis Haysbert ("24"). "Breakthrough" is directed by Roxann Dawson ("House of Cards," "The Americans").
The home entertainment release includes deleted scenes and bonus features with never-before-seen footage with cast and crew shot during the film's production.
Dogman
The Italian drama "Dogman" arrives on DVD and Digital HD Tuesday July 16 from Magnolia Home Entertainment.
In a seaside village on the outskirts of an Italian city, where the only law seems to be survival of the fittest, Marcello (Marcello Fonte, "The Intrusion") is a slight, mild-mannered man who divides his days between working at his modest dog grooming salon, caring for his daughter Alida and being coerced into the petty criminal schemes of the local bully Simoncino (Edoardo Pesce, "Niente di Derio"), an ex-boxer who terrorizes the neighborhood. When Simoncino's abuse finally brings Marcello to a breaking point, he decides to stand up for his own dignity through an act of vengeance, with unintended consequences.
Director Matteo Garrone ("Gomorrah," "Reality") delivers a story of vengeance as one man is pushed to his limits, leaving him no choice but to take action into his own hands.
"Dogman" will be available on DVD for the suggested retail price (SRP) of $26.98, and on Digital HD via Prime Video, AppleTV, Googly Play, FandangoNOW and other digital platforms.
Puppy Swap: Love Unleashed
The fun-filled family film "Puppy Swap: Love Unleashed" arrives on DVD and Digital Tuesday July 16 from Lionsgate. Starring primetime Emmy nominee Corin Nemec ("I Know My First Name Is Steven"), Sara E.R. Fletcher and Rib Hillis, follow twin Pomeranian puppies of the same litter who trade places in order to rekindle their human parents' romance.
Twin poms Haley and Lindsey are thrilled to live with loving couple Jessica and Mel — and heartbroken when the twosome breaks up, leaving the pooches a thousand miles apart. When Jess brings Lindsey back to Montana for work, the two identical dogs meet up by accident and hatch a delightfully dogged scheme: reunite their human "parents" by trading collars — and places. Now Haley and Lindsey are determined to spark the fires of love, no matter how much doggie mischief it takes.
The film is Dove Family Approved, and will be available for the suggested retail price (SRP) of $14.98.
Shazam!
New Line Cinema's "Shazam!" arrives on 4K UHD Combo Pack, Blu-ray Combo Pack, DVD and Digital Tuesday July 16.
David F. Sandberg ("Annabelle: Creation," "Lights Out") directs film that stars Zachary Levi ("Chuck," "Tangled") as the titular DC Superhero, along with Mark Strong (the "Kingsman" movies, "The Imitation Game") in the role of DC Supervillain Dr. Thaddeus Sivana and Asher Angel ("Andi Mack," "Driven to Dance") as Billy Batson.
Firmly set in the world of DC Superheroes, but with his own distinctly fun, family-centric tone, the screenplay is by Henry Gayden and story is by Gayden and Darren Lemke, based on characters from DC. "Shazam!" was created by Bill Parker and C.C. Beck.
Batson (Angel) finds his inner superhero shouting out one word—Shazam! This streetwise 14-year-old foster kid can turn into the adult superhero Shazam (Levi), courtesy of an ancient wizard. Still a kid at heart—inside a ripped, godlike body—Shazam revels in this adult version of himself by doing what any teen would do with superpowers: have fun with them! Can he fly? Does he have X-ray vision? Can he shoot lightning out of his hands? Can he skip his social studies test? Shazam sets out to test the limits of his abilities with the joyful recklessness of a child. But he'll need to master these powers quickly in order to fight the deadly forces of evil controlled by Dr. Thaddeus Sivana (Strong).
"Shazam!" also stars Jack Dylan Grazer ("IT," "Beautiful Boy") as Billy's best friend and ultimate superhero enthusiast, Freddy, and Oscar nominee Djimon Hounsou ("Blood Diamond," "Guardians of The Galaxy") as the Wizard. The cast also includes Faithe Herman ("This is Us"), Grace Fulton ("Annabelle: Creation"), Ian Chen ("Fresh Off the Boat"), Jovan Armand ("Hawaii Five-0," "The Middle"), Marta Milans ("Killer Women," "The Pier") and Cooper Andrews ("Den of Thieves," "The Walking Dead").
Sandberg's creative team included his "Annabelle: Creation" director of photography Maxime Alexandre, production designer Jennifer Spence, editor Michel Aller and costume designer Leah Butler. The music is by Benjamin Wallfisch ("Blade Runner 2049," "IT," "Annabelle: Creation").
The Blu-ray Combo Pack features a Blu-ray disc with the film and special features in hi-definition, a DVD with the film in standard definition and a Digital version of the movie.
Extras include an exclusive motion comic, featurettes on the magical world of "Shazam! "and "Super Fun Zac," a carnival scene study: Shazamily Values, "Who is Shazam?", deleted scenes and a gag reel.
The 4K Ultra HD Blu-ray disc of "Shazam!" will feature Dolby Vision HDR that dramatically expands the color palette and contrast range, and uses dynamic metadata to automatically optimize the picture for every screen, frame by frame.
The Ultra HD Blu-ray disc of "Shazam!" will feature a Dolby Atmos soundtrack remixed specifically for the home theater environment to place and move audio anywhere in the room, including overhead.
"Shazam!" will also be available on Movies Anywhere. Using the free Movies Anywhere app and website, consumers can access all their eligible movies by connecting their Movies Anywhere account with their participating digital retailer accounts. Fans can also own "Shazam!" via purchase from digital retailers
Scary Stories
"Scary Stories," a documentary about Alvin Schwartz' iconic "Scary Stories to Tell in the Dark" book series, will be released on DVD Tuesday July 16 via Wild Eye Releasing.

Explore the history of one of the most controversial works of modern children's literature: The bestselling teen classic "Scary Stories to Tell in the Dark," which scared a generation of young readers and became one of the most banned books of modern times. "Scary Stories" creates both the ultimate celebration and dissertation of this iconic piece of horror literature.

Cody Meirick's film features more than 40 interviews, from family members of author Alvin Schwartz, to fellow children's book horror authors like R.L Stine ("Goosebumps") and Q.L. Pearce, to folklorists, artists and fans discussing the impact that the books have had on both themselves as well as the culture at large. The documentary also explores the various times in which the books were banned or targeted by parent and religious groups as satanic or otherwise too macabre for its targeted teen scholastic audience.

Penned by Schwartz and illustrated by Stephen Gammell, "Scary Stories to Tell in the Dark" is a three-volume series consisting of short horror stories for pre-teens and children that were adapted from American folklore and urban legends. Because of some of the violent illustrations and the subject matter, the books were sometimes pulled from libraries and schools. A feature film adaptation of the books, produced by horror icon Guillermo del Toro, is due in theaters in August.