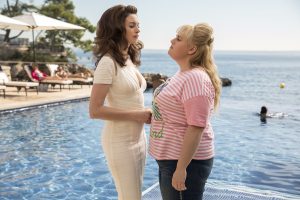 By HEATHER TURK
Front Row Features Film Critic
If you've seen the trailers for the new Anne Hathaway/Rebel Wilson comedy "The Hustle" and feel like you've seen this movie before, you have. Twice, actually. A gender-swapped remake of the 1988 Michael Caine/Steve Martin comedy classic "Dirty Rotten Scoundrels," which itself is a remake of the 1964 David Niven/Marlon Brando film "Bedtime Story," MGM/United Artists Releasing's "The Hustle" tries to pull the ultimate con on audiences by acting like it's just a modern film inspired by "Dirty Rotten Scoundrels." In actuality, it's almost a scene for scene remake of the movie, so much so the film, directed by Chris Addison ("Veep"), should have just embraced its source material and called itself "Dirty Rotten Scoundrelles" (although, in all fairness, "Dirty Rotten Scoundrels" did change its name, too).
Academy Award winner Hathaway ("Les Misérables") steps into the Caine/Niven role as Josephine Chesterfield, a high-class con artist with an over-the-top British accent that fools both no one and everyone at the same time. Wilson (the "Pitch Perfect" trilogy) plays the Martin/Brando role as Penny Rust, a less accomplished—though still convincing—con artist who Josephine takes under her wing for the sole reason not to have a competing con artist in her way. The two prey upon "dirty rotten men" (the only nod to "Dirty Rotten Scoundrels" on the film's poster) in Beaumont-sur-Mer, France, with Josephine getting wealthy men to propose to her with extravagant rings. Once she has a ring on her finger, Josephine uses Penny to scare off her betrothed as the secret, mentally challenged sister she keeps locked in a cave. The men are so anxious to leave, they run off and leave the two women behind with the flashy engagement rings.
When it comes time to sell the expensive rings for some serious dough, though, Josephine doesn't give Penny her fair share of the cut because "students don't get paid." Instead of just leaving Beaumont-sur-Mer angry and frustrated like Josephine expected, Penny decides to stay on Josephine's turf to prove that anything Josephine can do, she can do better, resulting in the ultimate turf war. Realizing Beaumont-sur-Mer isn't big enough for the two of them, Josephine and Penny agree to a wager: the first one able to swindle $500,000 out of a visiting tech entrepreneur (Tony Award winner Alex Sharp, "The Curious Incident of the Dog in the Night-Time," stepping into Glenne Headly/Shirley Jones' part) gets to stay in Beaumont-sur-Mer running cons while the loser has to leave.
While "The Hustle" does have a few new jokes and puts a fresh spin on a few classic scenarios (for example, instead of pretending to be paralyzed like Martin and Brando's characters, Wilson's character pretends to be blind when conning her naïve target), for the most part, the film follows the plot of "Dirty Rotten Scoundrels" to a T. Even the soundtrack sounds similar! Hathaway and Wilson are entertaining to watch, but let's be honest: no one can do this story justice like Caine and Martin. Neither Hathaway nor Wilson really add anything original to the story, as the premise that girls are better con artists than guys because guys will never believe a girl is smarter than them is never truly explored since the script by Stanley Shapiro ("Bedtime Story," "Dirty Rotten Scoundrels"), Paul Henning ("Bedtime Story," "Dirty Rotten Scoundrels"), Dale Launer ("Dirty Rotten Scoundrels") and Jac Schaeffer ("Olaf's Frozen Adventure") never strays too far from the original, male-focused source material.
Still, although Hathaway's conning Josephine isn't nearly as great as her thieving Selina Kyle in "The Dark Knight Rises," both female leads keep audiences laughing throughout the 93-minute film, even though most viewers will know what's coming next. While some of the updated jokes don't have quite the payoff as their predecessors (there's something about Martin's character asking Caine's character during dinner if he can go to the bathroom, then pretending to urinate at the table after Caine's character says yes that will always tickle this reviewer's funny bone), there are plenty of laugh-out-loud moments, including one great blink-and-you'll-miss-it joke involving the name of the hotel suite the tech millionaire is staying in that's simply hilarious.
Nevertheless, while the film may be quite entertaining, viewers can't help but leave the theater wondering why "The Hustle" was made in the first place. The movie had a lot of potential to put a feminine spin on a classic male-driven comedic caper, but instead it just settles on remaking a remake. While the film doesn't cheapen "Dirty Rotten Scoundrels" or "Bedtime Story" in any way, it doesn't improve upon them, either. "The Hustle's" ultimate con is making moviegoers think it's something new when it's not.
Grade: B