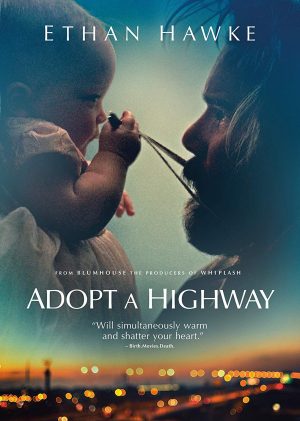 By ANGELA DAWSON
Front Row Features
Movies
Adopt a Highway
RLJE Films, a business unit of AMC Networks, will release "Adopt a Highway" Tuesday Dec. 24 on DVD and Blu-ray.
The film stars Academy Award nominee Ethan Hawke ("Boyhood"), Elaine Hendrix ("Sex & Drugs & Rock & Roll"), Diane Gaeta ("Other People's Children"), Mo McRae ("Pitch"), Chris Sullivan ("This is Us") and Betty Gabriel ("Get Out"). The film is written and directed by Logan Marshall-Green in his feature filmmaking debut which had its world premiere at this year's SXSW Film Festival. RLJE Films will release "Adopt a Highway" on DVD for a suggested retail price (SRP) of $29.96 and on Blu-ray for $29.97 (SRP).
Russ Millings (Hawke) has just been released from prison after serving 21 years for a third strike conviction for possessing an ounce of marijuana. As he tries to adapt to a world he doesn't recognize—including trying to learn how to use the internet—he finds an abandoned baby in a dumpster behind the fast food restaurant where he works as a dishwasher. Unsure of what to do, and caught between impulses of kindness and panic, Russ soon realizes this could be his chance at redemption.
The Gallows
A supernatural thriller summoning the darkest evil through a viral challenge, "The Gallows Act II," arrives on Blu-ray Combo Pack (plus DVD and Digital) and DVD Tuesday Dec. 24, from Lionsgate. This film is available now on Digital and On Demand.
Joining iconic horror films like "Get Out," "Happy Death Day" and "The Purge," Blumhouse's "The Gallows Act II" is a sequel to 2015's "The Gallows," with both films written and directed by Chris Lofing and Travis Cluff.
"The Gallows Act II" Blu-ray Combo Pack and DVD include an audio commentary with the filmmakers, a never-before-seen making-of featurette, and deleted scenes, and will be available for $24.99 (SRP) and $19.98 (SRP), respectively.
When teenage vlogger and aspiring actress Auna Rue logs onto a sinister website, she's trapped in the malevolent world of a cursed stage play, "The Gallows." After performing a passage from the play for her tiny online fan base, Auna instantly achieves the stardom she seeks—as well as a twisted challenge from a deadly spirit (The Hangman) in this nightmarish supernatural thriller from the company that brought you "Paranormal Activity" and "Insidious."
Judy
A legendary entertainer's life comes into focus when Judy arrives on Blu-ray Combo Pack (plus Digital) and DVD and On Demand Tuesday Dec. 24, from Lionsgate. It also is available now on Digital.
Directed by Tonynominee Rupert Goold and written for the screen by Tom Edge, "Judy" stars Oscar winner Renée Zellweger ("Cold Mountain"), Jessie Buckley ("Beast," "Wild Rose"), Primetime Emmy nominee Finn Wittrock ("The Assassination of Gianni Versace"), Primetime Emmy nominee Rufus Sewell ("The Marvelous Mrs. Maisel"), and Golden Globe nominee Michael Gambon ("Path to War").
Shedding light on the iconic Judy Garland's final years, the film features timeless music including performances of classic songs like "Over the Rainbow," "For Once in My Life," and "Come Rain or Come Shine."

Thirty years after rising to global stardom in "The Wizard of Oz," showbiz legend Judy Garland (Zellweger) arrives in London to perform a five-week sold-out run at The Talk of the Town. While preparing for the shows, Garland battles with management, reminisces with friends and adoring fans, and embarks on a whirlwind romance with soon-to-be fifth husband Mickey Deans—all while bravely struggling to overcome intensifying anxiety and physical decline. Featuring some of her best-known songs, the film celebrates the unyielding spirit and matchless talent of "the world's greatest entertainer."

Immerse yourself in the world of Judy Garland with a never-before-seen featurette "From the Heart: The Making of Judy," as well as a gallery of stunning images from the film. The "Judy" Blu-ray Combo Pack and DVD will be available for $39.99 (SRP) and $29.95 (SRP), respectively.
Lucy in the Sky
From Twentieth Century Fox Home Entertainment comes Noah Hawley's feature directorial debut, "Lucy in the Sky," on Digital.
Natalie Portman ("Black Swan) and Jon Hamm ("Richard Jewell") star in this captivating drama inspired by true events ripped from the headlines. After star astronaut Lucy Cola (Portman) earns a coveted spot on a NASA mission, she's moved by the transcendence of being in space. But when she returns to Earth, her everyday life feels too small. Soon, she engages in a reckless love triangle that threatens her career and her sanity.
The Digital release is packed with bonus materials, including four deleted scenes, as well as four making-of featurettes.
A Reindeer's Journey
Donald Sutherland narrates the live action nature drama "A Reindeer's Journey," available now on DVD, Digital and On Demand, from Matila Rohr Productions.
Ailo is a newborn reindeer who embarks on an incredible odyssey with the help of his mother. Set against the frozen majesty of northern Finland, their journey is an uplifting story the whole family will enjoy. The DVD includes a fascinating making-of featurette.
Directed by Guillaume Maidatchevsky, "A Reindeer's Journey" is Dove-approved for all ages.
Twin Flower
In writer-director Laura Luchetti's strikingly photographed second feature, "Twin Flower," two teenage runaways forge a relationship haunted by their respective pasts. The DVD is available Tuesday Dec. 24, from Film Movement.
Anna (Anastasiya Bogach) is eluding a human trafficker for whom her father worked, and Basim (Kallil Kone) is a refugee from the Ivory Coast in search of gainful employment. Together they embark on a dangerous trip across the tough but breathtaking terrain of Sardinia in the hopes of overcoming their personal demons. The remarkable chemistry between Bogach and Kone-both nonprofessional actors-carries Luchetti's powerful film about coming of age in the throes of the refugee crisis.
Nominated for the Grand Jury Prize and the Futurewave Youth Jury Award at the 2018 Seattle International Film Festival and nominated for a European Film Award, "Twin Flower" was a favorite of critics and festival audiences around the globe.