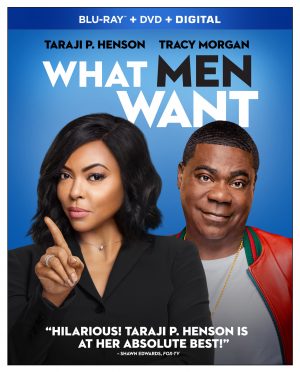 By ANGELA DAWSON
Front Row Features
What Men Want
Taraji P. Henson stars in director Adam Shankman's comedy "What Men Want," arriving on Digital April 23, and on Blu-ray Combo Pack and DVD Tuesday May 7 from Paramount Home Media Distribution.
Ali Davis (Henson) is a successful sports agent who's constantly boxed out by her male colleagues. After a wild night out with her girls, she mysteriously gains the ability to hear men's thoughts. With her newfound power, Ali looks to outsmart her colleagues as she races to sign the next basketball superstar, but the lengths she has to go to will put her relationship with her best friends and new love interest to the test.
The film also stars Aldis Hodge, Richard Roundtree, Wendi McLendon-Covey, Erykah Badu, Max Greenfield and Tracy Morgan.
The Digital and Blu-ray Combo Pack releases include more than an hour's worth of hilarious bonus features, including a gag reel, deleted and extended scenes, a spoof infomercial featuring a hilarious Erykah Badu, who delivers a memorable performance as an oddball psychic, interviews with the cast, and more.
Awesome Alphabet Collection
Elmo and his Sesame Street friends explore every letter of the alphabet in "Awesome Alphabet Collection," brought to you in Sesame Street's 50th anniversary year. The collection comes to DVD and digital download Tuesday May 7, from Shout! Factory and Sesame Workshop.
Highlights include classics "The Beetles Perform Letter B" and "C is for Cookie," animations, pop culture parodies, and favorite segments from recent seasons. Exploring the alphabet alongside their furry friends is an all-star lineup of celebrity guests. Norah Jones duets with the letter Y, Tori Kelly tries a little kindness, and Pharrell Williams belts it out for the letter B. Maya Angelou stops by to talk hugs, Sheryl Crow helps "I" soak up some sun, and Ricky Gervais tries singing a lullaby to a sleepy Elmo.
The spectacular A-Z compilation has a runtime of two hours, including "Elmo's Amazing Alphabet Race" as a bonus feature. ABC-themed printable activities round out this one-of-a-kind collection.
The LEGO Movie 2: The Second Part
It's time to go where no brick has gone before when "The LEGO Movie 2: The Second Part" arrives on 4K UHD Combo Pack, Blu-ray Combo Pack, DVD Special Edition and Digital. The much-anticipated sequel to the critically acclaimed, global box office phenomenon that started it all, "The LEGO Movie 2: The Second Part" reunites the heroes of Bricksburg in an all new action-packed adventure to save their beloved city.
Reprising their starring roles from the first film are Chris Pratt ("Guardians of the Galaxy," "Jurassic World") as Emmet; Elizabeth Banks ("The Hunger Games" franchise, "Love & Mercy") as Lucy, a.k.a. Wyldstyle; Will Arnett (the "LEGO Batman" movies," "Arrested Development") as LEGO Batman; Alison Brie ("GLOW," "Community") as Unikitty; Nick Offerman ("Fargo," "Parks and Recreation") as MetalBeard; and Charlie Day (the "Horrible Bosses" franchise, It's Always Sunny in Philadelphia") as Benny. They are joined by Tiffany Haddish ("Girls Trip," "Keanu") and Stephanie Beatriz ("Short Term 12," "Brooklyn Nine-Nine") as new characters Queen Watevra Wa'Nabi and General Mayhem, respectively, and Maya Rudolph ("Bridesmaids," "Big Mouth"), as Mom.
"The LEGO Movie 2: The Second Part" was directed by Mike Mitchell ("Shrek Ever After," "Sky High") and produced by Dan Lin, Phil Lord, Christopher Miller and Roy Lee, the team behind the "LEGO" film franchise since "The LEGO Movie," and Jinko Gotoh. The screenplay was written by Lord and Miller, the Oscar-winning producers of "Spider-Man: Into the Spider-Verse," from a story by Lord, Miller and Matthew Fogel, based on LEGO Construction Toys.
The 4K Ultra HD Blu-ray disc of "The LEGO Movie 2: The Second Part" features a Dolby Atmos soundtrack remixed specifically for the home theater environment to place and move audio anywhere in the room, including overhead.
"The LEGO Movie 2: The Second Part" will also be available on Movies Anywhere. Using the free Movies Anywhere app and website, consumers can access all their eligible movies by connecting their Movies Anywhere account with their participating digital retailer accounts. Fans can also own "The LEGO Movie 2: The Second Part" via purchase from digital retailers.
All About Lily Chou Chou
Shunji IIwai's "All About Lily Chou Chou" arrives on Blu-ray, DVD and Digital Tuesday May 7, from Film Movement Classics.
For young people around the world, music is often the only salvation when pain and suffering becomes too much to bear. Yuichi (Hayato Ichihara) is in 8th grade and worships Lily Chou-Chou, a Björk-like singer whose lush and transcendent music provides the perfect escape from his brutal surroundings. Yuichi also finds solace as the moderator of an online chat room dedicated to his pop idol, but as his real-life nightmare of teenage prostitution, crime and bullying grows more untenable, will Lily be enough to save him from isolation and despair?
"All About Lily Chou Chou" initially was released in theaters in 2001. Extras include a making-of featurette and an essay by Stephen Cremin, director of the New York Asian Film Festival with a prologue by director Iwai. The film is in Japanese with English subtitles.
Never Ever
The haunting drama "Never Ever" arrives on DVD and Digital platforms Tuesday May 7 from Film Movement.
Based on Don DeLillo's acclaimed novella "The Body Artist," the film swirls around a self-centered filmmaker (Mathieu Amalric) who, while attending a museum's retrospective of his work, wanders into an adjoining gallery and becomes mesmerized by a beautiful young performance artist (Julia Roy). The two fall madly in love and embark on a wild and delirious affair. Living together in Rey's secluded seaside estate, the lovers believe they have found eternal bliss. Months later, Rey dies in a traffic accident, leaving Laura alone in the house by herself … or so she thinks.
The DVD and Digital editions are available for a suggested retail price (SRP) of $24.95.
My Scientology Movie
Documentarian Louis Theroux is denied admittance to the Church of Scientology's headquarters, setting into motion a clever, confrontational and funny plan to try and reveal the inner workings of the mysterious organization in "My Scientology Movie," available on DVD Tuesday May 7 from Magnolia Home Entertainment.
Inspired by the Church's use of filmmaking techniques, and with the aid of real ex-scientologists, Theroux uses unconventional methods to expose and antagonize the Church. In a bizarre twist, it becomes clear that the Church is also making a film about Theroux. Infused with a good dose of humor and moments worthy of a Hollywood script, "My Scientology Movie" is stranger than fiction. The DVD is available for $19.98 (SRP).
TV
No Offence, Series 3
Acorn TV features the DVD debut of the outrageous British police procedural "No Offence, Series 3," Tuesday May 7. The female-driven police procedural follows an unorthodox team of cops in Manchester. From BAFTA-nominated writer Paul Abbott (UK's "Shameless," "State of Play") comes a police dramedy with fierce female characters and a shrewd, irreverent take on crime.
The critically-acclaimed dramedy stars Joanna Scanlan ("Requiem," "The Thick of It") and Irish Film & TV Academy lead drama actress nominee Elaine Cassidy ("Acceptable Risk," "The Paradise"). The two-disc DVD set features six episodes ($49.99, Amazon.com). "No Offence, Series 3" premiered in the U.S. earlier this year on Acorn TV. Acorn TV is North America's most popular and largest streaming service focused on British and international television.
"Series 3" finds dynamic DI Vivienne Deering (Scanlan) and her team providing security at a contentious election debate, but tragedy strikes when a gunman attempts to assassinate one of the candidates. Deering and her right-hand woman, DC Dinah Kowalska (Cassidy), vow to apprehend the culprit, despite warnings from their superiors that the investigation could jeopardize an undercover officer who has infiltrated an extreme right-wing group. While Deering strives to secure justice for her team, her unconventional policing methods may become her undoing.
The series also stars Will Mellor ("Broadchurch"), Paul Ritter ("Vera"), Sharon Rooney ("The Tunnel"), Claire Rushbrook("Requiem") and Lisa McGrillis ("George Gently").
Agatha Raisin, Series 2
Marking the return of one of Acorn TV's most popular series and its first sole commission, "Agatha Raisin, Series 2" makes its DVD debut Tuesday May 7. Based on M.C. Beaton's bestselling books, "Agatha Raisin" stars Emmy- and SAG-nominated actress Ashley Jensen ("Catastrophe," "Extras") as a London PR whizz turned amateur sleuth, who becomes entangled in mischief, mayhem, and murder when she opts for early retirement in a small village in the Cotswolds.
Drawn into the town's murders, Agatha attempts to solve the crimes… often in rather unorthodox ways. The three-disc DVD set features three feature-length episodes and bonus behind-the-scenes featurettes ($39.99, Amazon.com). "Agatha Raisin, Series 2" made its world premiere last November on Acorn TV.
Jensen stars in three feature-length mysteries in which her titular character has now settled into small-town life, but her early retirement is far from quiet. Along with her friends Sir Charles (Jason Merrells, "Waterloo Road"), Roy (Mathew Horne, "Gavin & Stacey"), and Gemma (Katy Wix, "Torchwood"), Agatha solves the village's bizarre murders with panache—but her love life may be a puzzle beyond even her skills to decipher. In "The Wizard of Evesham" Agatha suspects her hair salon's arrogant stylist is blackmailing clients with their darkest secrets. In "The Fairies of Fryfam," while on a relaxing getaway, Agatha is employed by a local woman to prove that her wealthy husband is having an affair. In "The Curious Curate," the arrival of a handsome new curate causes a stir, but when murder strikes, one of Agatha's friends becomes the prime suspect.
Front Row Features has a giveaway for almost every member of the family this week. For adults, we're giving away a copy of the hilarious comedy "What Men Want" on Blu-ray/DVD Combo Pack to two lucky readers, and for kids, we're giving away a copy of "Sesame Street: Awesome Alphabet Collection" on DVD to three lucky families. To enter the contests, simply email socalmovieeditor@aol.com by May 13 with the title of which home video release you want to win in the subject line. Good luck!