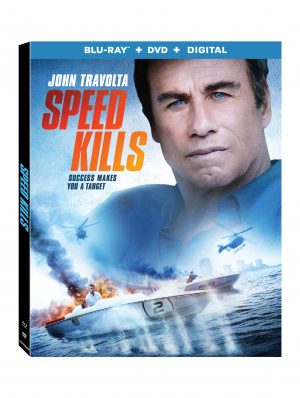 By ANGELA DAWSON
Front Row Features
Movies
Halloween
The infamous killer Michael Myers strikes again in "Halloween," arriving on 4K Ultra HD, Blu-ray, DVD and On Demand Tuesday Jan. 15. The horror sequel is now available on Digital and via the digital movie app Movies Anywhere.
"Halloween" takes place four decades after Laurie Strode (Jamie Lee Curtis, "Halloween" franchise, "Scream Queens") narrowly escaped the masked Michael Myers' brutal killing spree.
After years of psychological scrutiny, Myers is set to be transported from a mental institution to a prison on Halloween, of course. Haunted by what happened to her years ago, Laurie has rigged her house with cameras and a sizable cache of weapons. She is estranged from her adult daughter Karen (played by Judy Greer) but surprisingly close with her granddaughter Allyson (played by Andi Matichak making her feature film debut).
"Halloween" also stars Will Patton as Officer Hawkins who was just a rookie when Myers went on his killing spree and Nick Castle, reprising his role as the masked, mute and menacing Myers. Though secured and guarded in the transport bus, Myers manages to escape, leaving a trail of carnage in his wake. Audiences can guess who he's coming for but his prey has been preparing for this faceoff all her life.
Packed with bonus features including chilling deleted and extended scenes as well as special featurettes showing behind the scenes looks at creating the film, Halloween delivers spine-chilling, hair-raising intensity and thrills to both new and repeat viewers.

Master of horror John Carpenter (1978's "Halloween," "The Thing") joins forces with director David Gordon Green ("Joe," "Pineapple Express") and producers Jason Blum (Blumhouse), Malek Akkad (Trancas International Films) and Bill Block (Miramax) for this follow up to Carpenter's classic horror film.
After Darkness
Hope begins at the end of the world in "After Darkness," available on DVD, Digital, and On Demand Tuesday Jan. 15 from Lionsgate. This futuristic thriller stars John Patrick Amedori ("Dear White People," "The Vatican Tapes"), Valerie Curry ("Blair Witch," "The Tick"), Tim Daly ("Wings," "The Fugitive"), Natalia Dyer ("Stranger Things") and Kyra Sedgwick ("The Closer").
This sci-fi thriller centers on a family's fight to survive a solar disaster. As skies darken and hopes grow dim, the Beatys try to stay sane in a lavish home with every possible comfort—except sunshine. Raymond (Daly) plans to have his family transported to a secure underground bunker. But as he makes a gruesome discovery, the greatest threat to the Beatys' survival may be near—or inside—their home.
Directed by Batan Silva ("Mayans M.C.") the "After Darkness" DVD will be available for the suggested retail price (SRP) of $19.98.
Speed Kills
Two-time Academy Award nominee John Travolta ("Pulp Fiction," "Saturday Night Fever") leads the way when "Speed Kills" arrives on Blu-ray Combo Pack (plus DVD and Digital), DVD, and Digital Tuesday Jan. 15 from Lionsgate.
Travolta plays speedboat racing champ and multimillionaire Ben Aronoff, who is hiding a dangerous secret life: His boats are being used to move cocaine through Miami. Suddenly caught in a crossfire between DEA agents and the mob, Ben makes a desperate stand to save his family and his empire in this action-filled thriller based on an incredible true story.
"Speed Kills" is currently available On Demand. Based upon the true-crime book of the same name, the action thriller also stars Katheryn Winnick ("50 First Dates," "The Dark Tower") and Jennifer Esposito ("Crash," "Summer of Sam") and Matthew Modine ("47 Meters Down," "The Dark Knight Rises")
The "Speed Kills" Blu-ray and DVD will be available for $22.99 (SRP) and $19.98 (SRP), respectively.
Room 304
Startling tales of sex, betrayal and corruption unravel in a Copenhagen hotel, where nine disparate lives intersect by chance or fate in "Room 304," which is available starting Tuesday Jan. 15 on DVD and Digital.
In this Scandinavian psychological thriller, a hotel manager peers into the abyss of his empty life, leading to devastating consequences for himself, his wife and his mistress. A Spanish stewardess reaches out for intimacy and finds it in a most unexpected way. A reserved concierge is forced out of his shell by a shocking event, and an Albanian refugee gets a chance to avenge his wife, but ends up discovering something surprising instead.
An Official Selection in Competition at the Karlovy Vary International Film Festival, "Room 304," is director Birgitte Staermose's debut feature.
TV Shows
Family Guy's 20 Greatest Hits
Celebrate the show's 20th anniversary with this marvelously musical collection of 20 song-and-dance-filled episodes, along with a symphony of extras created exclusively for this release available now on DVD. So, grab "A Bag o' Weed," roast a "Candy Quahog Marshmallow!" and enjoy "The FCC Song" with your favorite "Shipoopi," because "You've Got a Lot to See" (and hear) when you watch "Family Guy's 20 Greatest Hits."