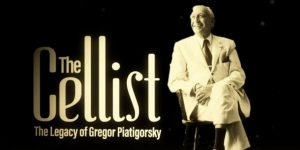 By ANGELA DAWSON
Front Row Features
Movies
The Cellist
The documentary "The Cellist" arrives on DVD Tuesday Jan. 28, from First Run Features.
Gregor Piatigorsky was one of the 20th century's greatest classical musicians, a beloved teacher and larger-than-life personality.
In 2015, filmmakers Murray Grigor and Hamid Shams embarked on an odyssey that led them from the Piatigorsky Archives at the Colburn School of Music to Los Angeles, New York, Moscow and beyond. Along the way, they interviewed dozens of subjects, from YoYo Ma and Zubin Mehta to a who's who of former students. Unearthing a trove of material that spanned Piatigorsky's life and times—performances, home movies, photographs, annotated music sheets and more—they captured the vibrancy of the cellist's adventures and achievements.
The DVD is available for a suggested retail price (SRP) of $24.95.
Dead Earth
From action filmmaker Wych Kaosayananda ("Ballistic: Ecks vs. Sever," "The Driver"), comes the action-thriller "Dead Earth," arriving on DVD, Digital, and On Demand Tuesday Jan. 28, from Lionsgate.
Dead Earth is a must-own film for fans of "The Driver" (as this film tells a parallel story) focusing on events that happen within the same post-apocalyptic world, with characters and locations intersecting between both films. The "Dead Earth" DVD will be available for $19.98 (SRP).
The Great Alaskan Race
"The Great Alaskan Race" arrives on Digital and DVD Tuesday Jan. 28.
The drama tells the historical, true story of Leonhard "Sepp" Seppala (Brian Presley, "Home of the Brave") and his champion mushing dogs, Togo and Balto, during the great serum run of 1925. The serum run trail trekked nearly 700 miles from Anchorage to Nome in treacherous blizzard conditions.
The film's adventure follows Sepp, a widowed father and champion musher in the midst of overcoming his own personal tragedy when he steps in to help save the children of small dock town of Nome, Alaska from a rising diphtheria outbreak. When severe weather prevents all more modern forms of transportation, Sepp and his team of sled dogs join in to take on the most strenuous stretches of the relay to safely deliver the diphtheria antitoxin to Dr. Welch (Treat Williams, "Chicago Fire") at the Nome hospital. With his own child's life on the line, Sepp battles the elements and takes on the impossible to bring the antitoxin to the children in need, just in the nick of time.
Gregory's Girl
Film Movement Classics delivers a 2K restoration of "Gregory's Girl," Bill Forsyth's quirky, endearing comedy, on Blu-ray in North America for the very first time, starting Tuesday Jan. 28.
Following an eight-game losing streak, a desperate (and sexist) Glasgow school soccer team coach reluctantly accepts hotshot female player Dorothy (Dee Hepburn, who trained six weeks for the role). Although demoted to goalie, teenage knucklehead Gregory (John Gordon Sinclair), falls hard for his new teammate. Prodded by the advice of his smart-mouthed 10-year-old sister, Madeline, (Allison Forster), he does make his move, but there are behind-the-scenes feminine conspiracies en route.
Perhaps the biggest sleeper hit of the 1980s, "Gregory's Girl" was made on the proverbial shoestring, but turned a 64,000 percent profit, with Forsyth's screenplay winning the British Oscar for Best Original Screenplay in 1982. It would later be voted #30 in the BFI's list of 100 greatest British films of the 20th century.
The Blu-ray comes packed with bonus features including audio commentary with Forsyth and Mark Kermode, Forsyth on "Gregory's Girl" interview, "Bill Forsyth—The Early Years" interview, "Gregory's Girl Memories" interviews with Clara Grogan, a new essay by film scholar Jonathan Murray and more.
"Gregory's Girl" was Glasgow-born Forsyth's second feature film, following his 1979 independent debut comedy "That Sinking Feeling, which jump-started the then-non-existent Scottish film industry. I
"Gregory's Girl" is available on Blu-ray for $29.95 (SRP).
Harriet
Follow the inspirational journey of one of the bravest people and heroes in history, Harriet Tubman, as she risks her life to save others from the horrors of slavery in "Harriet," arriving Tuesday Jan. 28 on Blu-ray, DVD and On Demand, from Universal Pictures Home Entertainment. The Oscar-nominated film also is available now on Digital.
Based on the thrilling and inspirational life of an iconic American abolitionist, "Harriet" tells the extraordinary tale of Tubman's escape from slavery from a Maryland plantation and transformation into one of America's greatest heroes. Haunted by memories of those she left behind, Harriet (Erivo) ventures back into dangerous territory on a mission to lead others to freedom. With allies like abolitionist William Still (Odom Jr.) and the entrepreneurial Marie Buchanon (Monáe), Harriet risks capture and death to guide hundreds to safety as one of the most prominent conductors of the Underground Railroad. Witness the story of a woman who defied impossible odds to change the course of her life and the fate of the nation.
The Blu-ray, DVD and Digital have a variety of compelling bonus features, including deleted scenes, a deeper look into Tubman's story, and feature commentary with director and co-writer Kasi Lemmons. The captivating and emotional story of courage, "Harriet" was nominated for two Golden Globe awards, including Best Actress in a Drama (Erivo) and Best Original Song for "Stand Up" which was co-written by film star Erivo and Joshuah Campbell. The anthem-like song also has been nominated for an Academy Award. Additionally, the film was nominated for a SAG Award and a Critics Choice Award, earning a total of three Best Actress nominations.

The supporting cast includes Tony Award winner Leslie Odom Jr. ("Murder on the Orient Express," Broadway's "Hamilton"), Joe Alwyn ("Mary Queen of Scots," "The Favourite"), Janelle Monáe ("Hidden Figures," "Moonlight") Vodie Curtis Hall ("For the People," "Romeo & Juliet"), and Vanessa Bell Calloway ("Coming to America," "Saints and Sinners"). Kasi Lemmons ("Eve's Bayou," "Black Nativity") directs and co-writes the script with producer Gregory Allen Howard ("Remember the Titans," "Ali").
The Merger
A former star footballer turned social justice campaigner returns to his home town and is persuaded into coaching the town's struggling Australian Rules Football team in "The Merger," available on DVD and Digital Tuesday Jan. 28. IndiePix Films delivers a hilarious and topical comedy from Down Under, a People's Choice Award Nominee at the Melbourne International Film Festival.
Bodgy Creek is a struggling town. The drought won't let up, jobs are scarce after the mill was shut down, and the footy team looks like it will have to merge with another club or fold. Living a hermit-like existence on the town's fringe, former football star turned "Town Killer" Troy Carrington (Damian Callinan), is coaxed into rescuing the team after striking up an unlikely friendship with young Neil (Raffety Grierson), who is struggling with the recent loss of his father.
Teaming up with Neil's mother, Angie (Kate Mulvany, "The Great Gatsby") who runs a nearby refugee support center, they unite to recruit the new arrivals to save the team and take the community on a journey of change. But for some Bodgy Creekers, like Neil's grandfather and Club President, Bull (John Howard, "SeaChange") and star player Carpet Burn (Angus McLaren, "Hotel Mumbai"), it's more change than they're willing to accept.
With a winning supporting cast including Penny Cook ("A Country Practice"), Nick Cody ("Please Like Me"), Zenia Starr ("Hotel Mumbai"), Aaron Gocs, Sahil Saluja ("Tomorrow," "When the War Began"), Ben Knight ("The Warriors"), Stephen Hunter ("The Hobbit") and Fayssal Bazzi ("Peter Rabbit"), "The Merger" is a humorous and heart-felt comedy that feels very timely. It is available for $24.95 (SRP).
Motherless Brooklyn
From the Oscar-nominated director-writer-producer-star Edward Norton ("Birdman," "American History X") comes the magnetic drama "Motherless Brooklyn," available on Tuesday Jan.28 on Blu-ray, DVD and Digital, from Warner Bros. Home Entertainment.
Inspired by Jonathan Lethem's novel by the same name, Norton aimed to transpose Lethem's contemporary characters into a different period and plot and gave it a distinctive atmosphere by re-setting the drama in the 1950s—a time of great change in New York City.
The film's stellar ensemble cast includes Bruce Willis (the "Die Hard" films, "Moonrise Kingdom"), Gugu Mbatha-Raw ("A Wrinkle in Time," "Beyond the Lights"), Bobby Cannavale ("I, Tonya"), Cherry Jones ("Boy Erased," "24"), Michael Kenneth Williams ("When They See Us," "The Wire"), Leslie Mann ("The Other Woman," "Blockers"), Ethan Suplee ("The Wolf of Wall Street"), Dallas Roberts ("Dallas Buyers Club"), Josh Pais ("The Joker," "Ray Donovan"), Robert Ray Wisdom ("The Fix"), Fisher Stevens ("The Blacklist"), Oscar nominee Alec Baldwin ("The Cooler," "The Departed") and Oscar nominee Willem Dafoe ("At Eternity's Gate," "The Florida Project").
Music plays an important role in setting the tone and establishing the period of film. The Golden Globe-nominated score is composed by Daniel Pemberton ("Steve Jobs," "All the Money in the World"), and features Wynton Marsalis on the trumpet. The film also features an original song written and performed by Radiohead's Thom Yorke.
The Blu-ray features a Blu-ray disc with the film and special features in hi-definition and a Digital version of the movie. It is available for $35.99 (SRP). The DVD features the film and special features in standard definition and a Digital version of the movie. It is available for $28.98 (SRP).
"Motherless Brooklyn" also will be available on Movies Anywhere. Fans also can own "Motherless Brooklyn" now via purchase from digital retailers.
Parasite
A volatile, symbiotic relationship between the uber-wealthy and the have-nots comes into full display in the Oscar nominated Parasite," arriving on Blu-ray, DVD and On Demand Tuesday Jan. 28, from Universal Pictures Home Entertainment and NEON. The film already is available on 4K Ultra HD Digital.
Directed by master filmmaker Bong Joon Ho ("Okja," "Snowpiercer"), which he co-wrote with Han Jin Won ("Okja"), the film delves into the lives of meet the Park family, the picture of aspirational wealth and the Kim family, rich in street smarts but not much else.
Be it chance or fate, these two houses are brought together and the Kim's sense a golden opportunity. Masterminded by college-aged Ki-woo, the Kim children expediently install themselves as tutor and art therapist to the Parks. Soon, a symbiotic relationship forms between the two families. The Kims provide "indispensable" luxury services while the Parks obliviously bankroll their entire household. When a parasitic interloper threatens the Kims' newfound comfort, a savage, underhanded battle for dominance breaks out, threatening to destroy the fragile ecosystem between the Kims and the Parks. By turns, this highly acclaimed film is darkly hilarious and heart-wrenching.
Fans can now delve deep into the mind of Bong, and the symbolism behind "Parasite," with an exclusive Q&A bonus feature with the acclaimed director. "Parasite" made history as the first Korean film to be nominated for Oscars. It has garnered six Oscarnominations including Best Picture, Best Director, Best Original Screenplay, Best International Film, Best Production Design and Best Editing, a 2020 SAG Award winner for Outstanding Performance by a Cast in a Motion Picture and the winner of the Golden Globeaward for Best Foreign Film.
Additionally, the film won the coveted Cannes 2019 Palme d'Or award and has gone on to win over 80 impressive additional awards and more than 100 nominations to date.
Featuring incredible performances from the entire cast including frequent Bong Joon Ho collaborator Song Kang Ho ("Snowpiercer," "The Host") the film also stars Lee Sun Kyun ("A Hard Day," "Paju"), Cho Yeo Jeong ("The Servant," "Obsessed"), Choi Woo Shik ("Okja," "Train to Busan"), Park So Dam ("The Priests," "The Silenced"), Lee Jung Eun ("Okja," "The Wailing") and Chang Hyae Jin ("Marine Boy," "If It Snows on Christmas").
Terminator: Dark Fate
From producer James Cameron and director Tim Miller ("Deadpool"), comes "Terminator: Dark Fate," arriving on 4K Ultra HD, Blu-ray, and DVD Tuesday Jan. 28, from Paramount Home Entertainment. The sci-fi actioner also is available now on Digital.
Decades after Sarah Connor (Linda Hamilton) prevented Judgment Day, a lethal new Terminator is sent to eliminate the future leader of the resistance. In a fight to save mankind, battle-hardened Sarah teams up with an unexpected ally (Arnold Schwarzenegger) and an enhanced super soldier to stop the deadliest Terminator yet. Humanity's fate hangs in the balance.
The 4K Ultra HD, Digital and Blu-ray releases are packed with over an hour of bonus content, including deleted and extended scenes, in-depth featurettes taking fans through the process of reimagining the world after Judgment Day, a look at the climactic final showdown, and a visual effects breakdown.
In addition, the Digital release includes access to two more featurettes and previsualization sequences showcasing how the action was planned out prior to filming. Plus, select digital platforms will offer film commentary by director Tim Miller and editor Julian Clarke, as well as an introduction and commentary on the deleted scenes.
The 4K Ultra HD disc and 4K Ultra HD Digital releases feature Dolby Vision, which brings entertainment to life through ultra-vivid picture quality. The film also boasts a Dolby Atmos soundtrack remixed specifically for the home to place audio anywhere in the room, including overhead. In addition, both the 4K Ultra HD and Blu-ray Combo Packs include access to a Digital copy of the film.
TV Shows
My Life is Murder
Acorn TV features the DVD/Blu-ray debut of the well-crafted and compelling new Australian mystery, "My Life is Murder," Tuesday Jan. 28.
This contemporary detective drama stars the beloved, award winning actress Lucy Lawless ("Xena: Warrior Princess") as Alexa Crowe, a fearless private investigator and ex-homicide detective who solves the most baffling crimes, as well as copes with the frustrations of everyday life. Now featured on a three-disc set, this ten-part series previously premiered exclusively on Acorn TV last August.
Investigator Alexa Crowe can't help fighting the good fight—whether it's solving murders or combating the small frustrations of everyday life. Fearless and unapologetic, Alexa's unique skills and insights into the darker quirks of human nature allow her to provoke, comfort and push the right buttons as she unravels the truth behind the most baffling crimes.
As Alexa unmasks the hidden passions and dangerous secrets lurking in the energetic, ever-changing city of Melbourne, she is ably assisted by ambitious twenty-something Madison Feliciano (Ebony Vagulans, "The Furies") –who is not so quietly learning from the best – and her former boss, Detective Inspector Kieran Hussey (Bernard Curry, "Pretty Little Liars"), who enlists Alexa on his trickiest cases.
The DVD and Blu-ray sets also include behind-the-scenes featurettes, cast and crew interviews, animated shorts and more ($59.99, Amazon.com). AMC Networks' Acorn TV is North America's most popular and largest streaming service featuring high-quality television from Britain and elsewhere.
The holidays are over, but Front Row Features is still in the giving spirit. That's why we're giving away a copy of "Terminator: Dark Fate" on 4K Ultra HD/Blu-ray Combo Pack to two lucky readers and a copy of the remarkable true story "The Great Alaskan Race" on DVD to one lucky reader. To enter the contests, simply email socalmovieeditor@aol.com by Feb. 3 with which title you want to win in the subject line. Good luck!