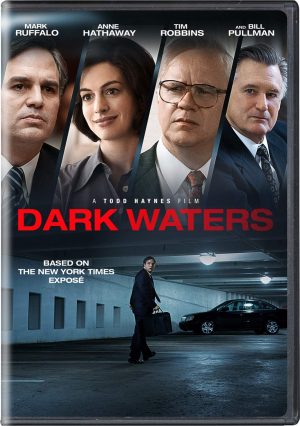 By ANGELA DAWSON
Front Row Features
Movies
Dark Waters
"Dark Waters" tells the story of a courageous attorney who uncovers a deadly secret and blows the lid off a monumental cover up. The drama, based on true events, surfaces on Blu-ray, DVD and On Demand Tuesday March 3, from Participant and Universal Pictures Home Entertainment. It also is available now on Digital.
Directed by Academy Award nominee Todd Haynes ("Far from Heaven," "Carol"), "Dark Waters" goes behind the scenes of one of the most shocking scandals in recent history as a former corporate lawyer takes on a seemingly unbeatable opponent in a fight for social justice that affects us all. Filled with emotional and suspenseful moments throughout, viewers can now see "Dark Waters" bonus content including never-before-seen insightful featurettes that take viewers deeper into the story of an incredible real-life hero who unearths the staggering scale of corruption and greed.

The film stars Academy Award nominee Mark Ruffalo ("Avengers: End Game," "Spotlight") as the tenacious attorney who uncovers a dark secret that connects a growing number of unexplained deaths to one of the world's largest corporations. In the process, he risks everything—his future, his family, and his own life—to expose the truth. Ruffalo is accompanied by outstanding performances from the critically acclaimed supporting cast including Anne Hathaway ("Interstellar," "Les Misérables"), Tim Robbins ("War of the Worlds," "The Shawshank Redemption") Bill Pullman ("The Equalizer 2," "The Sinner") and Bill Camp ("12 Years a Slave," "Joker").
With a script by Mario Correa and Matthew Michael Carnahan ("World War Z"), based on the "New York Times Magazine" article "The Lawyer Who Became DuPont's Worst Nightmare" by Nathaniel Rich, and produced by Ruffalo, Pamela Koffler ("One Hour Photo") and Christine Vachon ("Carol"), with executive producers Jeff Skoll ("The Help," "Lincoln"), Jonathan King ("Lincoln"), Robert Kessel ("Wonder") and Michael Sledd ("I, Tonya," "The Founder"), "Dark Waters" is a powerful drama-thriller.
The Furies
"The Furies" will be released on VOD, Digital HD, DVD and Blu-ray Tuesday March 3, from RLJE Films, a unit of AMC Networks.RLJE Films picked up select rights to "The Furies" from Shudder, AMC Networks' streaming service for horror, thriller and the supernatural.
Written and directed by Tony D'Aquino ("Alpha Male"), the horror stars Airlie Dodds ("Killing Ground"), Linda Ngo ("Top of the Lake"), Taylor Ferguson ("Glitch"), Ebony Vagulans ("My Life Is Murder") with Danielle Horvat ("House Husbands") and Tom O'Sullivan ("A Man on the Edge"). "The Furies" will be available for purchase on DVD for a suggested retail price (SRP) of $27.97 and on Blu-ray for $15.95 (SRP).
When Kayla (Dodds) wakes up in a coffin-like box in the middle of the woods, the first thing she sees is a terrifying masked man with an axe running straight for her. As she runs to try to get away, she realizes she is part of an insane and deadly game. There are six other women running scared in the woods, each with a masked assassin assigned to protect them and kill everyone else. Kayla races to save herself and as many women as she can, but when they start to turn on each other, her killer instinct is unleashed as she does whatever it takes to survive.
Playmobil The Movie
"Playmobil The Movie" will be arriving in the U.S. on Digital, DVD and On Demand Tuesday March 3.
From the writers of Disney's "Princess & The Frog" and featuring a top-notch, all-star cast, the CGI animated feature takes viewers on an exciting adventure ride through a world of fantastical and mythic new lands. The story is based on the global, multi-billion-dollar toy line. Highlighting the importance of family and the reminder to live life to the fullest, this heart-warming family film will light up the imaginations of all.

A top-secret organization has caused citizens from different lands to vanish into thin air, so it's up to the dashing and charismatic secret agent Rex Dasher (Daniel Radcliffe, "Harry Potter" franchise) to partner with smooth-talking food truck driver Del (Jim Gaffigan, ("Hotel Transylvania 3") and Marla (Anya Taylor-Joy, "The Dark Crystal: Age of Resistance"), a smart, savvy civilian with her own secret agenda, to rescue them.
Against all odds, the trio go on a fantastic journey across stunning new worlds as they gather clues for their rescue mission. As they venture through the mythical world of Playmobil, their journey leads to unlikely friendships forming, and exhilarating challenges being overcome against all odds. Through their vibrant adventure, the team realizes that no matter how life plays out, viewers can achieve anything when they believe in yourself.

Other voice cast members include Kenan Thompson ("The Grinch") Grammy Award winner Meghan Trainor and Grammy Award nominee Adam Lambert. The delightful family friendly film includes an upbeat new soundtrack that's sure to get stuck in your head, including the catchy hit "So Much World."
Queen & Slim
From Emmy Award-winning writer Lena Waithe (Netflix's "Master of None") and Grammy Award-winning director Melina Matsoukas (Beyonce's "Formation" and Nike's "Equality"), comes the unflinching new drama, "Queen & Slim," arriving on 4K Ultra HD, Blu-ray, DVD and On Demand Tuesday March 3, from Universal Pictures Home Entertainment. It also is available now on Digital.
"Queen & Slim" is a timely and powerful love story that confronts the staggering toll of racism where it meets the shattering price of violence.
Daniel Kaluuya ("Get Out," "Black Panther") and Jodie Turner-Smith ("The Last Ship, "Nightflyers") bring "Queen & Slim" to life as the titular characters. Kaluuya and Turner-Smith are accompanied by outstanding supporting performances from Bokeem Woodbine ("Fargo," "Spider-Man: Homecoming"), Chloë Sevigny ("Boys Don't Cry, "Big Love"), legendary Red Hot Chili Peppers bassist, Flea ("Baby Driver," "Boy Erased"), American country singer, Sturgill Simpson ("The Dead Don't Die," "One Dollar") and Indya Moore ("Pose," "Saturday Church").
While on a forgettable first date together in Ohio, a black couple (Kaluuya and Turner-Smith) are pulled over for a minor traffic infraction. The situation escalates, with sudden and tragic results, and the man kills the police officer in self-defense. Terrified and in fear for their lives, the man, a retail employee, and the woman, a criminal defense lawyer, are forced to go on the run. But the incident is captured on video and goes viral, and the couple unwittingly become a symbol of trauma, terror, grief and pain for people across the country. As they drive, these two unlikely fugitives will discover themselves and each other in the most dire and desperate of circumstances, forging a deep and powerful love that will reveal their shared humanity and shape the rest of their lives.
"Queen & Slim" delivers exclusive bonus content, including a special commentary with Lena Waithe and Melina Matsoukas, a special script reading and more, that will take viewers deeper into the meaning and the message behind this gripping story.
TV Shows
CMA Awards Live
"CMA Awards Live Greatest Moments: 2008-2015," the first Blu-ray installment in Time Life's top-selling CMA Awards Live home entertainment line, delivers country music lovers the very best highlights from the show's modern era featuring country's biggest and brightest stars including Jason Aldean, Dierks Bentley, Brooks & Dunn, Luke Bryan, Kenny Chesney, Eric Church, Florida Georgia Line, Lady Antebellum, Miranda Lambert, Little Big Town, Reba McEntire, Brad Paisley, Blake Shelton, Carrie Underwood, Keith Urban, and others.
For more than 50 years, the CMA Awards have spotlighted the top performers of America's favorite music, capturing the songs and artists who have provided a soundtrack for our lives.
Available for the first time on Blu-ray in HD, this collection features unforgettable collaborations that could only happen on Country Music's Biggest Night, including "Coal Miner's Daughter" by Miranda Lambert, Sheryl Crow, and Loretta Lynn, "Cowgirls Don't Cry" by Brooks & Dunn and Reba McEntire, "Tennessee Whiskey/Drink You Away" by Chris Stapleton and Justin Timberlake, "He Stopped Loving Her Today" by Alan Jackson and George Strait, and more.
Plus, this Blu-ray takes audiences behind the scenes, thanks to candid artist interviews and an interview with Robert Deaton, executive producer of the CMA Awards. It is available for $16.99 (SRP).
Front Row Features is giving away a copy of one of 2019's most thought-provoking films, "Queen & Slim," on Blu-ray/DVD Combo Pack. For your chance to win a copy of the timely and powerful love story, simply email socalmovieeditor@aol.com by March 9 to enter the contest. Good luck!