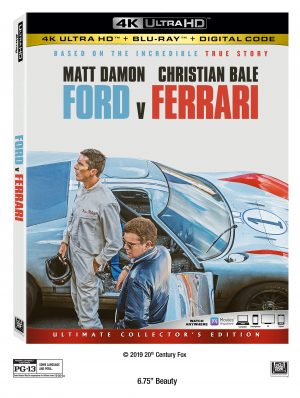 By ANGELA DAWSON
Front Row Features
Movies
Ford v Ferrari
"Ford v Ferrari" arrives on 4K Ultra HD, Blu-ray and DVD Tuesday Feb. 11, from Walt Disney Home Entertainment.
Oscar winners Matt Damon ("Good Will Hunting") and Christian Bale ("The Fighter") star in this action-packed film based on the remarkable true story about Ford Motor Company's attempt to create the world's fastest car. American car designer Carroll Shelby (Damon) and the fearless British-born driver Ken Miles (Bale), join forces to battle corporate interference and the laws of physics to build a revolutionary race car and take on Enzo Ferrari at the 24 Hours of Le Mans in France in 1966.
Extras include "The 24 Hour Le Mans: Recreating the Course" featurette, where viewers discover how the climactic race of the film was achieved, from recreating the track to capturing and editing all the action; "Pre-Vis: Daytona & Le Mans Races featurette, where viewers can see how the animated pre-visualization sequences worked as a roadmap for filmmakers throughout production; "Matt and Christian: The Conversation" (iTunes Extras exclusive), where viewers can watch the film's two main stars sit down for an intimate reflection on the making of the film, and more.
Rock & Roll Hall of Fame: In Concert
Time Life and the Rock & Roll Hall of Fame give music lovers front row seats to the unforgettable ceremonies from 2009-2017 with the "Rock & Roll Hall of Fame: In Concert," available on Blu-ray Tuesday Feb. 11. The 11-disc collector's set is available for $69.99 (SRP).
Each year, the Rock and Roll Hall of Fame honors rock music's pioneering figures during a prestigious, black-tie ceremony. As the Hall of Fame enters its third decade, it's the induction ceremonies, featuring the biggest names in classic rock from the '60s, '70s and '80s, that have become nearly as epic as the artists they celebrate.
An unparalleled rock 'n' roll experience and a must-own for every music fan, this ultimate DVD set features nearly 30 hours of mind-blowing performances and collaborative jam sessions that have made Rock Hall concerts legendary, covering eight memorable induction ceremonies and 150 live performances from such rock giants as Alice Cooper, Billy Joel, Bruce Springsteen & The E Street Band, Cheap Trick, Chicago, Crosby, Stills & Nash, Electric Light Orchestra, Green Day, Heart, Stevie Nicks, James Taylor, Journey, Mick Jagger, Paul Simon, Ringo Starr, Simon and Garfunkel, Sting, U2, Yes, Jeff Beck, Billy Gibbons, Metallica, and more.
The "Rock & Roll Hall of Fame: in Concert" Blu-ray collection wouldn't be complete without historic, irreverent and emotional induction speeches including Coldplay's Chris Martin inducting Peter Gabriel, Metallica's Lars Ulrich inducting Deep Purple, Don Henley inducting Randy Newman, and Neil Young inducting Tom Waits, as well as speeches from Bruce Springsteen, Paul McCartney, Kid Rock, Dave Grohl, Art Garfunkel, Glenn Frey, Miley Cyrus, John Mayer, Stevie Wonder, Elton John, John Mellencamp and others.
Housed in a collector's case are three two-disc Blu-ray collections: "Rock Hall in Concert: Encore, Rock Hall in Concert" and the "25th Anniversary Rock & Roll Hall of Fame Concerts." Additionally, the set includes commemorative booklets, as well as a 26-page collector's edition of "Rolling Stone" with behind-the-scenes stories of the 25th Anniversary Hall of Fame concerts.
Roma
With his eighth and most personal film, "Roma," Alfonso Cuarón recreates the early-1970s Mexico City of his childhood, narrating a tumultuous period in the life of a middle-class family through the experiences of Cleo (Yalitza Aparicio), the indigenous domestic worker who keeps the household running. The Criterion edition of this Oscar-winning film arrives on Blu-ray and DVD Tuesday Feb. 11. Cuarón received the Best Director and Best Cinematography awards and the picture won best foreign language film in 2019.
Charged with the care of four small children abandoned by their father, Cleo tends to the family even as her own life is shaken by personal and political upheavals. Written, directed, shot, and coedited by Cuarón, Roma is a labor of love with few parallels in the history of cinema, deploying monumental black-and-white cinematography, an immersive soundtrack, and a mixture of professional and nonprofessional performances to shape its author's memories into a world of enveloping texture, and to pay tribute to the woman who nurtured him.
Extras include a 4K Digital master, supervised by Cuarón, with a Dolby soundtrack on the Blu-ray, "Road to Roma," a new documentary about the making-of the film, featuring behind-the-scenes footage and an interview with Cuarón; "Snapshots from the Set," a new documentary features stars Yalitza Aparicio and Marina de Tavira, along with producers Gabriela Rodríguez and Nicolás Celis, production designer Eugenio Caballero, casting director Luis Rosales, executive producer David Linde, and others; new documentaries about the film's sound and postproduction processes, featuring Cuarón; Sergio Diaz, Skip Lievsay, and Craig Henighan from the postproduction sound team; editor Adam Gough; postproduction supervisor Carlos Morales; and finishing artist Steven J. Scott and more. The Criterion Blu-ray will be available for $39.95 (SRP) and the DVD edition will be available for $29.95 (SRP).
The Criterion Blu-ray and DVD editions of Roma will be available worldwide and distributed by Criterion (U.S.), Unobstructed View (Canada), Sony Pictures Home Entertainment (UK/Ireland), and Warner Bros. Home Entertainment (Mexico, France, Italy, Germany and other select international territories).
Shutter Island
Celebrate the 10th anniversary of director Martin Scorsese's atmospheric thriller "Shutter Island," arriving for the first time on 4K Ultra HD Blu-ray on Tuesday Feb. 11, from Paramount Home Entertainment.
Debuting just prior to the film's original release date (Feb. 19, 2010), the 4K Ultra HD will be available in a Limited Collector's Edition Steelbook.
Based on the best-selling novel by Dennis Lehane, "Shutter Island" follows U.S. Marshal Teddy Daniels (Leonardo DiCaprio) as he navigates what appears to be a routine investigation that quickly turns sinister. The film is the fourth of five collaborations of Scorsese and DiCaprio. The film features an all-star cast, including Mark Ruffalo, Ben Kingsley, Max von Sydow and Michelle Williams.
The 4K Ultra HD/Blu-ray Combo in a Limited Collector's Edition Steelbook includes the previously released featurettes "Behind the Shutters" and "Into the Lighthouse" on the Blu-ray.
Winter Flies
The heartwarming Czech drama "Winter Flies" arrives on DVD Tuesday, Feb. 11, from Film Movement.
Rebellious 14-year-old Mára sets out behind the wheel of a stolen Audi with his eccentric friend Hedus. Together they head out into the frozen wastelands of the Czech Republic in search of adventure. When the police finally catch up with them, the mischievous breeziness of Mára's story provides more questions than answers for the baffled authorities.
Filled with directorial playfulness, Olmo Omerzu's winter road movie about boyhood friendship and unexpected adolescent detours was the winner of four Czech Lion Awards including Best Film, Best Director and Best Supporting Actor and Actress; it was also Czechoslovakia's Official Oscar Submission for "Best International Film" in 2019. The DVD is available for $24.95 (SRP). It also is available on Digital.
The DVD comes with a bonus short film, "Jackie," directed by Giedrius Tamosevicius from Lithuania, subtitled in English. The 22-minute film tells the story of a divorced father who is only allowed to see his child in the child protection agency office in the presence of a supervisor and his ex-wife. Tom can't come to terms with the situation and decides to kidnap his daughter.
TV Shows
I Got You Babe: The Best of Sonny & Cher
The beat goes on with "The Sonny & Cher Comedy Hour" with this nostalgia-filled five-disc collector's set on Tuesday Feb. 11, from Time Life.
When Salvatore "Sonny" Bono and Cherilyn "Cher" Sarkisian came together, it was undeniably magical. America first knew them as the duo behind the classic hit "I Got You Babe," and their popularity exploded with the '70s smash variety show "The Sonny & Cher Comedy Hour." The perfect match on stage and off (for a while, anyhow), millions of fans tuned in each week to watch the sparks fly and see what Cher was—or wasn't—wearing and the show quickly became must-see TV.
The TV DVD archivists at Time Life open wide the Classic TV vaults for a very special collection of one of the '70s hippest, goofiest and most fondly remembered TV variety programs in this unique box set.
After finding chart-topping success in the late 60s, Sonny and Cher found themselves performing in nightclubs in 1970 when they were "discovered" by CBS entertainment chief Fred Silverman, who decided they had great potential for a weekly variety series. "The Sonny & Cher Comedy Hour" premiered on August 1, 1971 as a summer replacement, but quickly reached the top 20, becoming a Wednesday night draw for the network and cementing Sonny and Cher as one of Hollywood's most beloved couples.
Containing 10 hilarious, never-before-released episodes of "The Sonny & Cher Comedy Hour" (1971-74), starring the husband-and-wife musical duo performing their hit songs and comical sketches with popular guest stars, "I Got You Babe" brings home audiences back to the beginning with the pilot episode, firsts of many classic sketches, Cher's incredible Bob Mackie-designed costumes and the chemistry that started it all. Also, tune in for an incredible line-up of guest stars including Dick Clark, Jerry Lewis, Jim Nabors, Joe Namath, The Righteous Brothers, Dinah Shore, Carroll O'Connor, Art Carney, Chuck Berry, The Supremes and more.
"I Got You Babe: The Best of Sonny & Cher" also features exclusive extras including the pilot show, an appearance on "The Barbara McNair Show (from 1970), Jerry Blavat's 1970 interview with the duo on "Jerry's Place," featuring an impromptu performance of "I Got You Babe," and interviews with Frankie Avalon, producers Allan Blye and Chris Bearde. Episodes of the series also will be available on leading digital platforms for the first time.