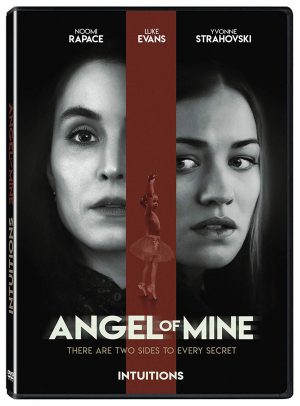 By ANGELA DAWSON
Front Row Features
Movies
Angel of Mine
"Angel of Mine" arrives on Blu-ray + Digital and DVD Tuesday, Oct. 22, from Lionsgate.
In this intense thriller, Noomi Rapace ("The Girl with the Dragon Tattoo") stars as a woman on the edge who believes the daughter of a neighbor (Yvonne Strahovski, "The Handmaid's Tale") is actually her own. The film also stars Luke Evans ("Beauty and the Beast").
The Blu-ray and DVD will include a making-of featurette and cast and crew interviews. It will be available for the suggested retail price (SRP) of $21.99 and $19.98, respectively. The film, directed by Kim Farrant ("Strangerland") and written by Luke Davies and David Regal, is available On Demand.
Charlie's Angels
The original "Charlie's Angels" movie arrives on Blu-ray and on 4K Ultra HD Tuesday Oct. 22, from Sony Pictures Home Entertainment.
Cameron Diaz, Drew Barrymore and Lucy Liu star as the captivating crime-fighting trio who are masters of disguise, espionage and martial arts. When a devious mastermind embroils them in a plot to destroy individual privacy, the Angels, aided by their loyal sidekick Bosley (Bill Murray), set out to bring down the bad guys. But when a terrible secret is revealed, it makes the Angels targets for assassination. The film, original released in theaters in 2000, also stars Sam Rockwell, Tim Curry, Kelly Lynch and John Forsythe (the original voice of Charlie from the 1970s TV series).
Extras on the 4K Ultra HD include a sneak peek at the all-new "Charlie's Angel" film and a theatrical trailer. Commentary with director McG and cinematographer Russell Carpenter, six featurettes, bloopers, deleted scenes and music videos are on both the 4K Ultra HD as well as the Blu-ray.
Charlie's Angels: Full Throttle
"Charlie's Angels: Full Throttle," the 2003 sequel to the 2000 action comedy, arrives on Blu-ray Tuesday Oct. 22, from Sony Pictures Home Entertainment.
The three investigative agents (Barrymore, Diaz and Liu) who work for the Charles Townsend Detective Agency, return for another high-octane series of adventures as they investigate the theft of a database of witness protection profiles, after five of the people on the list are murdered. They're aided by a new Bosley (Bernie Mac), in an adventure which pits them against a "fallen angel" (Moore), their old nemesis, the Thin Man (Glover), and others.
Extras include a sneak peek at the all-new 2019 "Charlie's Angels" film, as well as commentary with director McG, a writer's commentary, Angel-Vision trivia track, several featurettes on the costumes, the music, locations and more.
The Daniel Craig Collection
Metro Goldwyn Mayer (MGM) and Twentieth Century Fox Home Entertainment will release "The Daniel Craig Collection," the complete collection of the four James Bond films starring Daniel Craig as 007, on 4K Ultra HD in Dolby Vision, on Tuesday Oct. 22.
"Casino Royale," "Quantum of Solace," "Skyfall" and "Spectre" comprise the collection. The release features the extended unrated version of "Casino Royale," and includes select special features on "Casino Royale" and "Skyfall".
From his introduction in "Casino Royale" through to his most recent mission in "Spectre," Craig as Bond has experienced explosive action and adventures while his character crisscrossed the globe in a non-stop quest for justice.
The actor is currently in production on his fifth installment as James Bond in the franchise's highly-anticipated 25th feature film "No Time to Die" from Albert R. Broccoli's EON Productions, Metro Goldwyn Mayer Studios (MGM), and Universal Pictures International, which is set for U.S. theatrical release on April 10, 2020.
The 4K Ultra HD Blu-ray discs of "The Daniel Craig Collection" will feature Dolby Vision ultra-vivid imaging.
The Collection includes several extras including commentary with the crew on "Casino Royale," commentary with director Sam Mendes on "Skyfall," and a separate commentary with Broccoli and, Wilson and production designed Dennis Gassner.
Galaxy Quest
The intrepid crew of the NSEA Protector is back to celebrate the 20th anniversary of the uproarious sci-fi spoof "Galaxy Quest," arriving in our solar system Tuesday Oct. 22, in a Limited Collector's Edition Blu-ray Steelbook, from Paramount Home Entertainment.
Featuring an out-of-this-world all-star cast including Tim Allen, Sigourney Weaver, Alan Rickman, Tony Shalhoub, Sam Rockwell, Enrico Colantoni, Daryl Mitchell and Justin Long, this rollicking send-up of sci-fi fanaticism is as funny today as it was when it premiered in theaters 20 years ago.
Extras in the Steelbook include "Galactopedia," an onscreen director about the characters, ships, aliens and more; "Historical Documents: The Story of 'Galaxy Quest,'" in which cast and filmmakers reminisce on how the film came together, "Sigourney Weaver Raps," deleted scenes and much more.
Harmonia
"From filmmaker Ori Sivan, one of the creators of the popular Israeli TV series, "In Therapy," comes a modern adaptation of the mythic story of the world's most famous love triangle in "Harmonia," available Tuesday Oct. 22, from Film Movement.
Abraham (Alon Aboutboul), the conductor of the Jerusalem Philharmonic Orchestra, is married to Sarah the company's principal harpist (Tali Sharon). Though they share a passion for the arts, the fact that Sarah has been unable to have children has become a point of tension in the marriage. The couple's relationship takes an unexpected turn when a French horn player, Hagar (Yana Yossef), is accepted into the company. After striking up a friendship with Sarah, Hagar offers to be a surrogate for the couple, a gesture that leads to unforeseen consequences. The film is in Hebrew with English subtitles. The DVD and Digital editions are available for $24.95 (SRP).
An Israeli Love Story
Based on the true story of the love affair between theater director Pnina Gary and Eli Ben-Zvi, the son of Israel's second president Yitzhak Ben-Zvi, "An Israeli Love Story" from Palme d'Or-nominated director Dan Wolman ("Valley of Strength") is adapted from the solo autobiographical play written by Pnina Gary.
In 1947, 18-year-old Margalit (Adi Bielski) is an aspiring actress from northern Israel. One day, while traveling to see a play in Haifa she meets Eli (Avrahim Aviv Alush, "The Women's Balcony"), a passionate kibbutznik devoted to his work in the Palmach, Israel's pre-state underground army. After another chance encounter, the two begin a romance. Margalit moves onto Eli's kibbutz, and they set a date for their wedding, but Israel's harsh reality intervenes. The film is in Hebrew with English subtitles. The DVD is available on DVD and digital for $24.95 (SRP).
The Lion King
Disney's "The Lion King," the worldwide phenomenon that brought the Pride Lands' iconic characters to life in a whole new way, arrives on 4K Ultra HD, Blu-ray and DVD Tuesday Oct. 22. The live-action/CGI film also is now available on Digital in HD and 4K Ultra HD and Movies Anywhere.
In "The Lion King," Simba idolizes his father, King Mufasa, and takes to heart his own royal destiny. But not everyone in the kingdom celebrates the new cub's arrival. Scar, Mufasa's brother—and former heir to the throne—has plans of his own. The battle for Pride Rock is ravaged with betrayal, tragedy and drama, ultimately resulting in Simba's exile. With help from a curious pair of newfound friends, Simba will have to figure out how to grow up and take back what is rightfully his. The all-star cast includes Donald Glover as Simba, Beyoncé Knowles-Carter as Nala, James Earl Jones as Mufasa, Chiwetel Ejiofor as Scar, Seth Rogen as Pumbaa and Billy Eichner as Timon.
Directed by Jon Favreau ("Iron Man"), the summer blockbuster, which reigned supreme with audiences worldwide, earning more than $1 billion at the global box office, journeys home with all-new bonus features, music videos and an exclusive extra for buyers of the digital edition.
In-home audiences will feel the love as they trek behind the scenes and to the African savanna through "The Journey to 'The Lion King,'" a three-part documentary that explores the film's creation. It features visits to the Playa Vista production facility where talent, including Donald Glover (voice of Simba) honor and elevate the animated classic's iconic music; discussions with Favreau and team who used cutting-edge technology to create photorealistic animals and environments; and filmmaker and cast reflections on the timeless tale that has moved generations. Extras also include "More to Be Scene," layer-by-layer progressions of some of the film's most iconic moments; lyric video for "Never Too Late" by Elton John and music video for "Spirit" by Beyoncé; sing-alongs to the film's unforgettable songs; and a feature on the "Protect the Pride" campaign, which focuses on protecting and revitalizing the lion population.
Consumers who pre-purchase digitally, "The Lion King" will gain access to "Perfecting the Pride," a feature highlighting the filmmakers' research trip to Africa. The digital version includes an extra that playfully conveys the importance of the dung beetle both in the film and the African savanna.
Sisters of the Wilderness
Five young Zulu women from underprivileged backgrounds take a journey of self-discovery into the wilderness in a powerful social impact documentary "Sisters of the Wilderness," available Tuesday Oct. 22, from Indiepix Films.
This festival favorite doc from award-winning South African filmmaker Karin Slater employed a completely female cast and crew. The film also will be available via streaming platform IndiePix Unlimited on Amazon Channels.
Led by Lihle Mbokazi, the first black South African woman wilderness guide, the women walk in big game country and camp under the stars, totally surrounded by wild animals, and are exposed to the elements and face emotional and physical challenges as never before. They also learn of the plight of the primordial wilderness, severely threated by a neighboring coal mine, in addition to intensified rhino poaching that could escalate towards an extinction. The DVD is available for $24.95 (SRP).
Strange but True
Based on the acclaimed novel by John Searles, "Strange but True" arrives on Blu-ray + Digital, DVD, and Digital Tuesday Oct. 22 from Lionsgate. This film is currently available On Demand.
A family is caught in a web of lies, fears, and suspense after the ex-girlfriend of their deceased son appears five years after his death—and tells them she is carrying his child.
Produced by Academy Award nominee Fred Berger ("La La Land") and Brian Kavanaugh-Jones ("Insidious"), the film stars Amy Ryan, Nick Robinson, Margaret Qualley, Mena Massoud, Emmy winner Blythe Danner, Emmy winner Brian Cox, and Emmy winner Greg Kinnear in a tale of a family facing an unlikely truth that unravels a web of lies and deception. The "Strange but True" Blu-ray and DVD will be available for $21.99 (SRP) and $19.98 (SRP), respectively.
TV Shows
Veronica Mars (2019): The Complete First Season
Warner Bros. Home Entertainment will release "Veronica Mars (2019): The Complete First Season" on DVD Tuesday Oct. 22.
Spring breakers are getting murdered in Neptune, thereby decimating the seaside town's lifeblood tourist industry. After Mars Investigations is hired by the parents of one of the victims to find their son's killer, Veronica (Kristen Bell) is drawn into an epic eight-episode mystery that pits the enclave's wealthy elites, who would rather put an end to the month-long bacchanalia, against a working class that relies on the cash influx that comes with being the West Coast's answer to Daytona Beach.
The series also stars other members of the original series: Kristen Bell ("The Good Place), Enrico Colantoni ("Person of Interest") and Jason Dohring ("Ringer").
The box set of the rebooted series contains all eight one-hour episodes from the first season along with exhilarating extra content including the "Veronica Mars at Comic Con 2019" bonus feature.
The DVD is priced to own at $24.98 (SRP in the U.S.). Veronica Mars (2019): The Complete First Season is now available to own on Digital via purchase from digital retailers.
"Veronica Mars (2019): The Complete First Season" also will be available on Blu-ray courtesy of Warner Archive Collection. The Blu-ray release includes all bonus features on the DVD and is also arriving Oct. 22. Warner Archive Blu-ray releases are found at wb.com/warnerarchive and at select retailers.