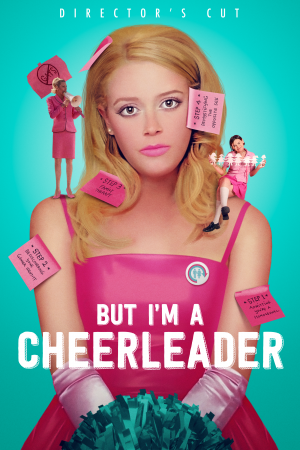 By ANGELA DAWSON
Front Row Features
Movies
Bobbleheads: The Movie
Get ready to laugh and bounce along with a family of misfit bobbleheads who must defend their home and themselves from scheming humans in the brand-new hilarious and heart-warming animated action-comedy, "Bobbleheads: The Movie," premiering exclusively on Digital, DVD and On Demand Tuesday Dec. 8, and streaming soon on Netflix from Universal Pictures Home Entertainment.
Presented by Universal 1440 Entertainment, a production arm of Universal Filmed Entertainment Group, and produced by Threshold Entertainment, the fun-loving and uplifting adventure features an all-star cast of voices including Jennifer Coolidge ("A Cinderella Story"), Luke Wilson ("Old School"), Khary Peyton ("The Walking Dead"), Brenda Song ("The Suite Life with Zack & Cody"), Karen Fukuhara ("The Boys"), Julian Sands ("Warlock") and Academy Award-winning Cher. Get ready for a big shake-up when misfit bobbleheads take on trashy humans and a slobbery dog who crash their home with plans to swap a new baseball player bobblehead for a valuable one of them. With some guidance from Bobblehead Cher, they find the courage to bobble-up for an outrageous battle of wits and wobble.
Introducing fun and lovable feisty characters that fill the story with thrilling moments from beginning to end, "Bobbleheads: The Movie" is from "Beauty and the Beast" director Kirk Wise and "Mortal Kombat" producer Lawrence Kasanoff and will be available to own just in time for the holidays. Packed with heart and silly hijinks, this exciting all-new original film is sure to become a family favorite and fulfill a bobblehead's simple purpose: to bring joy.
Produced in partnership with Microsoft and NVIDIA, the beautifully realized CGI animated film was created with NVIDIA GPUs on Azure Cloud, a state-of-the-art platform that allows for improved 3D-rendering and worldwide collaboration.
Featuring new original score and songs written by Greg O'Connor and music supervised by Michael Lloyd, the "Bobbleheads: The Movie" soundtrack is now available digitally from Back Lot Music.
But I'm a Cheerleader: Director's Cut
Celebrate the 20th anniversary of cult classic "But I'm a Cheerleader: Director's Cut," on Digital 4K Ultra HD Tuesday Dec. 8, from Lionsgate.
Directed by Primetime Emmy-nominated director Jamie Babbit, the comedy, originally released in 1999, stars Natasha Lyonne ("Orange is the New Black," "Russian Doll"), Clea DuVall ("Veep"), Melanie Lynskey, RuPaul Charles ("RuPaul's Drag Race"), Eddie Cibrian, Bud Cort, Michelle Williams, Julie Delpy and Cathy Moriarty.
This whimsically edgy comedy follows teenager Megan (Lyonne), whose suburban existence filled with friends, cheerleading, and all-American fun is upended when her straight-laced parents suspect she may be a lesbian. In a panic, they send her to True Directions, a "rehabilitation" camp run by the strict and prudish Mary (Moriarty), to mount an intervention led by counselor Mike (Charles). Megan dutifully follows the program — until she develops feelings for another camper (DuVall) in this timeless, satirical romantic-comedy about self-acceptance and love.
Bonus features include a director's commentary, "But I'm a Cheerleader" class reunion, in which the cast are reunited for the first time in 20 years, a making-of featurette, "But I'm a Composer…A Chat with Pat Irwin" and "Student Film: Discharge."
Collateral
Director Michael Mann's intense thriller "Collateral" arrives on 4K Ultra HD for the first time ever when the new 4K Ultra HD/Blu-ray Combo debuts Tuesday Dec. 8, from Paramount Home Entertainment.
A stylish and compelling noir thriller starring Tom Cruise and Jamie Foxx, "Collateral" received both critical and audience acclaim. Cruise delivers a chilling performance as Vincent, a cool, calculating contract killer at the top of his game. Foxx received an Academy Award nomination for his portrayal of Max, a cabbie with big dreams and little to show for it.  The action drama, released in theaters in 2004, showcases the actors as Max transports Vincent on his next job—one night, five stops, five hits and a getaway.  After this fateful night, neither man will ever be the same.
Remastered under the supervision of the director, this new 4K Ultra HD presentation features HDR (High Dynamic Range) for more detail, brightness, vivid color, and greater contrast.  The Blu-ray in the Combo Pack is also remastered, offering an exceptional viewing experience.
The 4K Ultra HD/Blu-ray Combo includes access to a Digital copy of the film, as well as the previously released bonus content including a commentary by Michael Mann, a "making-of" featurette, a "Special Delivery" featurette, deleted scene with commentary, a "Shooting on Location: Annie's Office" featurette, Tom Cruise and Jamie Foxx rehearse and "Visual FX: MTA Train" featurette.
Habermann
"Habermann" arrives on DVD/Digital Tuesday Dec. 8 from Corinth Films.
Based on true events, "Habermann," from director Juraj Herz, is the first film to dramatize the brutal expulsion of three million Germans from Czechoslovakia. It resulted in the deaths of thousands of German civilians, and is still met with great controversy today.
This powerful drama (in German with English subtitles) from follows the life of August Habermann (Mark Waschke), a well-respected, wealthy German sawmill owner living in the Czech Sudentenland. Married to the young, beautiful Czech, Jana (Hanna Herzsprung), their comfortable lives undergo increased tension when the region is annexed by Nazi Germany in 1938. And though he's neither interested in politics nor ideology, for Habermann, the annexation signals the first of many encounters with ruthless SS officer, Major Koslowski (Ben Becker).
When two German soldiers are found murdered, and Koslowski discovers Jana is half-Jewish, he seizes the opportunity to extort the kindhearted mill owner. He informs Habermann that he intends to execute townspeople to avenge the deaths of his two soldiers, and instructs him to select which ones should die.  If he doesn't, the Major will deport Jana to a concentration camp. As the Soviets finally advance into the region, Koslowski arranges his escape and his troops retreat, but the German population stays—the region has been their home for generations.
After seven years of Nazi occupation, however, the Czechs yearn for vengeance and blame all Germans for the daily terrors and indignities they faced and set out to expel them from the region. Those who chose to remain could face deadly consequences, and Habermann's life is especially in danger since many think he is responsible for the Czechs executed by Koslowski. Having lost his family and many others he cared about, Habermann resigns himself to whatever awaits him in this German-Czechoslovakian historical drama nominated for six Czech Lions, including Best Film.
The DVD/Digital of "Habermann" will be available for $24.95 (SRP).
Mario Puzo's The Godfather, Coda: The Death of Michael Corleone
"Mario Puzo's The Godfather, Coda: The Death of Michael Corleone," a new version of Francis Ford Coppola's "The Godfather: Part III" arrives on Blu-ray and Digital Tuesday Dec. 8, from Paramount Home Entertainment.
The new edit and restoration of the final film in Coppola's epic trilogy achieves the acclaimed director/screenwriter and screenwriter/author Puzo's original vision for the finale, which has been meticulously restored for the finest presentation of the Corleone saga's last chapter.
The recut film also is now in limited theatrical release for fans who want to watch the restored version on the big screen.
"'Mario Puzo's The Godfather, Coda: The Death of Michael Corleone' is an acknowledgement of Mario's and my preferred title and our original intentions for what became 'The Godfather: Part III,'" said Coppola in a statement. "For this version of the finale, I created a new beginning and ending, and rearranged some scenes, shots and music cues. With these changes and the restored footage and sound, to me, it is a more appropriate conclusion to 'The Godfather' and 'The Godfather: Part II' and I'm thankful to (chairman and CEO) Jim Gianopulos and Paramount for allowing me to revisit it."
Coppola's masterful film adaptation of Puzo's novel chronicles the rise and fall of the Corleone family and the saga is rightfully viewed as one of the greatest in cinematic history.  Celebrating its 30th anniversary this year, "The Godfather: Part III" was nominated for seven Academy Awards, including Best Picture and Best Director.  The film follows Michael Corleone (Al Pacino), now in his 60s, as he seeks to free his family from crime and find a suitable successor to his empire.
Coppola and his production company American Zoetrope worked from a 4K scan of the original negative to undertake a painstaking, frame-by-frame restoration of both "Mario Puzo's The Godfather, Coda: The Death of Michael Corleone" and the original "The Godfather: Part III." In order to create the best presentation possible, Zoetrope and Paramount's restoration team began by searching for over 50 original takes to replace lower resolution opticals in the original negative.  This process took more than six months and involved sifting through 300 cartons of negative.  American Zoetrope worked diligently to repair scratches, stains, and other anomalies that could not be addressed previously due to technology constraints, while enhancements were made to the original 5.1 audio mix. These thorough restoration efforts were not immune to the coronavirus pandemic: midway through the project, all work—even the search for the negative—shifted to the San Francisco Bay area and Los Angeles and was completed by Zoetrope and Paramount remotely.
Possessor Uncut
Brandon Cronenberg ("Antiviral") directs "Possessor Uncut" available on 4K Ultra Blu-ray Combo Pack and Blu-ray Tuesday Dec. 8 from Well Go USA Entertainment. The groundbreaking sci-fi thriller also is available now on Digital.
An elite assassin uses brain-implant technology to possess civilians and execute priority targets. But when the tables turn while on assignment, she is suddenly trapped inside a mind that threatens to obliterate her. "Possessor Uncut" stars Andrea Riseborough ("Birdman," "Oblivion"), Christopher Abbott ("Whiskey Tango Foxtrot," "Catch-22") and Academy Award nominee Jennifer Jason Leigh ("The Hateful Eight"). Bonus material includes deleted scenes and behind-the-scenes footage.
"Possessor Uncut" will be available on Blu-ray for the suggested retail price (SRP) $29.98 and on 4K Ultra Blu-ray Combo Pack for $34.98 (SRP).
Raining in the Mountain
From King Hu, the legendary director of "A Touch of Zen," comes a stunning new restoration of his epic marital arts heist film "Raining in the Mountain," available on Blu-ray/DVD/Digital Tuesday Dec. 8, from Film Movement Classics.
In a remote monastery in 16th century (Ming Dynasty) China, corrupt monks conspire against each other for that plum job—Head Monk—and control of the ultimate MacGuffin: a crumbling Buddhist scroll.
One of two films (with "Legend of the Mountain") made in South Korea by Wuxia master Hu—both starring Taiwan/Hong Kong female superstar Hsu Feng ("A Touch of Zen"), here as the cunning "White Fox"—this martial arts classic will be released in a stunning, new 2K digital restoration on Blu-ray, DVD and digital platforms.
A Buddhist abbot charged with protecting the sacred scroll of Tripitaka prepares to name his successor. An aristocrat and a general arrive at his secluded mountaintop monastery promising to help in his search, but are in fact scheming to secure the scroll for themselves. And, as they set about recommending corrupt successors, rival bands of martial artists lie in wait to steal the precious artifact. Soon, the monastery is transformed into an epic battleground for the scroll, with each player caught in a web of betrayal. "Raining in the Mountain" is the peak of director Hu's infusion of Buddhist spiritual principles into the legacy of martial arts cinema.
Bonus features include "Treasure of the Spirit," a video essay by Chinese-language film expert/author Stephen Teo, an audio commentary by critic and Asian cinema expert Tony Rayns and a 16-page booklet with a new essay by New York Asian Film Festival executive director Samuel Jamier.
The Blu-ray/DVD/Digital will be available for $29.95 (SRP), and $19.95 (SRP), respectively.
Song Without a Name
Peru's official Oscar submission "Song Without a Name" arrives on DVD/Digital Tuesday Dec. 8, from Film Movement.
Based on harrowing true events, the drama tells the story of Georgina, an indigenous Andean woman whose newborn baby is whisked away moments after its birth in a downtown Lima clinic, and never returned. Stonewalled by a byzantine and indifferent legal system, Georgina approaches journalist Pedro Compos, who uncovers a web of fake clinics and abductions, suggesting a rotting corruption deep within Peruvian society.
Set in 1988, in a Peru wracked by political violence and turmoil, Melina León's heart-wrenching first feature renders Georgina's story in gorgeous, shadowy black-and-white cinematography.
A 2019 Cannes Camera d'Or nominee, "Song Without a Name," also won more than 30 international awards including "Best Film" at the Lima Latin American Film Festival and "Best Film by an Emerging Director" at the Munich Film Festival.
Bonus features include a video introduction by filmmaker Melina León and the short film "Sin Cielo," directed by Jianna Maarten Saada, in Spanish with English subtitles.
"Song Without a Name" is in Spanish and Quechua with English subtitles and will be available on DVD/Digital for $24.95 (SRP).
The 2020 World Series
"2020 World Series," a documentary about the most recently unusual season of Major League Baseball ever played, will be available in stores Tuesday Dec. 8, on a two-disc Blu-ray + DVD combo pack and DVD from Shout! Factory and Major League Baseball. It will also be available on the same date digitally, to own and rent from all major platforms.
Like so many events, the COVID-19 pandemic dramatically reshaped how this MLB season looked and felt. After navigating unprecedented challenges, playing a restructured regular season, a new postseason format and the first neutral site World Series in modern history, the historic 2020 season culminated in an unforgettable Fall Classic and with the Los Angeles Dodgers being crowned champions for the first time in since 1988.
Dodgers fans can rejoice and relive all the excitement, drama, and life-changing moments of the 2020 World Series against the American League Champion Tampa Bay Rays, in the official 2020 World Series film from Major League Baseball. Legendary Dodgers broadcaster Vin Scully lends his signature voice to "The 2020 World Series," taking fans on heartfelt journey to the 2020 championship through his unique baseball perspective.
As the 1982 recipient of the Ford C. Frick Award, which enshrined him in the broadcasters' wing of the Baseball Hall of Fame, Scully has covered many of baseball's most thrilling moments, including Sandy Koufax's four no-hitters, Hank Aaron's 715th home run and Kirk Gibson's dramatic home run in Game One of the 1988 World Series. He has voiced over the narration for seven previous World Series documentaries including in 1959 (Dodgers), 1963 (Dodgers), 1965 (Dodgers), 1979 (Pirates), 1980 (Phillies), 1981 (Dodgers) and 1986 (Mets).
With MLB playing in a postseason bubble, media presence and access was limited. Producers of this year's documentary utilized on-site crews with approved access as well as other feeds available to capture all the pulse-pounding action and emotion of the season. Expertly crafted from hundreds of hours of footage, the official World Series documentary gives fans a front row seat to this extraordinary championship run through highlights from the entire postseason and in-depth interviews and exclusive bonus features including regular season highlights, clinching moments, featurettes and more.
Fans of the Dodgers will also be able to relive their team's entire Fall Classic from the first pitch to the last out. Start saving up your Christmas money, because "The 2020 World Series Collector's Edition: Los Angeles Dodgers," a grand slam eight-disc set that includes all six complete games of the World Series plus NLDS Game 3 and NLCS Game 7, will be available on Feb. 9, 2021.
TV Show
The Secrets She Keeps
AMC Networks' Sundance Now features the DVD debut of the suspenseful and intense psychological thriller "The Secrets She Keeps" Tuesday Dec. 8.
Based on the novel of the same name by Michael Robotham, the six-part series revolves around the lives and connection between two heavily pregnant women (Laura Carmichael, "Downton Abbey" and Jessica De Gouw, "The Crown," "Arrow") who meet in a supermarket just outside of Sydney. Both have secrets that gradually emerge as their worlds collide.
Meghan (De Gouw) is a glamorous online influencer on the rise with an ambitious television sports reporter husband, Jack (Michael Dorman, Patriot, For All Mankind). Agatha (Carmichael) works in the supermarket as a shelf stacker.
Although they live near each other, the two women's lives could not be more different: Agatha is a loner, barely living above the poverty line. She's ecstatic to be pregnant, pinning all her hopes and dreams on this much longed-for 'miracle baby.' Yet, the father of her unborn child is a sailor on active duty and remains mixed to her condition. Meghan is a sophisticated mother-of-two who uses her website to reframe her imperfect life into a glossier, more aspirational existence. Despite posting enthusiastically about her pregnancy to her avid followers, including Agatha, behind closed doors, this third baby is putting pressure on a strained marriage. Both women have secrets. And both will risk everything to conceal the truth. But their worlds are about to collide in one shocking act that cannot be undone.
The two-disc DVD set ($34.99, Amazon.com) of "The Secrets She Keeps" includes a 19-minute bonus feature. The series premiered in July on Sundance Now, AMC Networks' premiere streaming service for true crime, dramas and thrillers from around the world.
Yellowstone: Season 3
Oscar winner Kevin Costner ("Dances With Wolves") leads a sensational cast as the Dutton family returns in "Yellowstone" Season 3, arriving on Blu-ray and DVD Tuesday Dec. 8, from Paramount Home Entertainment. A limited-edition DVD gift set of the first three seasons also will be available the same day, featuring 12 discs, collectible packaging and a set of four themed drink coasters.
"Yellowstone" continues to be a huge hit with viewers, with the third season finale setting a new series record and becoming the No. 1 most-watched cable telecast of the year and the most watched cable telecast since the "Game of Thrones" series finale in 2019. The show has been renewed for a fourth season on Paramount Network.
The Season 3 three-disc Blu-ray and four-disc DVD sets offer all 10 hour-long episodes from the third season, plus over four hours of special features including a never-before-seen featurette detailing the making of the season with inside looks from Kevin Costner and Taylor Sheridan; an exploration of the series with director Stephen Kay; and an interview with special effects supervisor Garry Elmendorf about his team's work on the show.
Written and directed by Taylor Sheridan ("Hell or High Water"), "Yellowstone" is an engrossing family drama that follows the epic story of a multi-generational family that controls the largest contiguous ranch in the U.S.
In Season 3, The Dutton family is threatened by new foes and lucrative business deals, forcing John (Costner), Kayce (Luke Grimes), Beth (Kelly Reilly) and Jamie (Wes Bentley) to utilize unexpected alliances and risky measures to safeguard their legacy. Josh Holloway ("Lost") joins the cast in Season 3.
Front Row Features is in the giving spirit this holiday season. That's why we are giving away a copy of the groundbreaking sci-fi thriller "Possessor Uncut" on Blu-ray to three lucky readers! To enter the contest, simply email socalmovieeditor@aol.com by Dec. 14 for your chance to win. Good luck!