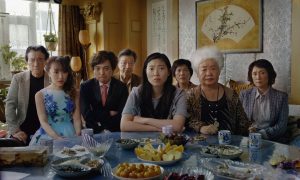 By ANGELA DAWSON
Front Row Features
HOLLYWOOD—In "The Farewell," veteran actors Diana Lin and Tzi Ma play the cautious and somewhat overprotective parents of a headstrong young woman played by Awkwafina, the scene-stealer from "Crazy Rich Asians." Like that 2018 comedy that was widely embraced by audiences of all cultures and backgrounds, "The Farewell" centers on a Chinese-American family coming together awkwardly for an important family event.
Written and directed by writer/director Lulu Wang ("Posthumous"), "The Farewell" was inspired by actual events, which as the introduction to the film points out, are based on a lie.
Lin plays Jian, outspoken and somewhat aloof, who emigrated to America years earlier with her husband Haiyan (Ma) and their small daughter in tow. The couple has integrated into the American culture but not nearly as much as their artist daughter, Billi (Awkwafina), who can barely speak her native tongue. When Lin learns from relatives that her mother has been diagnosed with a fatal illness back home in China, she and her husband prepare to return to see her one last time. Adamant about not telling the family matriarch that she has only a short time to live, they also decide to not bring Billi, who carries on a long-distance relationship with her beloved Nai Nai (Shuzhen Zhao) via daily phone calls, because they fear she will reveal the secret that the rest of the family has agreed to keep.
The subterfuge is aided by a hastily announced wedding of another relative, who brings his Japanese-raised fiance to the industrial city in northeast China where Nai Nai lives. The family is initially successful in keeping the heartbreaking secret from surprisingly spry Nai Nai, but then Billi shows up all sad-faced and mopey. The stress and burden of keeping the bad news secret becomes even more troublesome for all involved, but it also leads to various comical and heartwarming situations. The film was largely shot on location in Wang's hometown, located near the borders of Russia and North Korea. The actors welcomed the opportunity to speak with and observe her family members, on whom the characters are based.
Lin emigrated from China to Australia as a young woman and is best known for her role on the Aussie TV series "The Family Law." Ma starred alongside Amy Adams and Jeremy Renner in 2016's acclaimed sci-fi drama "Arrival" and appeared on the TV series "The Man in the High Castle," sat down together to talk about their roles in "The Farewell," and being part of this family dramedy, which likely will resonate with audiences from all cultures.
Q: This film has a lot of heart. Diana, I heard you got a bit emotional watching it when it premiered at the Sundance Film Festival, right?
Lin: Yeah. Afterwards, I couldn't talk. I thought I was going to cry again. That was the first time I saw the movie.
Q: Tzi, how did you get involved?
Ma: My process with Lulu was a little different than everyone else. She sent me the NPR piece first. It was a half hour podcast of "This American Life" about grandma's illness. These were real voices, her family's voices, including her voice. She tried to shoot it (as a documentary) but the camera wasn't working. The only thing left was the audio. She put that together and sent me a link, and said, "I'm thinking about doing this project. Here's what it's about." That captivated me. By the time she sent me the script, I thought, "Wow, it's everything that was in that half-hour (podcast), and then some." It was really an easy sell for me.
Q: What about you, Diana? How did you get involved in this project?
Lin: They found me during the last week before production. They already were in Changchun.
Ma: We were already to shoot but we hadn't found "Mom." They saw a lot of people. Trust me.
Lin: He said to me, "Do you know how many people auditioned for this part?" And I said, "I don't know." I don't know what it was. Maybe chemistry. Lulu said there was something missing. I just felt so connected to "Mom." I didn't know they were having trouble casting the part. I just knew that they needed someone who could speak Mandarin and English, and someone from China, which is where they found me through my Shanghai theater alumni group. I'm first generation Chinese, similar to Lulu's mom, and we had similar experiences in emigrating from China.
After I read the script, my mood didn't change for days. I could so relate to (the character)—the first-generation thing. I spoke with Awkwafina's grandmother and we have so much in common. That's why it was so easy to understand the whole thing.
Q: You play the parents of Awkwafina's character, Billi. Did you have much time to rehearse together?
Ma: It was a departure for her from the audience's eyes. Audiences don't know that Awkwafina is well trained. She's an actress; she's not just a comedian. She went to LaGuadia High School, for God's sake. C'mon, that's "Fame." It didn't surprise me.
Awkwafina and I are from the same city (Queens, New York) so the chemistry's already there, knowing our environments are basically the same, although, generationally speaking, it's a little different. Once we got to Changchun, it became this kind of anchor for all of us because this is the writer/director's hometown, and this is her family, and her family is there with us. When you're given that much access with so much trust and openness, we were able to gain from her mom and Lulu herself.
Lin: We felt like family, and Lulu's mother and father were right there so we were able to get something more from them that wasn't even in the script.
Ma: We got close very fast.
Lin: We copied some things, like when we talk about the cat on the roof. That's one that we got from her mom. I've seen the video that Lulu took. Her mom is very special the way she talks to you and looks at you. She doesn't say much but when she says something, you'd better listen.
Q: The grandmother was a soldier in Mao's army, right?
Ma: She's more than that. She's a revolutionary hero.
Lin: Before she retired, she was chairman of the company of art. The Chinese Oprah.
Ma: When she was in the People's Liberation Army, they did a march that was the equivalent to The Long March. It was just as important a campaign in war as The Long March.
Q: There are so many universal themes in this about family that audiences can relate to: the husband and wife, the parents and children, siblings.
Lin: It's because in art you have to show the truth. As humans, we have a lot in common. Lulu wanted to put her family's story out there but it doesn't matter what your cultural background is, it's the truth that people can connect to.
Q: Though your character is serious and direct, she also delivers some of the most memorable lines like, "In China, if you get cancer, you die."
Ma: Yeah. She gets some zingers in there.
Lin: Whatever she says, you don't forget.
Ma: But that's her charm. The audience appreciates her candor. She doesn't mince words. She'll let you know exactly what she's thinking.
Lin: She gets to the point; she doesn't waste time.
Ma: There aren't many people like that today.
Q: You didn't imitate her parents but rather created these characters based on what you read in the script and what you saw, right?
Lin: We wanted to make something unique.
Ma: It's not an imitation. We were trying to catch the essence of these two people. There are things we discovered that's not as over to the audience's eyes, which is the love that they have for each other. It is not spoken. It's about the care they have for each other and how that manifests into Billi. And Billi's not Lulu; Billi's Billi. So, you're talking about this triumvirate of expression of a family unit and how we deal with a crisis. It doesn't mean that we all have to agree. We don't. In that sense, Lulu really captured who we are and not necessarily who they really are.
Q: Tzi, I see you in just about every TV show and Hollywood movie. Tell me about working in Hollywood. You don't seem to have any trouble finding roles. Do they seem to find you or do you have to fight for them?
Ma: You need to have a certain attitude. I had an opportunity to develop that attitude very early in my career. I met some success and I cultivated an instinct about how to handle particular situations. It goes all the way back to my first film. My first film was one I didn't want to do. It was in 1978 and it was "Cocaine Cowboys," with Andy Warhol, Jack Palance, and the director was Ulli Lommel, who happened to be one of (Rainer Werner) Fassbinder's actors. At the time, I was only doing theater. I wasn't interested in doing film or television. But my manager told me about this role and wanted me to go in to audition. I said, "What kind of role is it?" And he said, "It's a cook." I said, "Man, if I'm going to play a cook I might as well be a cook. Why would I want to go and be a cook in a film?"
But I thought about it and decided to go in and audition anyway. I knew I didn't want the role so I didn't care if I got it. When I got there, I said, "What if this cook is also the best friend and the bodyguard. I said if you could make this role the cook, the best friend and the bodyguard, then I'll do the role." They said, "What kind of skills do you have that you can show me as a bodyguard?"
Then I remembered this interview with Bruce Lee. I was also a martial artist myself but I didn't want to do martial arts. Again, it's the same analogy: if I wanted to be a martial artist, I would have been a martial artist, not playing one in a movie. I remember that Bruce, for an audition, jumped up and kicked a chandelier to show how great he was. So, I did the same thing. I jumped up and kicked a hole in the ceiling. So, they hired me.
The lesson was that I was able to say the things I wanted that satisfied me. From that day on, that's what I did. I come in and there are requirements for the character, but now I have these requirements for me to work on a project. I'm never shy about it.
Q: You weren't afraid to speak up, even when you were starting out. Is that advice you'd give young actors?
Ma: Maybe the lesson is don't care so much. You want to be a creative contributor as opposed to a puppet.
Q: Diana, you grew up in China. When did you start acting?
Lin: I started acting when I was very young. And then we moved to Australia. I quit for 20 years while I ran my business. At that time, I didn't think I could live on the little bit I earned as an Asian actor. Now, that I've reached retirement age, I just want to do something that is fun and that I'm good at. I just got back into acting a few years ago and so far …
Ma: She's really good at it!
Lin: I've been very lucky. Like Tzi says, you have to have a relaxed attitude. If an opportunity comes up, I'll work very hard at it and make sure that I do it 120 percent right. I hope the opportunities keep coming.