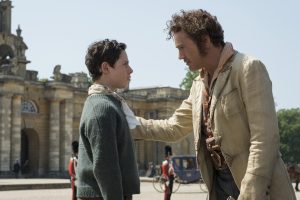 By ANGELA DAWSON
Front Row Features
HOLLYWOOD—As an actor, you're often called upon to do surprising, sometimes even embarrassing, things when on set making a movie. Up-and-coming actor Harry Collett had to learn to roar like a polar bear, squawk like a peacock and chatter like a monkey for his newest role as an apprentice to the beloved animal whisperer Doctor Dolittle for the newest Hollywood iteration of that classic children's story.
For Collett, a teenage British actor previously seen in Christopher Nolan's war epic "Dunkirk" and the BBC Online medical drama "Casualty," it was all part of the job. The youngster watched videos of real animals making sounds and tried to imitate them when the time came to do it on camera. In "Dolittle," he plays Stubbins, a young animal lover who goes in search of the reclusive 19th century animal doctor after accidentally wounding a squirrel while hunting with his father. Though "Dolittle" (played by "Iron Man" star Robert Downey Jr., who also executive produced the adventure fantasy) initially is reluctant to help the boy, Stubbins is persistent, and the doctor agrees to help the injured animal on his zoo-like estate filled with creatures great and small that he's mended over the years.
Stubbins is overwhelmed by the doctor's healing powers and ability to talk to the animals, and decides to become his apprentice, joining him on a journey to London when he is summoned by the queen, who is gravely ill, to diagnose her mysterious disease. When the doctor diagnosis the monarch's illness as poisoning that can only be reversed from a rare plant that only can be found on a far-away isle, Stubbins joins Dolittle and a handful of select animals on the long and dangerous journey aboard a ship in search of the antidote. The Universal Pictures' film also stars Antonio Banderas, Jim Broadbent, Jessie Buckley and a host of all-star actors who provided the voices of the various animals.
Collett, with his mom sitting nearby inside a production trailer on the Universal Studios Hollywood lot, recalls the scene in which Dolittle teaches him how to talk to the animals was one of the most fun moments of the production, though he also felt a little embarrassed at the time making the noises. Director Stephen Gaghan (Academy Award winning writer of "Traffic") assured him that the animals—which were all inserted digitally in post-production—would all look quite believable in the end, and he wasn't disappointed when he finally got to see the finished film a month ago.
Q: How did this project come your way? I heard you beat out thousands of other actors for the role of Stubbins.
Collett: I went for a few auditions in London. I didn't really think much of it. I just went for it and just did my best. Then I got a phone call from mum saying, "They want you in Atlanta to do a screen test," which was amazing and I went there and gave it my all and went around Robert Downey Jr.'s house which was amazing. He had his own little dance studio and we did it in there which was really cool and we got a phone call a couple of weeks later saying that I got the part. It was quite a long process but I'm glad I waited because it was great news at the end of it.
Q: You are the person things happen to in this movie; you go on this journey with Doctor Dolittle. What was it like working with CGI where a lot of it is your imagination?
Collett: I thought it was going to be easy because that's what acting is all about, right? Imagining things that aren't really happening. But I think there's so much more to take into consideration when you're working with imaginary animals because you've got to think of the weight, the height, the way they move so I thought it was going to be easy but it is actually quite challenging to work with that sort of area. But, it was really fun to do all of that and I really think I've learned a lot from all of the visual things.
Q: Are you an animal lover yourself? Do you have pets? Do you talk to them?
Collett: I don't have any pets right now but I want a dog. (Mom shakes her head, "no.") I feel like it would be cool to talk to animals. I think that would be really good.
Q: What question would you like to ask an animal?
Collett: I'd have to say it's nice to get their opinion, what they'd like to do, what they are feeling. If they want to go to that side of the part and I ask, "Do you want to go to that side of the park?" "Yeah. Yeah." So, I think give them a choice.
Q: That's very thoughtful. You have a great cast in this, some newcomers, some professionals and you work a lot with Robert Downey Jr. Did you get a chance to meet him before you guys got to set? What was it like meeting and working with him?
Collett: I met him the day before the screen test in Atlanta. He wanted to meet me before to just get the nerves out of the way because he's Robert Downey Jr. I got there and, to be honest, I felt nervous at the start but he was so nice and I was so comfortable around him that it makes you feel like you are talking to a friend rather than you're talking to Robert Downey Jr. which is really nice because it didn't make me feel nervous when I was going in for the screen test. And, yeah, throughout the shoot he's a lovely person and very supportive, and gave me loads of advice.
Q: What was the best advice he gave to you?
Collett: I think just always be yourself. Don't let anyone really bring you down. Keep your feet on the ground.
Q: Your character is this apprentice. Did you feel like an apprentice just being on set and watching him?
Collett: Yeah. I think like Stubbins learns from Dolittle on the way, I think that's the sort of process that I went through shooting with Robert. You learn a lot from him just looking at him and seeing what he does which is the same as when Dolittle is talking to the animals and Stubbins is learning from that. It sort of links on set with me and Robert. I learned a lot.
Q: The scene where you and he are talking animal talk and there is a bunch of different voices you have to use, there must be outtakes from that. You and Robert must have cracked up at some point talking monkey.
Collett: Yeah and it was pretty awkward because it was silent in the studio and you're making these sounds that don't really sound good at all. There was this bit in the movie and it was me trying to imitate a polar bear roar and I'm on the side of the boat going "Roar, roar" and that was quite awkward and embarrassing, but it was alright because now I've seen the final product, it doesn't look so bad but, at the time, it was quite awkward because it was a silent studio.
I'm making these bird noises and things like that. I was actually learning the sounds the animals make. They were telling me how to speak animal on set. That polar bear roar was improvised but the other stuff like the monkey and the peacock was completely (real).
Q: How long ago did you shoot this and how long did it take to do?
Collett: We shot the first time round a couple of years ago and, obviously, I'm getting older. It must have been painful for the visual effects people. I think one reason it was so long was the visual effects and the animals because there are so many effects in this movie. Without that, it wouldn't be seeable so I think it's worth waiting for. It took so long because so much time and effort when into the CG and a lot of new ideas came in as well to make the film better.
Q: How long ago did you see the final cut? What did you think when you saw it?
Collett: I saw it about a month ago and it was a great experience. I took my 96-year-old great Nan to go see it with me and she normally falls asleep in movies and she didn't fall asleep in this one which was great. It shows that it's hopefully good.
Q: What did she tell you afterwards?
Collett: She said, "It was so good and I'm really proud of you." I said, "Are you just saying that?" And she said, "No, I actually really enjoyed it." It's good to hear that. I've got a 9-year-old sister and she said that even if I wasn't in it, she'd still enjoy the movie, which is really great and it's nice to get all this feedback. That's sort of the reward I get from it is the feedback I get from other people. That's really nice.
Q: What do you have coming up now?
Collett: I have my exams for school. They're coming up.
Q: That's scarier than attending premieres, isn't it?
Collett: Yeah, it is. But I really hope that opportunities will (come along) because this is what I do. This is what I love. I'm hoping to carry on acting in things. I'm 15 but actually 16 when the movie comes out on January 17.
Q: Very cool. So, how many more months of school do you have before graduation?
Collett: I've got about five months left. Then, I can either go and get a job or go to college or university. I guess I'm going to see what happens.
Q: Do you want to go to a drama school like RADA? You have a lot of practical experience already.
Collett: It's good that I've learned a lot from all of the jobs I've done, but I guess I'll see what happens with this movie and then I'll make a decision. It's hard to make that decision now whether I want to do to college or stay on. Exams first, but I'd like to carry on acting because I really enjoy it.