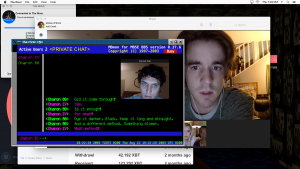 By PETERSON GONZAGA
Front Row Features
HOLLYWOOD—In an age where our lives are so influenced by the internet, computers and social media, Stephen Susco's film "Unfriended: Dark Web" ( a sequel to the 2014 horror flick) has given a darker view into the negative aspects of modern communications technology.
Gathering at a hotel on the Sunset Strip, the cast of the latest horror film from Blumhouse—Colin Woodell, Rebecca Rittenhouse, Betty Gabriel and Stephanie Nogueras— discussed how the so-called "dark web" has them rethinking just how connected they want to be in cyberspace.
Woodell plays Matias, who finds a laptop containing hidden files that lead to the underworld of the dark web. Without realizing it, Matias puts his deaf girlfriend Amaya (Nogueras), his lesbian couple friends Serena (Rittenhouse) and Nari (Gabriel) and others in danger as the device's previous owner is still plugged in and eager to get it back.
Woodell, Rittenhouse and Gabriel, who's brought her dog along for the interview, are no strangers to the horror genre, having appeared in other Blumhouse projects, but that doesn't mean they are avid horror fans themselves. The trio, along with deaf actress Nogueras, recounted their experiences filming "Unfriended: Dark Web."
Q: Colin, your character starts everything off. How is it playing the guy who sets in motion this dangerous situation?
Woodall: Weird. Very cool. When I watched the film, there were some things I didn't know were going to be in the film—just seeing the performance and the story being told through my point of view. It was a really cool experience and a very collaborative process for all of us. I wish we had this dog with us on set (referring to Gabriel's dog).
Rittenhouse: That would have been real cool.
Woodall: That would have made me cry.
Rittenhouse: Then the sequel will just be about dogs.
Q: Something like "Cujo?"
Gabriel: Oh no. I couldn't watch it.
Q: Do any of you believe in the dark web or any of the craziness that can happen because of the internet?
Woodell, Rittenhouse, Gabriel and Nogueras (in unison): Yes!
Q: Anybody have any kind of experience with the dark web or "catfished?"
Rittenhouse: I definitely had people try to hack into my accounts. But not anything super scary. I think it's just someone's who's bored. That's actually kind of scary that some people do this out of boredom.
Q: How was the experience of shooting this film. Was there anything different than you usually do? Is it true that Stephen allowed you moments of "self-directing?"
Rittenhouse: Usually when you're on a set, especially on a studio space, the set moves around the industrial space and the ceiling is open for lights. (With this), we were in a house in separate rooms. We had our laptops and had a Go Pro attached to them and we would roll and go for an hour and go through the script as much as possible, just like in a play. It was different in that way. Stephen was able to take the footage from each camera and use whatever he wanted from the cameras. He could use different takes simultaneously which is not necessarily what you see all the time because, obviously, if you have a normal movie, you're cutting from one take to another but you're not going to have two takes on the screen simultaneously.
Q: Stephanie, was this film easier than most films you do because you're mostly doing online chats?
Nogueras: It was easy. I mean to see everyone via the camera, that was perfect for me and the interpreter was on the screen as well so I was able to see everything going on via the interpreter on the screen. It was amazing communication. I think it was a little overwhelming for the interpreter probably because there was so much going on. Everybody was talking at the same time. There were jokes and improv. It was a lot but I tried to focus on the interpreter and what was going on and having the interpreter was really helpful. It helped me follow everything. But the laptops, we were able to type also. It was easy. There were no issues at all. Being in a small space made it easy as well. If it had been in a large studio, it would have been overwhelming (but) it was perfect the way it was set up.
Q: Betty and Rebecca, how easy was it for you two to connect with each other as actors because you two were the only ones that were face-to-face while shooting the film?
Rittenhouse: That was a huge benefit for us because we got to have subtler nuanced interactions. It felt very real. It is hard to connect with somebody over a camera. I never saw you in person. There's a lot of subtlety about communication and especially that we were playing a couple, it made it easy are more fun.
Gabriel: We were always having our tangent conversations during the breaks. And during the breaks, I would just look at everyone on the monitor alone in their room.
Q: So you could make fun of them while looking at the others on the monitor during the breaks?
Rittenhouse: Haha! Yeah. Openly mock them.
Q: Is this a genre that you all like working in—horror and suspense?
Nogueras: Personally, I don't like watching horror films and scary movies. It's not just in me. But this was great. I don't know. For some reason when I watch something extremely dark, I can't let it go. I obsess over it. In acting, it's fine. To be a part of it, it's very different than to not be.
Woodall: What I find so fascinating about this genre and having worked in it a bit this year and in this room alone, the four of us don't like watching horror films but you work in it. The fascinating thing for me is that horror and thriller reads better than anything else. So, you read it faster than anything else. In comedy, you have to read it over again and have to be more conscientious about punctuation. But with horror, it really flows nicely when you're reading it. Acting is definitely not the easiest thing in the world.
Rittenhouse: Film is the perfect medium for it. You can't do that on stage and being able to cut and not show or show things. Building suspense is really about images and sound. When it's well done, it's the coolest medium there is.
Q: What about you Betty, you've been in "Get Out" and other films?
Gabriel: And "The Purge" and "Twelve Deadly Days." Like Colin said, it is very challenging to do horror. You just have to act scared. It's so hard because there is nothing scary happening. I get really self-conscious of it when I'm acting. It's about the action and response with the people I'm with. In that way, it's really great. I encourage any actor to do horror because it challenges you.
Rittenhouse: It's like anything, even slapstick comedy. It's all those things. It's so physical. It's emotional and like a film like this, you're having to use so much imagination because half of the stuff the audience sees on the screen, we never saw.
Q: You never saw what was happening with each of the friends and what were they going through online?
Woodell: We saw each other's screens. But that was the extent of that.  Everything that was happening on Matias' laptop was two years ago in post-production.
Rittenhouse: Or like the dark web footage, maybe they put some suggestions but not what they had on the film.
Woodall: We did the videos that I share with them. Some of them were provided for us.
Q: Was that really a challenge for you to get into that mode of acting scared while shooting your scenes and "emote?"
Nogueras: It required a lot of emotional range and being able to pull from that.
Rittenhouse: Part of what you do as an actor is getting into it physically. The more physical you let that experience become, the less you have to "emote." Because it's habits. Your body memorizes physical responses.
Q: Colin, you say you don't really like watching horror movies, but you're going to be on the "The Purge" TV show. How does that happen?
Woodell: Since Betty did it, I have to do it. Honestly, I love Blumhouse. They are brilliant. They are changing movies. The movies have become about blockbusters and how much money can we make with superheroes. (But) Jason (Blum, producer and CEO of Blumhouse) and Blumhouse are brilliant because they're keeping up with those guys without pouring hundreds of millions of dollars in every single movie. I believe in their recipe for success and that their stories are very creative and different. Just look at what Betty has done. Her projects are vastly different. Being a part of that, there's a loyalty that they have to their actors and I feel that there is that loyalty that should be reciprocated by to them by the actors.
Q: Rebecca and Betty, are you still wanting to do more horror thriller films?
Rittenhouse: I just did another project for Blumhouse. It's kind of a hybrid of horror but it's kind of a more classic way and has a darkly comedic vibe. It kind mixes those things up a little bit.
Q: Maybe something like a "Rocky Horror Picture Show?"
Rittenhouse: Definitely not a musical.
Q: What's scarier—paranormal activities or the dark web?
Rittenhouse and Gabriel: Dark web.
Woodell: Dark web makes you feel more scared after the film. We had a few jump scares because of the elements in the room with us. We can't see it but a bit scarier when not predicting it in terms of the reality of our film.
Rittenhouse: When you watch our film, the dark web stays with you and with paranormal activity if you don't believe in ghosts, it's not scary. I mean, "Hello. This is the world and you can't deny it."
Q: What's the scarier to you—the idea that someone can hack your computer or cell phone and watch your every move or an alarm system in your house.
Woodall: I don't have Wi-Fi lights or anything like that that's connected to Wi-Fi because of this film. As an actor, it's a little different because of fans. When you have people who care about your every move, there is a vulnerability that we are exposed to and it can be terrifying. That is an element of terror for me more than being recognized but that someone can actual trespass into my private life.
Nogueras: Especially as a deaf person, we rely on technology right now for communication, accessibility that we have to text each other or video call. If I were to need help or something, technology has made it so easy for deaf people to communicate. Without it, it's a little tricky. I can't imagine my life without technology.
Gabriel: The dark web for me is really horrifying because the marketplace that it allows and the widespread selling of things that are not legal. The fact that we're in this film and there is a selling of human torture that is sick.
Woodell: Especially all the things that Stephen has found an included in the film was real.
Q: Does that make you want to pull back from social media?
Woodell: I've tried to distance myself from social media. We have weird obligations as performers. We have to be active on it to an extent. If you sign up for certain shows, you have an obligation to advertise and promote it on social media. But, my perspective on it has changed. It is a terrifying world we live in, especially on computers.
Rittenhouse: You just have to draw the line. Everybody does today. It's what you're willing to expose because when you put it out there, you have to know that it's out there. There are people who will analyze images to a point; I had a friend who had images analyzed to a point that someone got into his house. They figured out where he was living at the time. You just have to be aware of what you're putting out there.
Gabriel: No more selfies. Just kidding. I've always been averse to social media. I don't know Snapchat at all. Nope. I'm not going to do it. I remember when "The Purge" came out, I immediately got off Facebook. I can't have anyone see my pictures from 2002—my college photos.
Rittenhouse: Once it's on the internet it's on there.
Nogueras: I prefer Instagram as opposed to Facebook. I feel that Facebook has a lot of negative energy. It's kind of depressing to me about Facebook. For me, I try to post positive things.