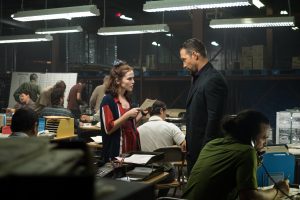 By ANGELA DAWSON
Front Row Features
HOLLYWOOD—In 2018's "Flower," rising star Zoey Deutch played a high school student blackmailing older men who tried to have their way with her in order to raise bail money for her imprisoned father. In "Buffaloed" she plays a different sort of hustler. In this sharp, biting comedy, she plays a character who falls into the seedy yet lucrative debt collection business in order to escape the dreariness of her decaying hometown.
The story is set in Buffalo New York, the debt collection capital of America. Deutch plays Peg, a sassy, smart blue-collar kid who is accepted into an Ivy League college but cannot afford the tuition. After a stint in jail for scalping tickets, Peg looks for legit ways to apply her business skills to raise money for college. She goes to work in a local boiler room-type debt collection agency, boasting to her sexist, sketchy boss that she can out-collect any of his alpha male employees. Using her gift for gab, Peg manages to achieve top-dog status in no time. But she grows a conscience about the morality of what she's doing—preying on those who are at the end of their financial rope—when she discovers that one of her targets is an elderly widow who already has paid her debt but suffers from memory loss.
When her boss tries to shortchange her on her promised earnings, Peg quits to start her own debt collection business, hiring a band of misfits and running a "clean" operation. That doesn't sit well with her ex-employer, who begins losing business to this young female upstart. He sets his sights on destroying her by going after her mother, who operates an unlicensed home-based hair salon and her brother, who has a bar with some outstanding debts. That's when Peg risks everything to destroy her antagonist before he can ruin her family and her business. The dark comedy's cast includes Judy Greer, Jai Courtney and Jermaine Fowler.
Deutch not only stars in the film, she also is one of its producers. Moviemaking is in her blood. Her father is filmmaker Howard Deutch ("Pretty in Pink") and her mother is actress/filmmaker Lea Thompson (from the "Back to the Future" films). The petite and vivacious young actress followed her illustrious parents into show biz, and has created a niche, playing self-reliant characters. She made her debut on the TV series "The Suite Life on Deck," and subsequently appeared on various TV series and films, notably playing Rose in 2014's "Vampire Academy" and Beverly in Richard Linklater's "Everybody Wants Some." In 2016, she starred opposite James Franco in the comedy "Why Him?" She recently starred in the zom-com sequel "Zombieland 2: Double Tap" and she also can be seen on the Netflix series "The Politician."
Deutch maintains that "Buffaloed," directed by Tanya Wexler from a screenplay by Brian Sacca, is actually a love letter to its New York namesake where the locals' passion for chicken wings is only surpassed by their devotion to their perennially unlucky NFL team, the Bills. An outspoken feminist, Deutch is pleased that the film is a sharp and timely comedy about one woman's effort to rewrite the rules of The Man's game.
In addition to (hopefully) entertaining audiences, the filmmakers have another, loftier goal. They hope to draws attention to a serious underreported economic threat—mounting consumer debt. Just this week, U.S. credit card debt hit a record-high of $930 billion. Rising medical and student debt also is crushing people under its weight.
As a gesture of goodwill, Magnolia Pictures, which is releasing "Buffaloed" in theaters and on demand Feb. 14, has joined forces with RIP Medical Debt, a national non-profit organization that uses donations to purchase bundled medical debt portfolios that have gone through collection agencies for months and even years. Their plan, as announced this week, is to an erase $1.5 million in medical debt, the first of its kind for a feature film. Using third-party credit data providers, RIP Medical Debt targets debts specifically incurred by people facing financial hardship, and then forgives them for a small fraction of the initial cost. A campaign launched through RIP Medical Debt's platform, Qgive, encourages people to contribute. Magnolia will offer prize packages to 10 people, selected at random, who donate to the campaign. While "Buffaloed" takes a comic look at the issue of debt, it also aims to treat it with the seriousness it deserves.