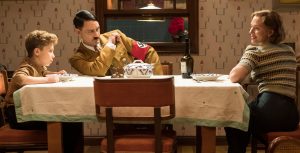 By ANGELA DAWSON
Front Row Features
HOLLYWOOD—Scarlett Johansson first learned of Kiwi filmmaker Taika Waititi's idea for a World War II-set satire "Jojo Rabbit" through a familiar source.
"The first person who told me about the script was (Chris) Hemsworth," the "Avengers" actress reveals during a press conference promoting the film. "He'd read it at some point. I assume he was working with Taika on something. He read it and loved it. I didn't know there was a character for me to play in it but he told me I had to read the script because it's so good. And then it came back to me at some point through my agent, who also said I have to read it. So, I read it and it was this beautiful gem, which is so rare. It was beautifully descriptive and touching. I cried when I read it; that's a good sign."
Like her "Avengers" co-star, the actress found the screenplay, which Waititi wrote, inspired by a book his mother recommended, "full of whimsy and childlike but also poignant and strong."
"It had a vulnerability but also a big personality that came across," she continues. "It was so dynamic. I knew Taika a little bit and so we met and chatted. I don't know if it was me that had to convince (him) or (vice versa), but actually it ended up just us together having a drink."
Johansson, 34, plays Rosie, a young mother living under Nazi occupation with her 10-year-old son, Jojo. She pretends to go along with rules of the town's German occupiers but she secretly risks her life to hide a teenage Jewish girl in her attic. Meanwhile, JoJo is becoming a brainwashed member of the Hitler Youth, and even has an imaginary Hitler friend (played with childish impetuousness by Waititi). The tow-headed boy gets the nickname Jojo Rabbit when he is unable to bring himself to slaughter an innocent rabbit when a Nazi captain orders him to do so. He subsequently sustains severe injuries to his face and body when he tries to detonate a hand grenade. Clearly, Jojo doesn't have what it takes to be a Nazi but he tries nonetheless.
When Jojo eventually finds Elsa (Thomasin McKenzie) hiding behind a wall in his dead sister's room, he tries to keep that information from his mother, knowing she'll be furious with him. Eventually, though, mom finds out and is worried that she, her son and their guest are in grave danger if the Nazis figure out what's going on. That concern becomes valid when an SS contingent led by the merciless Deertz (Stephen Merchant) shows up unexpectedly and searches the house. When discovered, the girl insists she is the boy's sister, but there are potentially incriminating holes in her story. A German captain named Klenzendorf (Sam Rockwell) also has suspicions but he may be the key to the boy and the girl's salvation.
The 44-year-old filmmaker/actor began writing "Jojo Rabbit" nearly nine years ago, after his mother (who is Jewish) finished reading a book called "Caging Skies," by Christine Leunens, and recommended it to him. The novel is quite dark in tone—not funny at all—but Waititi liked the idea of telling a story about war from a child's point-of-view.
"At the time, it was more like a reflection of what children go through during wars and conflicts, and how they see adults operating, and what they take away from watching adults during war," says the New Zealand native, who also is half-Maori. "We're supposed to be nurturing them and being reliable but when wars happen, that all goes out the window and nothing makes sense. I was fascinated with how children saw that in World War II because I've never seen that shown on film before. I've seen films set during (World War II) about children but not really how they experience it."
Because Waititi prefers comedy to drama, he infused the screenplay with a lighthearted touch that makes the dramatic moments in it even more poignant.
The filmmaker insists that while "Jojo Rabbit" has humor in it, his goal was not to makes light of what transpired 80 years ago.
"This film is a drama with jokes," he says. "It's a film with a quite important message: be kind and be nice. Eighty years ago, Charlie Chaplin made 'The Great Dictator,' so I wouldn't say (having a comedy about Hitler and Nazis) is too soon. I'm following in the tradition of some very smart people who had something to say and used comedy to say it—which in my opinion is one of the most powerful tools against bigotry, regimes and dictators. When you laugh, it disarms you and opens you up. You become more receptive to ideas. Comedy, now more than ever, feels more sophisticated. For me, it's an important part of telling stories."
Waititi not only diverges from the original source material, he also added several memorable characters such as Yorki (Archie Yates), Jojo's best friend, Captain Klenzendorf (Rockwell) and S.S. Officer Deertz (Merchant). He recalls that when his mother recommended the book to him, she described it as "a boy in the Hitler Youth finds this girl hiding in his attic." The boy has never met a Jew so, in his mind, based on the propaganda and what he's been taught, it's like having a monster living in the attic.
"He's got to deal with this creature he's petrified of living up there and then, eventually, he discovers this monster is a human," he says of the Jojo's journey. "Based on just that part of the book, the idea of the boy's world being upended and challenged in that way, was, to me, interesting enough."
Besides, says Waititi, "I don't think I'm capable enough of making a straight drama. I'm old. I don't want to be depressed when I go to work. I have to have some joy in my life. So, I had to add (the characters) that blend with my style of storytelling—with moments of humor and fantastical elements. I wanted it to feel like it was being told from the child's point-of-view."
Initially, Waititi had no intention of playing Jojo's imaginary Hitler friend, but was encouraged by executives at Fox Searchlight, the studio behind the film, to do so.
"I can't think of a list anywhere in the world of people being considered to play an Aryan that I'm on," he says, with typical dry humor. "But it makes sense to me now because I feel that if someone well-known had played that character, it would have overshadowed the heart of the film, which is the story of this boy and his mother. It would have become a 'celebrity-playing-Hitler' film. So, I'm pleased it didn't go that way."
Playing the role of the Fuhrer, responsible for the extermination of more than six million Jews, was embarrassing, he says.
"It was embarrassing to have to dress like that and, directing a film like that is just not cool," Waititi says. "It doesn't make you feel empowered and it doesn't make you feel like people want to listen to you. But I have to own it in some way and remind myself that I'm not playing that guy."
He intentionally didn't put a lot of effort into studying Hitler's movements and voice.
"I'm not going to give him the satisfaction of doing any research into what he was like, with his nuances and physicality because I don't think he really deserves that," he says. "I didn't want to make any effort for him so I decided to play him as a 10-year-old because he comes from a 10-year-old's mind. He can only know what a 10-year-old knows. It made it more bearable."
For Johansson, playing a woman—a resistance fighter, if you will—who knows the risks she is taking not only with her own life but with that of her only surviving child and is willing to accept them because of what she believes, was a no-brainer.
"The character kind of scares herself a little bit because she's a single mom on the edge all the time," the actress notes. "She's scared for her life and for her child's life. Nothing makes sense. She's lost so many friends and she doesn't know what the future holds for her or her son."
Waititi says Johansson shares a lot of characteristics with her onscreen persona.
"She's a mother and she's funny, and she's a goofball but also protective," he says. "That's really what I was looking for (in casting) that role. For her character, trying to raise a child alone is difficult, let alone during a war when your child is being brainwashed and pulled away from you. You use whatever tools you can in that situation."
As for casting the rest of the film, Waititi acknowledges that one of the key challenges was finding just the right boy to play Jojo. When asked where he found Roman Griffin Davis, he quips that he found him on Craigslist.
"He auditioned and was amazing, so I cast him," he continues.
Davis, who hails from London, is more modest about his "amazing" audition.
"I wasn't, though," he insists. "I literally didn't know any lines. I made up the whole thing when I auditioned my first scene."
"Weirdly, line-for-line, you said exactly what I wrote," counters the filmmaker during a playful exchange at the press conference.
Though he grew up in a show business family—his father is a cinematographer and his mother is a writer-director—Davis makes his feature film debut in "Jojo Rabbit," in a demanding lead role.
The tow-headed adolescent said he learned a lot about filmmaking as well as about the Holocaust while making the film.
"I was intrigued how risky it was and how it talked about kids in the Second World War and the Germans in the war rather than the opposition," he says. "It was talking about the Hitler Youth, which I didn't know about. I've always been taught about the Second World War and the Holocaust. I was intrigued by the Hitler Youth, Taika and the cast. I couldn't really say no, could I? 'No, I don't think so, mom.'"
Johansson, who herself started out as a child actor, found her movie son to be a great scene partner.
"He was so comfortable on the set," she recalls. "I think it would have been very different had Taika plucked a kid out of obscurity. He was just so relaxed."
Waititi says he was already aware of up-and-coming fellow New Zealander McKenzie, when he cast her in the pivotal role of Elsa, the brave teenager in the attic. Through her, Jojo learns that everything he's been told about Jews from the Nazis has been lies, and the two begin writing an illustrated book together about their experience.
"I saw Thomasin rolling around Wellington, New Zealand ever since she was a little kid; she comes from a family of famous theater actors," says Waititi. "Around the time we were casting, she was in 'Leave No Trace,' and I realized just how much work she'd been doing and how amazing the work she was doing was. She auditioned early on and was on top of the list pretty much the entire time."
Casting Merchant, best known for his comedic roles in movies as well as writing and producing TV shows with Ricky Gervais, reveals how he found out about the part of playing the goofy yet sinister SS officer.
"I received the script and thought, 'Oh God, yet another boy-and-his-imaginary-Hitler script,'" he deadpans. "I think if you're an English person who's quite tall, you're going to get asked to play a Nazi at some point. I'm just happy that it's for Taika than for someone else."
Merchant says the tradition of making satires about World War II and Hitler goes back decades.
"When I read it, it reminded me of lots of movies I've loved over the years—as Taika said—right back to 'The Great Dictator.' There's a long tradition from that to Ernest Lubitsch's 'To Be or Not to Be' to Mel Brooks' (remake) in the 1980s. In the U.K., there's been a long tradition of satirical stuff about Hitler. People in the 1980s would appear on talk shows dressed as Hitler doing a routine, and we'd go, 'Oh, that seems funny.' It never occurred to me that it was an unsuitable subject matter for satire.
"Similarly, I like films that deal with big ideas through humor, whether it's 'Dr. Strangelove' or 'Life of Brian,' or something like that. It's audacious that Taika's trying to make a film now when it feels like mainstream cinema's gotten a little more conservative—less risk-taking—to be making a film about a boy and his imaginary Hitler. I thought that has to be applauded and supported."
Waititi agrees that 2019 seems to be the perfect time to make a satire about Hitler and Nazis because of the rise of hate groups and growing intolerance around in the world.
"This story) feels more relevant and timely than when I originally wrote it," he says. "But that wasn't the original intention."
Johansson, who has a five-year-old daughter, says she believes her onscreen character, Rosie, is trying to counter the hatred that the Nazis are inflicting her son, before he meets Elsa.
"She's teaching him to be empathetic and compassionate," she observes. "You have to give your kids a healthy dose of reality so that can actually happen."
"Jojo Rabbit" is in theaters in limited release, and will gradually have a wider release.