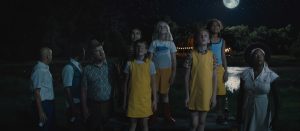 By ANGELA DAWSON
Front Row Features
HOLLYWOOD—At 13, Mckenna Grace already has an impressive list of credits. Notably, she co-starred opposite "Captain America's" Chris Evans in the critically acclaimed drama "Gifted." She played young Tonya Harding opposite Allison Janney in "I, Tonya," and young Carol in "Captain Marvel." She's held her own against evil in "Amityville: The Awakening" and the limited TV series "The Haunting of Hill House." Grace began her professional career at age 6 on Disney XD's "Crash & Bernstein" and had a small role in 2016's "Independence Day: Resurgence."
Grace now stars alongside Oscar winners Viola Davis and Allison Janney (again) in the quirky comedy "Troop Zero." The Amazon Original will be available to watch on the streaming service's Prime Video starting Friday Jan. 17.
In it, she places a middle school misfit Christmas Flint living in rural Georgia during the Carter Administration. Motherless, Christmas looks to Davis' Miss Rayleen, a paralegal for Christmas' likable but disorganized country lawyer dad (Jim Gaffigan), as a female role model. Miss Rayleen, however, is reluctant to play surrogate mom to the girl, and instead does what she can to make Christmas' dad behave more responsibly—in business and as a father.
Lonely and still grieving the loss of her mother, Christmas turns to the skies at night in hopes of making a connection with something in the universe. When an opportunity arises to be part of NASA's Golden Record audio recording project, in which select children's voices are chosen to be included on a disc that will be launched into space, Christmas assembles a crew of fellow misfits—a sexually ambiguous boy, a ruffian and her enforcer sidekick, and a redhead with one eye—to form a scouting troop to compete in an upcoming Jamboree for the honor. Of course, they're up against a much more polished local group of so-called Birdie Scouts that try to bully and demean Troop Zero into abandoning their longshot quest.
Troop Zero also get no support from prissy school principal Miss Massey (Janney). Undeterred, Christmas and her crew, having recruited the reluctant Miss Rayleen to serve as their Troop Mother, do what they can to earn the necessary badges to qualify for Jamboree. Can determination alone be enough for this awkward bed wetter and her oddball friends to make it to the competition?
Dressed in a dark blue dress with white accents, and ankle boots for an interview, Grace—with her mom sitting nearby—spoke about taking on the role as the lovable misfit and working with her top-notch co-stars and female directing team of Bert & Bertie.
Q: Cute outfit. Love the boots.
Grace: I feel like an airline attendant or something. Would you like champagne?
Q: How did "Troop Zero" come your way and what made you excited about doing it?
Grace: I really loved the story of Christmas, this misfit. She really wants to get on the Golden Record and she bands together with this troop of odd, quirky, weird characters. I love the relationship between her and her dad and all of the troop. It's just such a good film and I'm really proud of it. I loved how they banded together and fit together, and end up going on this crazy adventure. They love and accept each other. That's really important because we all have to find our troop‑the people you fit with. You find who you fit in with. There is somebody out there who believes in you and loves you for who you are. You don't have to fit in with what society tells you to be. You can be whoever you want.
Q: As an actor, you are kind of in your own little squad anyway, aren't you? How have you managed to navigate show business because you've been acting professionally since you were six?
Grace: It's different, because I don't work with a lot of other children my age, but when I do, it's really great because, usually, we end up becoming very close. Pretty much every time I work with another child actor, we end up becoming very close, so it's very nice because then I can make friends that way. I love it.
Q: So, are you close with the other kids that are in "Troop Zero?"
Grace: Yes. We call each other and it's really great. We're close. I love them.
Q: The idea that NASA actually included children's voices on the Golden Record aboard Voyager 1 and 2 in the 1970s is interesting. What message would you want to send out today?
Grace: Yes. It's really cool to think that the Golden Record is out there floating around in space. I think it was a great idea. Would I want to see another one sent out now? Yes, it would be a really great opportunity.
Q: What message would you like to see sent out into space today?
Grace: I like the message we sent out on the Golden Record. I thought it was a great idea so send out the music. What kind of music did they send? I can't remember. Didn't they send Beethoven and things like that?
Q: Yeah. Classical music.
Grace: It was only classical? I think we need to send another message out with, "I'm sorry. That's some good music but here's some better (tunes) for you. Put a little (David) Bowie in there, some Queen, the good stuff." No offense to Beethoven.
Q: You get to wear some fun '70s style clothes in this. You also wear those big clunky red boots. Did the wardrobe help you get into character because Christmas is supposed to be a little awkward? And was that a wig you were wearing at the beginning of the film?
Grace: No. That was my real hair. I wish it was a wig. Say what you want. I did not enjoy it.
Q: Was it fun cutting it?
Grace: No. Not at all. I was supposed to actually cut it myself but, for some reason, I ended up not being able to. I was very upset about my haircut and the directors (Bert and Bertie) were like, "Well, I'm very sorry." So, Birdie let me cut her hair all lopsided. It's still kind of short. So, that was really sweet and all the kids sent me photos of their wacky haircuts too so that was really nice.
Q: You have some wonderful co-stars in this—Viola Davis, Allison Janney and Jim Gaffigan. What was it like working with them?
Grace: It was really fun getting to work with them. Allison and Viola are just such amazing actresses and Jim is so funny. I'm so glad I got to work with him. My dad and I like his skits. We watch them all the time. I just really loved getting to work with them and watch them and working with Allison again (after "I, Tonya"). She always seems to play somebody who is really mean to me in a film but she's just such a nice, good person. I love her.
Q: You shot "Troop Zero" in New Orleans. How did you keep yourself away from the beignets?
Grace: (laughing) I didn't.
Q: Oh, you're 13. You can eat as many beignets as you want without worrying about calories.
Grace: That's debatable, but I did not stay away from the beignets. They were good. It was my first time in New Orleans, and it was great. I really, really loved working there. I want to go there again.
Q: What are you working on now?
Grace: I'm producing a film called "Rabbit Cake" (based on Annie Hartnett's bestseller). I'm very excited about it. We have a director now, Susan Johnson, who previously (directed 2018's) "To All the Boys I've Loved Before." I'm very excited about it. It's going to be a great film.
Q: How did you end up becoming a film producer?
Grace: To be honest, I have no idea. How did I get here? I got the book rights and we decided to turn it into a film and we've just been working to get a writer, a producer, director and we have all three now. Plus, we have the first draft of the script.
Q: You're going to star in it, right?
Grace: Yes. I play Elvis Babbitt, and I'm very excited about it. It's going to be such a great film. I'm very, very excited, if I haven't mentioned that about 20 times.
Q: Is Elvis a little unusual or unique like Christmas is?
Grace: Yes. It's about grief but it's a comedy, so it puts grief in a new light. It opens up a conversation. So, after you go and see the film you'll be like, "Oh!" and you might want to have conversations. It's a film that's good for a wide audience.
Q: Are you homeschooled?
Grace: Yes.
Q: What grade are you considered in now?
Grace: Eighth. (To her mother) Wait, am I in eighth grade? That doesn't sound right. Wasn't there a movie about eighth grade recently made?
Q: That's not you. Please don't scare your mom that way. Do you have a favorite subject?
Grace: I like lunch and P.E. I like science and I love English because I like reading and writing poetry. That's my favorite because I get to read Shakespeare. I've been reading Shakespeare on my own for a while so it's great because I already know about it, so I can get through it quickly.
Q: Who is in your own "troop?"
Grace: My mom, my dad and my fish. I have my best friend in the world right now (TV's "Girl Meets World" actor) August Maturo. I love him. He's actually coming to the "Troop Zero" premiere tonight. We're very excited. My other best friend is Josie. She's the daughter of Jason Reitman, my director in (the upcoming) "Ghostbusters: Afterlife." I love Josie. She's so pretty and funny and great. I have other people, but those are my two best friends. I have many other people who really support me who are coming (to the premiere). It's going to be really exciting.