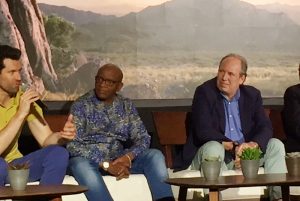 By ANGELA DAWSON
Front Row Features
HOLLYWOOD—During a press conference to promote Disney's new big screen version of "The Lion King," Hans Zimmer, who won an Academy Award for his score of the 1995 animated film, recalled the challenges of recording some of the music during Apartheid in South Africa for the film.
"The political climate in South Africa was very, very tricky," the German-born composer recalled. "They wouldn't let me go for those last sessions. … There was a meeting at Disney (about) who would finish the movie when Hans got killed? And I was appalled that they wouldn't let me go. I was appalled by the common sense people were showing."
Instead, South Africa-born Lebohang Morake (professionally known as Lebo M), who was onboard to arrange the music as well as perform—he's that powerful voice that chants the memorable Nants ingonyama at the beginning of both films—went in his place.
The two music artists would work together again when "The Lion King" was adapted into a successful Broadway musical, which continued into international tours and other special performances in the subsequent years.
"There came a point in my life where somebody said to me, 'You can't hide behind a screen for the rest of your life,'" said Zimmer." "'You've got to go out and look people in the eye.' So, we ended up dragging an orchestra and a choir out to Coachella (in 2017) and doing 'Lion King' live. It was great seeing all these amazing musicians really playing it as a piece, as opposed to 'Oh, we've got to do it as a specific film cue.'"
For the 2019 remake, a combination of photorealistic imagery that emulates live-action lions and a host of other African savanna animals, director Jon Favreau ("The Jungle Book," "Spider-Man: Far from Home") enlisted the music veterans to return.
"I said to Jon, 'Why don't we get all the greatest players, get my band, get the greatest players in the world, make a new orchestra here in Los Angeles, rehearse them for two days, and then really make it as if it was a concept," recalled Zimmer. "We invited all the filmmakers that never get to come to the scoring sessions, the DP, the editors, everybody. Got them into the room, sat them in front of the orchestra … and we just went for it."
"It was a very special orchestra," he continued. "They knew the movie, so every note was played with intention. Every note was played with commitment. Ultimately, that helps everybody. It's not just people reading notes off a piece of paper. They knew the material."
Lebo M said he doesn't feel like he's "coming back" to "The Lion King," because it feels like he never left it.
"The greatest gift is to be able to re-enter a journey that's been in your life for 25 years and be able to be part of something that I initially thought was a setup that Hans won't talk about," he quipped.
The musicians first met while working on a 1992 historic film about South Africa called "The Power of One," whose score included the Bulawayo church choir backed by orchestral drumming.
'When this movie came out, we were busy trying to shut down the South African embassy in Beverly Hills," Lebo M recalled. "I was one of the rebels with Artists for a New South Africa with Alfre (Woodard, who coincidentally voices the character of Sarabi, the lioness in the new "Lion King"). We were recording this (and) there was unrest and all kinds of things happening in South Africa. So, when Hans and them called me, I came in—and this is the first time since I left exile in South Africa at age 16—and there were nine white people, and he's one of them, I thought I was going to be arrested. But it turns out I'm sitting in a room and we talk, and the energy and the brotherhood is beyond normal.
"'Power of One' set the tone. I look at Hans and he tells me a little bit about the movie. I'm always bringing a couple of singers because I know when I get a call about something that's creative that I'm going to do with Hans. Then I see these little drawings and I'll go into it and prepare. I keep seeing this image of Mufasa (Simba's father) coming out. Just as I was about to leave, I turned back and said, 'Let me do one more thing." And I went (sang the opening chant) Nants ingonyama, and that was it. It was a demo.
"Then, I went to South Africa to be part of the new democracy, and came back. We tried a couple of times to redo that (opening chant). It just never wanted to be redone. What you hear is actually one take. There's been one take 25 years later. It was so natural. Now it's going to outlive the previous 25 years. It's unbelievable."
For the remake, Lebo M said Favreau assured him that he was going to maintain the authenticity of the original when they met and was good to his word.
"Not only does the new movie remain true to the original movie, but it's also remained true and respectful to the Broadway production and I'm truly grateful as a South African and an African and an American, because I grew up here, to be part of this amazing journey," he said.
He said that while he and Zimmer may not always agree creatively, they have a mutual love and respect for each other.
"I'm truly blessed to have a brother who has given me and now we've gone around the world on the Hans Zimmer tour," he said, sitting alongside his music partner. "Who else has this type of opportunity to start the next 25 years in advance?"