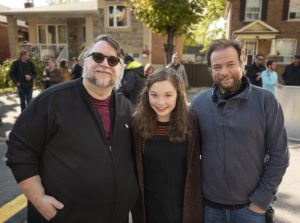 By ANGELA DAWSON
Front Row Features
HOLLYWOOD—Horror storyteller-with-a-soul Guillermo del Toro recalls roaming through a San Antonio bookstore as a young teenager and coming across Alvin Schwartz's "Scary Stories to Tell in the Dark," illustrated by Stephen Gammell.
"The cover illustration was so creepy, and I started browsing it," the Oscar-winning filmmaker recalls. "The illustrations got me first, but Alvin Schwartz's retelling of the tales was incredibly efficient, lean and mean. It really was like having a campfire between those two covers."
He bought the book that day and subsequently completed his collection by buying the other books in the series, which remains popular to this day.
Over the years, del Toro ("Pan's Labyrinth," "The Shape of Water") has given away copies of "Scary Stories to Tell in the Dark" as gifts to friends. He also remembers reading the books to his own children. One day he was going to a meeting at New Line Cinema in Los Angeles and came across a gallery that was showing and selling original art from the book. At the time, he was cash-poor, having just paid a hefty ransom for the safe return of his kidnapped father back home in Mexico. But he couldn't resist the once-in-a-lifetime opportunity to buy some of the key illustrations from the books he loved so much.
The "extravagant" purchase further exacerbated his financial woes and created a rift at home, he admits. He couldn't justify the purchase but he also knew he had to have the illustrations.
Now, some 20 years later, Del Toro has produced a new movie based on the classic children's book series. "Scary Stories to Tell in the Dark" arrives in theaters Friday Aug. 9.
"I think that the beauty about the book is that each story is self-contained," he said during a sneak-peek event a few months ago. "But that's the nightmare of adapting it and making it into a film. So, I had to come up with a concept that encompassed that theme. What we did is we tried to find a period of time in which stories affected everyone, who we were as humans, what we were as a nation at that moment, and we started to very carefully lay down the pieces to make it thematically relevant to the stories we were telling."
With his own multiple projects in the works, del Toro decided to produce instead of direct the film. He sought a director he had confidence in to helm the big screen adaptation, and found what he needed in Norwegian filmmaker Andre Ovredal, who made 2010's widely acclaimed horror movie "Trollhunter."
"When I produce, I'm in the corner, but the guy getting the punches is the director," del Toro says with a laugh. "I am there with the water and the mouth guard, and I say, 'You're doing great, Rocky. Don't worry.' But, I'm not getting the punches. I suffer, but I don't get them. I had to go with somebody that I greatly admire."
Del Toro and Ovredal met around the time of "Trollhunter." He also became a fan of the filmmaker's "The Autopsy of Jane Doe," which he profusely praised on Twitter.
"We started corresponding, and I said, 'Well, he would be the ideal guy (but) I'm sure he's busy. I'm sure his accent is terrible, but he would be the ideal guy.' So, it was the one and only filmmaker we approached, and fortunately for me, he accepted."
"Scary Stories to Tell in the Dark" is set in 1968 in a small town in Pennsylvania. It's Halloween, and a group of high school teens are planning for their annual rites. Brainy yet nerdy Stella is heading out to trick-or-treat with her best friends Augie and Chuck. They're also plotting revenge against school bully Tommy, who unbeknownst to Chuck, is out on a date with his sister Ruth. After pelting Tommy, Ruth and his friends with eggs and other assorted surprises, Stella and her friends hide out at a nearby drive in where they meet Ramon, a young stranger in town.
After Tommy tracks them down and threatens them, Stella and her friends take refuge at a boarded-up mansion, said to be occupied by a deadly spirit named Sarah Bellows. The spirit, who lived more than a century ago, is rumored to tell stories to kids just before they die. Almost on cue, they find a handwritten book of stories and notice that one of the entries appears to be fresh. That's when they get an inkling that the rumors that Sarah's book might actually be reading them. One by one, they begin to face their worst fears in their own stories, and succumb in horrific ways.
The film features a cast of mostly unknown actors including Zoe Margaret Colletti as Stella, Michael Garza as Ramon, Gabriel Rush as Auggie, Austin Zajur as Chuck. Austin Abrams plays bully Tommy while Natalie Ganzhorn is pimple-averse Ruth. "Breaking Bad's" Dean Norris plays Colletti's father Roy who hasn't gotten over the sudden abandonment of his wife.
"The book writes a story specifically for each of them that has to do with who they are or what they have the greatest fear of," explains del Toro, who along with the other writers pared the list down to about a handful of stories from the original book that each of them liked.
"Some of them are told in their entirety, some others are referenced," he adds. "We basically distilled it to the ones that everybody seems to remember the most. I think the books obviously have many more stories so that this could go on or not but we say, 'Let's do the greatest hits.'"

Though all the stories are supernatural, there also are underlying political and social themes that run throughout the film—a trademark of del Toro's work. The 1968 Presidential election is under way, with candidate Richard Nixon leading the polls over rivals Hubert Humphrey and George Wallace. Additionally, Ramon, a young man of Mexican descent, faces overt racism in the mostly white suburban town, from the sheriff who urges him to "move along" to the bully Tommy, who spray paints a derogatory term on his car. Some of the young men have answered the call to the draft, unaware of the horrors that await them in Vietnam.
While the plot centers on high schoolers in the film, which is rated PG-13, it is meant for audiences ranging from young teens to adults.
"The books are favorites among the young readers," says del Toro. "There's two or three generations of parents that know the books. It's not an unknown. They know that this is like a roller coaster. It has a sense of fun. It has a really throwback wholesome feeling, but it's also scary."
Del Toro was recognized for his film artistry this week when he received a star on the Hollywood Walk of Fame.