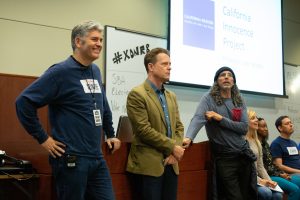 By ANGELA DAWSON
Front Row Features
HOLLYWOOD—Tom Shadyac has been making movie audiences laugh for more than a quarter-century. From "Ace Ventura: Pet Detective" to "The Nutty Professor" to "Bruce Almighty" and its sequel "Evan Almighty," the Virginia native has carved out a niche of making popular films that the whole family could enjoy. He actually began his career in comedy as a writer for legendary comedian Bob Hope, which taught him the building blocks of comedy.
After a decade-long sabbatical in which he went through a process of self-evaluation and spiritual reflection (he became a college instructor and also made an inspirational documentary called "I Am"), Shadyac returns to the narrative feature form with the inspiring drama "Brian Banks," a true story about redemption and triumph over adversity and injustice.
The film is based on the true events surrounding a promising young high school football player named Brian Banks, who was wrongly accused and then wrongly convicted of rape. He spent six years locked up paying for a crime he didn't commit and another five years on closely monitored probation. He couldn't get his life back on track because he was forced to register as a sex offender and therefore barred from being on a college campus to play football. Through faith, determination and a small group of helpful people, including an instructor at juvenile hall and a caring lawyer, he was able to fight to have his name cleared and pursue his dream of playing in the NFL.
"Brian Banks" stars Aldis Hodge in the title role, along with Oscar nominated Greg Kinnear ("Little Miss Sunshine"), Sherri Shepherd ("30 Rock") and Melanie Liburd "This is Us"), with Oscar winner Morgan Freeman ("Million Dollar Baby") delivering a cameo as the teacher who inspires Banks to look differently at his life. The film was written by Doug Atchison, who also wrote the heartwarming "Akeelah and the Bee."
Though the drama is a somewhat a departure from what audiences have come to expect from Shadyac, he sees it as a reflection of who he is now and the types of stories he wants to tell. Following a life-changing event of his own, he has been a teacher for the past several years working mostly with underserved students in Memphis. He believes that bringing Banks' story to the big screen might shed light on important issues such as mass incarceration and the disproportionate number of people of color in the prison system.
Q: We haven't seen your work for a while. What have you been up to over the past decade or so?
Shadyac: I got sick about 13 years ago. I had a really bad concussion and that pulled me out of the business for a couple of years while I recovered. I made a documentary called "I Am." I financed another documentary called "Happy," an exploration of what makes us happy. I've been experiencing some new things and reinventing myself in my life as a human and as an artist.
I ended up in Memphis, Tenn., and promised them one semester teaching at the University of Memphis, and now I've been there for seven years. I've been in this community with kids who've been so challenged by life and yet still walking through life with such persistence and courage and perseverance. So, that is what Brian's story touched in me. I also had an opportunity to teach also at a historical black college in an underserved neighborhood in Memphis and fell in love with these kids and what they were going through and the dignity with which they carried their burdens and Brian's story reminded me of them. I thought if we could tell Brian's story maybe we can bring light to some of these other kids' stories.
Q: How did Brian Banks' s story come to your attention?
Shadyac: Through a producer named Amy Behr of Gidden Media. She sent me the script knowing I had changed certain things about my life, where I was living, who I was in a relationship with and she felt it could potentially bring an authenticity and heart and soul to the story that she was looking for. And a connection and an immediacy. And she gave me the opportunity. I owe her a great deal because she opened the first door for me in about 10 years in filmmaking.
Q: This isn't a typical "faith-based" film but there are spiritual elements to it. Was that because you wanted to include the fact that Brian's faith had something to do with his determination to overcome this adversity?
Shadyac: It's part of Brian's authentic journey. Brian's mother was sending him Bible verses and encouraging him to be prayerful, to look to the psalms, to the Scripture for encouragement, which Brian did. And Brian had to find a way to walk that stuff in prison. He had to find out what that meant for him personally—to be a kind of Job, where your life has been taken away from you and you haven't done anything to warrant that. To be defined as something that you're not.
Oftentimes what we call "spiritual," is right in front of us all along. I think spirit has to walk in the practical and Brian feels it as well. You look at a scene like the redemption scene in the isolation cell where he spent 60 days and had a spiritual experience there, if you look at the scene we established the character from the very first shot of the scene, you see that morning light that would come in. It's always been there but when Brian changes his perspective, when he literally goes through the dark night of the soul in there and he's emptied out, and he rebuilds himself through a memory, a connection with a teacher he had, he sees the light. But the light isn't the miracle in that moment. The light has always been there. He's just changed. He's experiencing what has been there all along in a different way.
That's what we often miss about spirituality. We only think it happens when Heavens part. But I wanted to show that the light is always there, and that when we change, we change our perspective, and when our perspective changes, our experience changes of the world.
Q: Speaking of faith, this film premiered nearly a year ago at the Los Angeles Film Festival and at the time you were looking for a distributor. At the same time, there was the rise of the #metoo movement, in which women were coming forward about sexual harassment and assault. Did it concern you that it might not be the right time for this film?
Shadyac: We started this film long before the #metoo movement. Then it happened and we're grateful that it did. Under the leadership of our producers, three women who care so much about women, their power and their voices, the decision was made to let some time pass. We decided to let that voice be fully accented in our culture, and then maybe we can be another tale that widens the conversation. We want nothing more than all people—women and people of color, people who are forced to take pleas in jail when no one listens to their truth—to have a voice. Maybe it's time for the conversation to widen just a bit more.
Q: Could you talk about casting Aldis Hodge as Brian?
Shadyac: I wasn't sure we could cast the role. I wouldn't have done the movie if we didn't find that perfect fit. Ninety percent of the actors are eliminated just because of physicality. You have to be someone who at least can quickly grow into a professional athlete reality—size, strength, speed. Aldis had much of that. Of course, he worked out and improved it once he got the role but there always was a depth of experience that had to happen. I didn't think anybody could just "act" Brian's role. You had to have a certain amount of life experience to really be able to portray in an authentic way, and become in an authentic way the darkness and the brutal experience that Brian went through. Aldis faced many challenges growing up. He also was from an underserved community that presented challenges for him. He was scarred growing up and, like Brian, he turned that darkness into light. He was able to move through that darkness and bring a positive perspective and perseverance to his own career. He's still a working man's actor. People, I hope, are going to discover through this film what a brilliant talent he is and he's going to move to the next level.
Q: You've also got your "Bruce Almighty" star Morgan Freeman in this, though he's not officially credited in the film.
Shadyac: Morgan did us a big favor. Of course, I thought of Morgan as soon as I knew there had been an influential teacher in Brian's life, who was a wisdom keeper and changed him. As Morgan did in the "Almighty" series and in my own life, because he's such a wonderful teacher and friend. When the actor who originally was cast in that role was unable to travel because he was going through a physical challenge, an illness, I got in touch with Morgan and he was gracious enough to read the script right away. He responded and came in and did this for us. We couldn't have found anyone more right for the role and we couldn't be more grateful for it.
Q: How about casting Greg Kinnear as the attorney Justin Brooks from the California Innocence Project, who takes on Brian's case?
Shadyac: He was just an anchor to the whole piece. He's done so many kinds of movies. He, of course, is rooted in comedy but has such a long history of drama and drama-comedies. He's now directing because he's that perceptive. He brought a level of experience, a dialogue and a nuance to Justin. Affirming his sense of humor but rooting it in Justin's heart and passion to free people, to set the incarcerated free. We were blessed. Greg and I had a one-hour lunch that turned into a four-hour lunch and felt it was something we both wanted to do together.
Q: Will your next project be another drama or will you return to comedy?
Shadyac: I'm not committed to anything yet but it wouldn't be a surprise if my next one is a comedy.
Q: You started out writing jokes for Bob Hope. What did you learn from working for him and writing for him?
Shadyac: How to handle pressure. He would call us with maybe 10-minutes notice because he needed some jokes because he was doing a live performance for the Queen of England at the Annenberg estate. I called him Mr. Hope. He'd call from backstage and say he needed a joke immediately. It was a lot like being a doctor on call. I got called in the strangest places and at all times of the day because he needed material and I had to come up with it. It also taught me the building blocks of comedy, which is the joke. You write it and look at it from all angles. From that building block, I learned how to write screenplays and character arcs and story twists and turns.
Q: Were you ever on a first-name basis with him?
Shadyac: No. I called him Mr. Hope. I was a young pup. I was the youngest writer on his staff by about an ice age. It was a great experience.