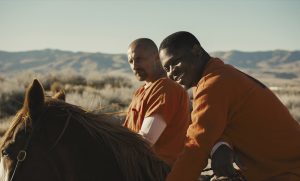 By ANGELA DAWSON
Front Row Features
HOLLYWOOD—Matthias Schoenaerts isn't yet a household name. Just trying to pronounce his Flemish last name (shkoon-arts) is a challenge in and of itself for most Americans. Nevertheless, with his growing list of film credits in both European and Hollywood films, the 41-year-old actor certainly is becoming a recognizable star, with a growing international fan base.
Having started out as a child star in his native Belgium—his father, the late Julian Schoenaerts, was an actor and filmmaker—Matthias has successfully transitioned into an accomplished actor, generally taking on dramatic roles as flawed yet empathetic characters. (If you haven't seen it yet, check out 2015's "Disorder," about a former combat vet suffering from PTSD.) Most recently, he co-starred opposite Jennifer Lawrence in 2018's "Red Sparrow."
In "The Mustang," Schoenaerts plays a convict (with a very convincing American accent) imprisoned in a remote Nevada penitentiary struggling to escape his violent past. Serving an 11-year sentence for domestic violence, including a stint in solitary confinement, Roman Coleman (Schoenaerts) becomes eligible to participate in a state-mandated social rehabilitation program after agreeing to take anger management classes in prison. He lands a spot on the program's selective wild horse training section when its supervisor Myles (Bruce Dern) sees potential in him. After a rigorous program, in which inmates are paired with a single horse, the animals are then auctioned for a variety of law enforcement purposes including border patrol.
Roman selects a particularly wild buckskin who he calls Marquis. Like himself, Marquis is aggressive, mistrustful, and full of fear and anxiety. Under Myles' watchful eye, Roman and his horse gradually connect. But the inmate also is dealing with personal issues—his long estranged teenage daughter is pregnant and wants him to sign papers to emancipate her, which he is reluctant to do. Additionally, Roman feels pressure from another inmate to steal horse tranquilizing drugs, which could put his participation in the horse training program in jeopardy. The film's themes of second chances and rehabilitation echo throughout.
The film is directed by French filmmaker Laure de Clermont-Tonnerre, who became interested in animal therapy for prisoners after reading an article about it. In exploring the program, which takes place in various prisons scattered throughout the American West, she conceived the story of "The Mustang." She co-wrote the screenplay with three other writers. Shot on location at a former detention center in Nevada, the film also stars Connie Britton, Gideon Adlon, Keith Johnson and Josh Stewart.
Schoenaerts spoke by phone about taking on the role of troubled inmate who finds salvation and redemption in caring for and training a wild animal.
Q: Did you want to do this film because of the horses?
Schoenaerts: That's one of the reasons. It's a very relevant subject matter, very urgent. At the same time, it's a very mysterious emotional state to look for as an actor. Of course, there's the poetic language of the story and the interaction with the horse. There are so many components, so many elements that make it a challenging and inspiring ride.
Q: Roman initially is afraid of horses. He's unfamiliar with horses. Did the process of getting to know these horses echo your own process?
Schoenaerts: Completely, because I had to start at rock bottom. I'm not a rider at all. I don't know how to train horses, so I was a rookie.
Q: You actually met with some inmates in this program prior to production, right?
Schoenaerts: Yeah. About six months beforehand, we visited three maximum security facilities. We sat down with the inmates and had them testify and talk about their experiences in the penitentiary and what got them there. That definitely helped me and inspired me to create that emotional state of Roman.
Q: You worked on location in an actual detention center. Did that help you get into character—getting into the mindset of a prisoner?
Schoenaerts: It had been used for five years but still. We were very grateful to be able to shoot there. It also contributes to the real feeling. It's a very impressive and at the same time a very horrific place.
Q: Did you find yourself walking about there and feeling an energy from the place?
Schoenaerts: Isolation is such a very specific situation. I really wanted to feel that space without being surrounded by 50 people. I wanted to feel that space all alone because that's what it's about. So, I spent the night there and was completely alone at the facility at night. It had no electricity so it was pretty awkward and special experience.
Q: I'll bet it got cold there too.
Schoenaerts: Yeah. I had wanted to spend a week there but after one night, I thought, "OK, that's enough." Fortunately, I had a blanket with me but one day was enough. They didn't have the means to heat it up.
Q: You worked with two different horses on this as Marquis, right?
Schoenaerts: Three.
Q: Three? Did you have a favorite?
Schoenaerts: There were three different horses but to me they represented the same horse. I was in love with all of them, basically. I chose that specific horse before we started shooting the film. We visited some ranches and I chose the buckskin horse. I said, "This is the one I think is the most charismatic, energetic horse." And so, we chose that one.
Q: You have some human co-stars as well: Bruce Dern, Connie Britton and Josh Stewart. What was it like working with them, especially Bruce Dern, who plays your trainer?
Schoenaerts: I loved every second with him. He's not only a living legend, he's a walking encyclopedia. He has so many memories being on movie sets and experiences. Sometimes, we'd literally be getting ready to shoot and he'd go into a story, and we'd listen to him tell the story. Everybody would come and listen because he's a damn good storyteller. He tells the story in such a juicy way that you can smell the anecdote. You can completely visualize the anecdote.
Q: Do you have a favorite story—one that you can tell?
Schoenaerts: You're catching me off guard. I can't really tell you right now. (He laughs.)
Q: That's OK. It's interesting that this film, which seems like a very masculine film, is directed by a woman. Laure dove deeply into this subject matter. Can you talk about working her and what she brings to this film?
Schoenaerts: She's been working on this project for five or six years. It was a real passion project. When somebody has completely immersed themselves in the subject and is completely obsessed and passionate about something, they become the subject. They are in tune with every aspect of the movie they want to make. I was very grateful because I knew I was dealing with somebody that really knows what they're talking about, and they know what they want to do, so you feel kind of safe. You only need to take up your responsibility and make your contribution as powerful and as valuable as possible. She had a very sensitive approach to it and non-judgmental approach to the matter and to the character. One of the most important elements is to not have a judgmental approach to the character.
Q: The whole notion of prison reform and rehabilitating prisoners is a very hot topic here in the U.S. Do you feel that his film and its subject matter might contribute to the conversation?
Schoenaerts: I do. I hope so. I hope that this film contributes to the notion that change and transformation is possible. It starts with the willingness of the individual, and then it's all about support, care, kindness and tenderness. I hope that if this film helps stimulate that awareness that is obviously developing lately, then we can be proud that we contributed to something very important.
Q: What's next for you?
Schoenaerts: I'm shooting a movie now called "The Sound of Philadelphia," which features Joel Kinnaman and Maika Monroe. We're shooting it now and will be wrapping it by the end of (March). After that, I'm shooting a movie directed by Justin Kurzel called "The Ruin," with Margot Robbie. That's a project I'm really looking forward to. Then, there's a couple of things after that but I always look at the next thing and not too far ahead. But there's some good stuff coming up. You're not done with me yet.
"The Mustang" is now playing in select theaters.