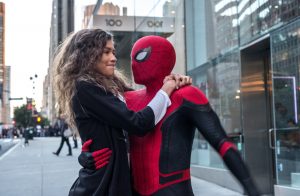 By HEATHER TURK
Front Row Features Film Critic
Spider-Man has some tough shoes to fill—not just the character, but also the latest entry in the Marvel Cinematic Universe (or MCU for short), Columbia Pictures' "Spider-Man: Far from Home."
Following the near-perfect "Avengers: Endgame," the final film in Phase Three of the MCU picks up after what's now being called "The Blip"—the five-year duration after Thanos snapped his fingers and half the universe's population turned to dust for a half decade. While some of Peter Parker's (the adorable Tom Holland) once blipped-away high school classmates are dealing with the weird fact that their younger siblings who survived Thanos' snap are now older than them (since everyone who was blipped away came back the same age), Peter is dodging Nick Fury's (Samuel L. Jackson) phone calls in hopes of living a regular teenage life for a while. For even though Fury—and the rest of the world, for that matter—expects Spider-Man to follow in his mentor's footsteps and become the next Iron Man, all Peter wants to do is enjoy his upcoming European school trip and finally tell his school crush, MJ (Zendaya, "The Greatest Showman"), how he feels about her.
Of course, with Thor off planet and most of the other living Avengers occupied with one thing or another (the only real information audiences are privy to is that Peter should not evoke Captain Marvel's name in Fury's presence), Fury needs Peter to step up to the plate to help a mysterious new superhero from a different reality named Quentin Beck (played by Jake Gyllenhaal, "Brokeback Mountain") defeat elemental threats that Beck claims destroyed his world and killed his family. Torn between being the hero the world needs and simply living the life he wants, Peter must decide if he's up to the task of really being an Avenger—with the fate of the world resting on his decision.
Coming off of the emotional "Avengers: Endgame," "Spider-Man: Far from Home" is a much-needed comedic escape. Even though it addresses the casualties from "Endgame," particularly, the death of Tony Stark (Robert Downey Jr.) and the impact that's had on Peter, in true Stark fashion, Tony manages to get the last laugh with a pair of high-tech glasses he entrusts Peter with and the name he gives its artificial intelligence system (which won't be spoiled here). Like "Spider-Man: Homecoming," the movie (which is again directed by Jon Watts) also features one of the best—and funniest—openings of any Marvel film, which says a lot since it basically picks up Peter's story with an "In Memoriam" segment to the Avengers recently lost, but with a hilarious, "Deadpool"-like twist.
Holland, as always, is a delight as Peter Parker/Spider-Man, and it's nice to see Jon Favreau's Happy Hogan get a bigger role with Tony out of the picture (though he'll always be missed). There are several surprises along the way, too, that fans of the MCU and even Sam Raimi's "Spider-Man" trilogy are sure to enjoy, as well as a possible budding romance between Happy and Aunt May (Marisa Tomei, who seriously never ages).
However, anyone who knows the "Spider-Man" comics fairly well will know where the story by screenwriters Chris McKenna and Erik Sommers (who both helped write "Spider-Man: Homecoming") is headed, and will find themselves anxious for the 129-minute movie to get to a certain revelation that they know is coming. This sort of takes away from the first half of the film, while the impressive, though hard-to-follow special effects muddle up the second half of the movie. It's impossible to go into too much detail without spoiling things for those who haven't read any Marvel comics beforehand and are just enjoying the films, so not much more will be said about the plot other than that.
Nevertheless, while not the best movie in the MCU, "Spider-Man: Far from Home" is still a worthy addition to the blockbuster superhero franchise and a great way to finally wrap up Phase Three. Holland's natural charisma carries the film with ease, and his romantic storyline with MJ is a sweet and grounded touch for the high-flying web slinger's otherwise fantastical story. Given one of the film's two post-credit scenes, though, Spidey's next challenge might not be nearly as funny (or as funny as any life-or-death situation can be), so audiences should enjoy the relatively light MCU adventure while they can. Although if Thor's still up in space with the Guardians of the Galaxy, that has to be hilarious, too—right?
Grade: B+