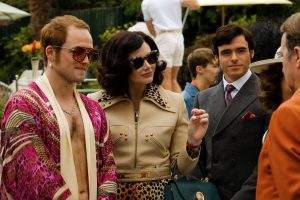 By HEATHER TURK
Front Row Features Film Critic
Given the fact that Dexter Fletcher—who despite only receiving an executive producer credit for 2018's "Bohemian Rhapsody" actually took over directing duties for Bryan Singer after he was fired from the film—directed the latest rock biopic to hit the big screen, Paramount Pictures' "Rocketman," it's only natural for audiences to want to compare the two films.
Which would be really unfair to the Oscar-winning "Bohemian Rhapsody."
That may be a bold statement to make considering the Queen biopic took home four Academy Awards, including Best Performance by an Actor in a Leading Role for "Mr. Robot" star Rami Malek, but "Rocketman" is a far better film. It's not perfect by any means, and star Taron Egerton (the "Kingsman" movies) may not play Sir Elton John as perfectly as Malek played Freddie Mercury (though he still does a remarkable job), but screenwriter Lee Hall ("War Horse") writes a dazzling jukebox musical that viewers can't help but hope will be adapted for the stage someday.
"Rocketman" features Egerton's character reflecting on his life while in rehab, from his days as a shy, young piano prodigy to a flamboyant rock star addicted to drugs, alcohol, sex and shopping. Although John served as an executive producer on the film, some liberties were taken for the sake of storytelling purposes with accurately representing his life: some monumental events are moved in the timeline for dramatic effect, songs are featured in the film during certain time periods that weren't actually written yet (like when John performs "Crocodile Rock" during his 1970 U.S. debut at West Hollywood's famed Troubadour nightclub even though he didn't write the song until 1972)—things like that. But John's extraordinary tale, especially the relationship he's shared with longtime lyricist Bernie Taupin (played by Jamie Bell, "Billy Elliot"), comes through loud and clear throughout the extremely entertaining, fast-paced 121-minute fantasy musical.
One of the major differences between "Rocketman" and "Bohemian Rhapsody" is with how the songs are used. In "Rocketman," several of John's greatest hits—such as "Saturday Night's Alright for Fighting" and "Tiny Dancer"—are sung as if they were in a Broadway musical, where the numbers are used to further the plot and develop characters. While some of these songs work fairly well within the context of the film, others seem forced into the story just to get some more fan favorites covered. Other numbers, such as "Your Song," are less choreographed and used more like they are in traditional music biopics like "Bohemian Rhapsody" and "La Bamba," showcasing how a song was written or a notable live performance to bring some balance to what could have been an otherwise overly stylized film.
As flashy as "Rocketman" can be at times, it's also extremely bleak in others. Bryce Dallas Howard is positively vile (as intended) as John's selfish mother, Sheila, and the scene where John visits the father who walked out on him as a child (Steven Mackintosh, "Underworld: Evolution") and sees him giving his new family the love and affection he still won't shower John with even after all of his success is absolutely heartbreaking. Audiences watch as John spends most of his early career searching for love—something his mother insists he'll never find when he comes out to her—even going so far as to marrying a woman (Renate Blauel, played in the movie by Celinde Schoenmaker) in a quick scene that could easily be missed if viewers run on an ill-timed bathroom break.
It would be nice to see John finally find love during the course of the movie, but naturally, there just isn't enough time for that. While the film does briefly address John's husband, David Furnish, before the closing credits, really the only confidants he has in the movie are his supportive grandmother (played by Gemma Jones, "Bridget Jones's Diary") and Taupin. This does help showcase just how important John and Taupin's relationship was, however, and how it served as so much more than just a successful working partnership in John's life. Many viewers might even argue after watching the film that it was the one thing that kept John alive when he was at his worst.
Even when the film tackles the darkest moments in John's life, though, the cinematography by George Richmond (the "Kingsman" movies) and costume recreations by "Bohemian Rhapsody's" Julian Day (stay through the first part of the closing credits to see real moments in John's life juxtaposed with various stills from the movie) keep "Rocketman" surprisingly vibrant and beautiful. Who knew you could choreograph a dance sequence in a hospital after a suicide attempt and still have audiences tapping their feet along to the music? It may sound ridiculous—and truthfully, it kind of is—but what else would you expect from a biography on one of the music industry's most outlandish and brilliant performers?
Grade: B+