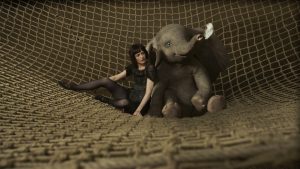 By ANGELA DAWSON
Front Row Features
HOLLYWOOD—At Sunday's press conference here for Tim Burton's update of the classic Disney movie "Dumbo," a press person informed the noted filmmaker that the separation between Dumbo and his mother in the movie reminded her of the separation of migrant children from their parents at the U.S. southern border. She went on to ask the creator of some of Hollywood's most popular films including "Edward Scissorhands" and "Sweeney Todd," about whether that hot button political issue was what he had in mind when he created the scene where the baby elephant is torn away from its mother.
Burton, possibly trying to avoid crashing into political waters, responded diplomatically, "I think any family situation—but every family is different, like, it was different for me—I wish had been separated from my parents, but that's a different story. But most people wouldn't say you would separate people from their parents, and that's fine. I think of things in a more spiritual, simple way. I listen to the news and everything, but I take things from a more—I try to anyway—look at things from a more human point-of-view. Because ("Dumbo") is like a fable and all great fables tap into things that are true about today and human nature, but it's not literal. It's a period movie and it's a fable, and it touches on all these things, but we try not to make it like it's ripped from today's headlines."
Danny DeVito, who plays the operator of a small circus and its ringmaster in the updated film which melds live-action performance with CGI animation, noted that the original Disney animated feature—now regarded as a classic—was made in 1941, 78 years ago.
"If you remember the movie, (it's) a 63-minute Disney movie masterpiece from that era, the baby (Dumbo) was separated from his mom (in it), so I don't think it has anything to do with this unfortunate, horrifying thing that's going on in our current news," he said.
Co-star, Michael Keaton, who plays a villainous rival impresario who buys out the smaller circus to exploit the amazing flying baby elephant, was more direct and critical of the current Administration's immigration policy at the southern border.
"I'm just going to say this: thanks for bringing it up, keeping it in the consciousness. It's criminal, it's cruel and I don't think it borders on child abuse, I think it does."
The film, which is due in theaters on March 29, has cleaned up some of the now-culturally awkward parts of the original (including eliminating the black crows, which sang the song "When I See An Elephant Fly" altogether) and includes a much more diverse cast and carries the message that animals should not be used as entertainment. No actual elephants were used in the film; they, and many of the other animals, are animated.