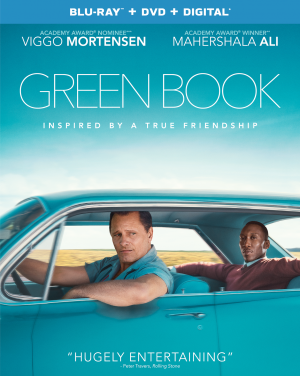 By ANGELA DAWSON
Front Row Features
Movies
Green Book
Winner of three Academy Awards this year, including Best Picture, is "Green Book," available Tuesday March 12 on 4K Ultra HD, Blu-ray and DVD. It also is available now On Demand.
Two men from different worlds form an unexpected friendship in this heartwarming movie from Universal Pictures Home Entertainment. Participant Media and DreamWorks Pictures' "Green Book" is directed by Peter Farrelly ("There's Something About Mary," "Shallow Hal"), and stars Academy Award winner Mahershala Ali ("Moonlight," "Hidden Figures") and Golden Globe nominee Viggo Mortensen ("The Lord of the Rings" trilogy, "Eastern Promises") and alongside Linda Cardellini ("Brokeback Mountain," "The Founder").
"Green Book" is inspired by a true friendship that transcended race, class and the 1962 Mason-Dixon line. When Tony Lip (Mortensen), a bouncer from an Italian-American neighborhood in the Bronx, is hired to drive Dr. Don Shirley (Ali), a world-class Black pianist, on a concert tour from Manhattan to the Deep South, they must rely on "The Green Book" to guide them to the few establishments that were then safe for African-Americans. Confronted with racism, danger as well as unexpected humanity and humor—they are forced to set aside differences to survive and thrive on the journey of a lifetime.

The 4K Ultra HD, Blu-ray and DVD include three featurettes that will give viewers a behind-the-scenes look at how the actors and filmmakers brought the characters to film and the true story that inspired it.
Fantastic Beasts: The Crimes of Grindelwald
Welcome back to Hogwarts when "Fantastic Beasts: The Crimes of Grindelwald," the second of five all new adventures from the Wizarding World created by J.K. Rowling, arrives Tuesday March 12 on 4K UHD Combo Pack, Blu-ray Combo Pack, DVD Special Edition and Digital.
"Fantastic Beasts: The Crimes of Grindelwald" features an ensemble cast led by Johnny Depp (the "Pirates of the Caribbean" films, "Sweeney Todd: The Demon Barber of Fleet Street"), Eddie Redmayne ("The Theory of Everything," "Les Miserable"), Jude Law (the "Sherlock Holmes" films, "Cold Mountain"), Katherine Waterston ("Inherent Vice," "Alien: Covenant"), Dan Fogler ("The 25th Annual Putnam County Spelling Bee," "The Walking Dead"), Alison Sudol ("Transparent"), Ezra Miller ("The Perks of Being a Wallflower," "We Need to Talk About Kevin"), Zoe Kravitz ("Dope," "Mad Max: Fury Road"), Callum Turner ("War & Peace," "Green Room"), Claudia Kim ("Avengers: Age of Ultron," "The Dark Tower"), William Nadylam ("SK1," "Kirikou and the Sorceress"), Kevin Guthrie ("Sunshine on Leith"), Carmen Ejogo ("Selma," "It Comes at Night") and Poppy Corby-Tuech ("Harlots").
"Fantastic Beasts: The Crimes of Grindelwald" is directed by David Yates, from a screenplay by Rowling. The film is produced by David Heyman, Rowling, Steve Kloves and Lionel Wigram. Tim Lewis, Neil Blair, Rick Senat and Danny Cohen serve as executive producers.
"Fantastic Beasts: The Crimes of Grindelwald" reunites the behind-the-scenes creative team from the first "Fantastic Beasts" film, including Oscar-winning director of photography Philippe Rousselot ("A River Runs Through It"), three-time Oscar-winning production designer Stuart Craig ("The English Patient," "Dangerous Liaisons," "Gandhi," the "Harry Potter" films), four-time Oscar-winning costume designer Colleen Atwood ("Chicago," "Memoirs of a Geisha," "Alice in Wonderland") and Yates' longtime editor Mark Day (the last four "Harry Potter" films). The music is by eight-time Oscar nominee James Newton Howard ("Michael Clayton," "The Hunger Games" films).
The 4K UHD Combo Pack and the Blu-ray Combo pack include an extended cut of the film with more than seven minutes of deleted scenes added, available as a digital download. Also featured is an audio introduction by director David Yates and over an hour of fantastic special features.
"Fantastic Beasts: The Crimes of Grindelwald" will also be available on Movies Anywhere. Using the free Movies Anywhere app and website, consumers can access all their eligible movies by connecting their Movies Anywhere account with their participating digital retailer accounts. Fans also can now own "Fantastic Beasts: The Crimes of Grindelwald" via purchase from digital retailers.
Marquise
Nominated for Best Foreign Language Film at the British Independent Film Awards, the Grand Jury Prize at AFI Fest and a Cesar Award for Jordi Savall's music direction, "Marquise" is a lavish costume dramedy set in 17th century France. Presented in a new 2K digital restoration, Film Movement Classics delivers this sweeping historical tale being released to Blu-ray for the very first time in North America.
Born into poverty, Marquise (Sophie Marceau) is a beautiful street dancer who found fame and notoriety among the 17th century aristocratic elite under the stage name Mademoiselle Du Parc. When the distinguished Moliere (Bernard Giraudeau) and his theatre troupe come to town, Marquise mesmerizes the men, and joins the troupe. She marries Gros Rene (Patrick Timsit) and becomes a favorite of King Louis XIV, but it is not until Marquise becomes the mistress of rival playwright Racine that she finally realizes her ambition to become a great actress.
It includes an interview with Vera Belmont and a new essay by author and professor Laurence Marie.
The Blu-ray will be available for a suggested retail price (SRP) of $39.95 and the DVD for $29.95 (SRP). It also is available on Digital formats.
Over the Limit
Superstar rhythmic gymnast Margarita Mamun has reached a crucial moment in her career. At 20, she is soon to retire but has one final goal: winning Olympic gold. As Margarita pushes her body to its breaking point, Irina Viner-Usmanova, her strict coach, assails her with caustic, withering critiques.
Driven by the sport's most infamous groundbreaking and fiercely determined coach, Over the Limit" becomes a behind-the-scenes drama, which looks at the grueling Russian system for training athletes and the intense physical and mental labor put into a sport that thrives on its beautiful aesthetics.
For five years, former gymnast and documentarian Marta Prus followed Mamun on her pressure-filled quest for Olympic gold. "Over the Limit," Prus' first feature-length documentary.
Includes the bonus short film "Iron Hands," directed by Johnson Cheng (in Mandarin with English subtitles).
A.I. Rising
An intimate relationship between a human and an android test the boundaries of human nature in A.I. Rising, arriving on DVD, Digital, and On Demand Tuesday March 12 from Lionsgate. Stoya, Sebastian Cavazza, and Marusa Majer star in this sci-fi thriller in the same vein as "Ex Machina." On a lonely mission to Alpha Centauri, Sebastian is teamed up with Nimani 1345, a female cyborg designed to fulfill his every need. At first thrilled to be able to control her, Sebastian grows tired of having his desires fulfilled so easily. Longing for human intimacy, Sebastian alters Nimani's programmed responses, but in doing so he risks the mission's security—and his own life. This mind-blowing, visually sumptuous space journey will take you both beyond the stars and deep inside your soul.
The DVD includes deleted scenes, an interview with Stoya, and the featurettes "Behind the Scenes of A.I. Rising" and "A.I. Rising: About the Movie." The "A.I. Rising" DVD will be available for $19.98 (SRP).
Divide and Conquer: The Story of Roger Ailes
Divide and Conquer: The Story of Roger Ailes arrives on DVD Tuesday March 12, from Magnolia Home Entertainment. The documentary fuses the personal, the political and the just plain surreal as it charts the rise and fall of Fox News chairman Roger Ailes.
Variously called a bulldog, a kingmaker, and the Ernest Hemingway of campaign advisors, Ailes was a key media consultant to Presidents Nixon, Reagan and George H.W. Bush, powerfully shaping American political history over the last fifty years. After creating a ratings powerhouse, with more viewers than all its direct competitors combined, in 2016 Ailes was forced out of Fox amid multiple allegations of sexual harassment. He died in 2017 at the age of 77. "Divide and Conquer" is the origin story of one of the most powerful and divisive figures in American media, as well as a clear-eyed look at how we got where we are today. The DVD is available for $24.98 (SRP). The documentary also is available on Digital HD.
Tyrel
"Tyrel" is available Tuesday March 12 on Blu-ray, DVD & Digital HD, from Magnolia Home Entertainment.
In this psychological thriller, Tyler joins his friend on a trip to the Catskills for a weekend birthday party with several people he doesn't know. As soon as they arrive, it's clear that he's the sole black guest, and it's going to be a weekend of heavy drinking. Although Tyler is welcomed, he can't help but feel uneasy in "Whitesville." The combination of all the testosterone and alcohol starts to get out of hand, and Tyler's precarious situation starts to feel like a nightmare. The film is written and directed by Sebastian Silva ("The Maid," "Magic Mike").
With an ensemble performance of debauchery from Christopher Abbott ("It Comes at Night"), Michael Cera ("Arrested Development") and Caleb Landry Jones ("Get Out"), "Tyrel" weaves a tale of modern-day social interaction hindered by age-old racism. The DVD is available on Blu-ray for $29.98 (SRP) and on DVD for $26.98 (SRP). It also is available on Digital HD via iTunes, Prime Video, FandangoNOW, GooglePlay and more.
Piercing
Universal Pictures Home Entertainment Content Group releases "Piercing," on DVD and Blu-ray Tuesday March 12.
In this twisted love story, a man seeks out an unsuspecting stranger to help him purge the dark torments of his past. His plan goes awry when he encounters a woman with plans of her own. A playful psycho-thriller game of cat-and-mouse based on Ryu Murakami's novel.
Written and directed by Nicolas Pesce ("The Eyes of My Mother"), the horror mystery suspense film stars Christopher Abbott ("It Comes at Night"), Mia Wasikowska ("Crimson Peak") and Laia Costa ("Victoria"). "Piercing" will be available in the U.S. on Blu-ray for $22.98 (SRP) and on DVD for $19.98 (SRP).
Lifechanger
"Lifechanger" arrives on Blu-ray and DVD Tuesday March 12, from Uncork'd Entertainment.
Written and directed by Justin McConnell, "Lifechanger" tells of a murderous shape-shifter that sets out on a blood-soaked mission to make things right with the woman he loves.
Drew has an identity problem. Every few days, has to shape-shift, or face a painful death. He has to find someone and make a copy. He takes everything: their looks, memories, hopes, and dreams. Their entire life. He becomes them, and they die horribly. Enter Julia, the object of Drew's affection. He has to try and make things right even though he's never the same person for very long. He also has to try to gain back trust even though things keep changing.
Part psychological thriller, part body horror, "Lifechanger" follows one shape-shifters' twisted quest to repair the damage he's caused, while leaving a trail of bodies in his wake.

"Lifechanger" is written and directed by Justin McConnell, and produced by Avi Federgreen and McConnell. Executive producers include James Fler, Andrew Thomas Hunt, Keith Leopard, Michael Paszt, Pasha Patriki and Marvin Waxman. Produced by 9 Light Entertainment in association with Federgreen Entertainment and Unstable Ground.

TV
The Simple Heist
The new Swedish dramedy "The Simple Heist" makes its DVD debut Tuesday March 12, from Acorn TV, an RLJ Entertainment brand.
"The Simple Heist" stars Lotta Teijle ("The Sandhamm Murders") and Sissela Kyle ("Miss Friman's War") as best friends in their 60s living an ordinary life. When they realize their futures will bring nothing but pain, they take matters into their own hands and decide to rob the Handelsbank office of Karlaplan in Stockholm. Based on the books by Thomas Arvidsson, the two-disc DVD set features six episodes ($39.99, Amazon.com).
"The Simple Heist" made its U.S. premiere in November on Acorn TV. Acorn TV is North America's most popular and largest streaming service focused on British and international television.
When two women find themselves overlooked and underappreciated as they face their older years, they resort to drastic measures to get payback. Jenny (Tejle) is a teacher struggling to stay afloat during a messy divorce, while her best friend, gastroenterologist Cecilia (Kyle), has financial problems from a failed stock investment. After Cecilia learns of a bank robbery plan from a dying patient, she convinces Jenny that a crime spree is just what they need to take control of their lives.
As the robbery sets off a chain of events exposing them to blackmail, car chases, and a dangerous biker gang, Jenny and Cecilia quickly learn that money won't solve all their problems. Rich with dry humor, this Swedish-language comedy-drama combines crime caper with social critique.
The Last Ship: The Complete Fifth Season and Complete Series
Revisit the military drama from uber-producer Michael Bay ("Transformers" franchise) with TNT's "The Last Ship: The Complete Fifth Season," available on Blu-ray and DVD Tuesday March 12.
In the final season, the world is recovering from the deadly virus that devastated the population, but global unrest is still growing. Tom Chandler (Eric Dane, "Grey's Anatomy") has retired and his former crew has moved on, many having risen in the ranks within the Navy. Suddenly, they find themselves on a covert mission in Panama, when they are wrongly blamed for an attack on the Panamanian president. The consequences for the U.S., soon become dire and the Nathan James must fight to prevent an invasion by Latin America—and the next world war.
"The Last Ship: The Complete Series" also will be available on DVD on March 12, featuring all 56 episodes from the series.
In addition to Dane, the series stars Bridget Regan ("Agent Carter") and Adam Baldwin ("Firefly"). The complete box set features bonus content, including a never-before-seen roundtable discussion with show creators and Naval experts about the development of all five seasons alongside the U.S> Navy. Other special features from the past seasons include behind-the-scenes featurettes, an inside look at various episodes and a 20-minute documentary showcasing season four's relation to Homer's "The Odyssey."
Based on William Brinkley's popular novel of the same name, "The Last Ship" chronicles a global catastrophe that nearly decimated the world's population. Due to its positioning, the Navy destroyer U.S.S. Nathan James and its passengers avoided falling victim to the devastating tragedy. Now, the crew and its captain must confront the reality of their new existence in a world where they may be among the only remaining survivors.
Enter now to win your copy of "Green Book," winner of three Oscars at this year's Academy Awards ceremony—including Best Motion Picture! Front Row Features is giving away a copy of the Blu-ray/DVD Combo Pack to three lucky readers. To enter the contest, simply email socalmovieeditor@aol.com by March 18 for your chance to win. Good luck!